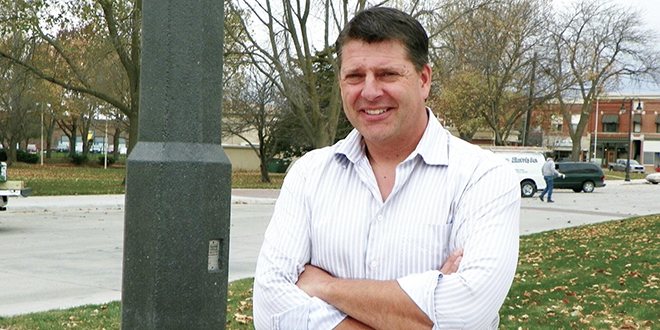 Grinnell will become 'more like itself' says city manager
 Grinnell in the future won't necessarily be bigger.
But it will be better.
Keith Brake, correspondent
"We need to improve what we have, as opposed to getting bigger," said City manager Russ Behrens. "We need to be more like ourselves. It's a quality of life emphasis," he said.
To go hand-in-hand with that: Marketing and selling that quality of life.
Behrens has been Grinnell's city manager for 13 years. That's enough time for him to understand the community's assets and keep pace with trends.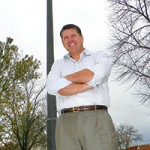 "Demographics is our biggest challenge," Behrens said, noting that the largest part of any increases in this area are from students at Grinnell College. Overall, "the census shows us losing population. There are more deaths than births. There is an out-migration of our youth."
"A large percentage of our population is 65 or older, and we're not replacing them with 8-10-year-olds. We have decreasing enrollments in our public schools," he said.
"That impacts everything, from retailers to workforce vitality. But," he said, "it's not doomsday."
"Our greatest strength is that our core economy is pretty solid and diverse," Behrens said, citing employers like Grinnell College, Grinnell Mutual Reinsurance, Monsanto and now, Brownells, Inc.
Population in general is decreasing in rural Iowa. "I don't think we will become a larger city," Behrens said. "We'd like to see some modest growth, but great growth is not realistic. Grinnell will weather it (decreasing population) better than most," he said.
"A bright spot for us is that businesses here do quite well," Behrens said. "They're sustaining or expanding. Ones that are here today will be our employers in 15 years," he said.
"There will be some change, but we need to help strengthen what we have have, with some diversity added in.
Grinnell has put infrastructure in place that has allowed for current expansion.
"Plans for downtown reconstruction began in 2002 and that project "will wrap up in 2017," Behrens said.
"The development along Interstate 80 represents more than a decade of work, and we're seeing fruits of our labor," he said. "The Brownells project is a marquee, but we hope more is on the way."
The key improvement was extending water and sewer lines to the interstate, and beyond to Grinnell Mutual Reinsurance, whose campus became part of the city "in the last year," Behrens said.
Behrens said Grinnell has been able to handle the growth thanks in part to a five-year capital improvement plan that has been in place for some time.
It's a constantly-changing document, he said, that projects "significant non-recurring costs. It helps us to coordinate work with street paving, etc., and helps our staff get things on a replacement schedule," Behrens said.
"We're always at the start of the five-year plan. We keep revising it. The challenge came when we started it. Now that it's in place, its up to the elected leaders to select priorities," he said. "This and past city councils have done an excellent job of following through."
"My job isn't for someone who requires a lot of instant gratification," Behrens said. Longevity is important. "Ted Claussen had this job for 41 years before me," he said.
The city manager said the downtown area and Grinnell College "are the core of our town. You'll see efforts coming to improve the campus as well as downtown," he said. "Both are great assets."
Behrens forecasts some changes in how city government functions.
"People are going to have to expect less from government," he said. "We need to improve efficiency. For example, I don't think we'll always be  hauling solid waste to a landfill. We'll be converting it to energy, or do more recycling. The way we do it now is becoming too costly."
"City government will become smaller. Automation will occur. But, citizens will drive the services we have. Will we reduce services? Will recreation remain city-provided? Some will say yes, some won't," Behrens said.
"Energy will be important," the city manager said.
Overall, Behrens said, "I think we're lucky. Grinnell is well-positioned."
—————————————————————————————————————–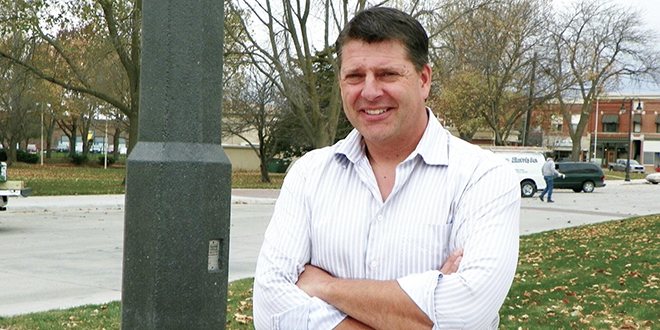 Behrens is a true outdoor Iowan
Avid outdoorsman Russ Behrens, 44, has been Grinnell's city manager for 13 years.
A native of Carroll, Behrens was the city manager in Humboldt from 1998 until coming to Grinnell.
Russ enjoys hunting and working for land and habitat conservation causes. He also is a runner, bicylist and a swimmer.
Russ and his wife, Nicole, have two daughters, Hannah, 11, and Claire, 8.