Rain, frustration, not knowing, timing all had to come together on Saturday August 23rd for the the 41st Grinnell Vintage Auto Show. Planning prevailed as the morning moved on, the weather let up and the vintage cars, trucks, rods, and rat rods rolled in.
The Grinnell Car Club members we in abundance just waiting to be of assistance to the participants coming in from all over the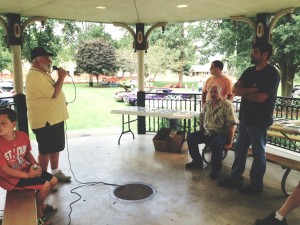 midwest. Awards were given in 28 categories plus the Mayor's Choice Award, the car club Presidents Award and The Jack Byers Award. The Byers Award is awarded to the owner who does all of the work on the car as was customary in the 50's and 60's. The Presidents and Mayors Award have criteria to suit their fancy.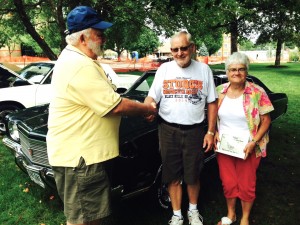 The Mayors Award was presented to Curt & Pat Hite of Pella for their recently refurbished 1970 Monte Carlo hardtop. Curt and Pats Monte is a one owner that was originally bought by Curt in 1970, It was then used by other members of their family and just this spring was restored to original showroom condition.
Even though attendance was marginal due to weather all awards were presented in the 28 categories and nearly everyone was able to receive recognition.
Pulled pork sandwiches  were served by Penne & Sumner Enterprises and refreshments by the Grinnell Vintage Auto Club as a fundraiser.  Funnel cakes were served by on of the local granges.
One of the real draws other than the love of vintage autos is the camaraderie of the car owners and their wives. Here is a group of friends of Curt and Pat Hite reminiscing and just generally getting caught up.