Homepage Slider
Grinnell to show HD broadcast of Metropolitan Opera's 'The Merry Widow' Jan. 17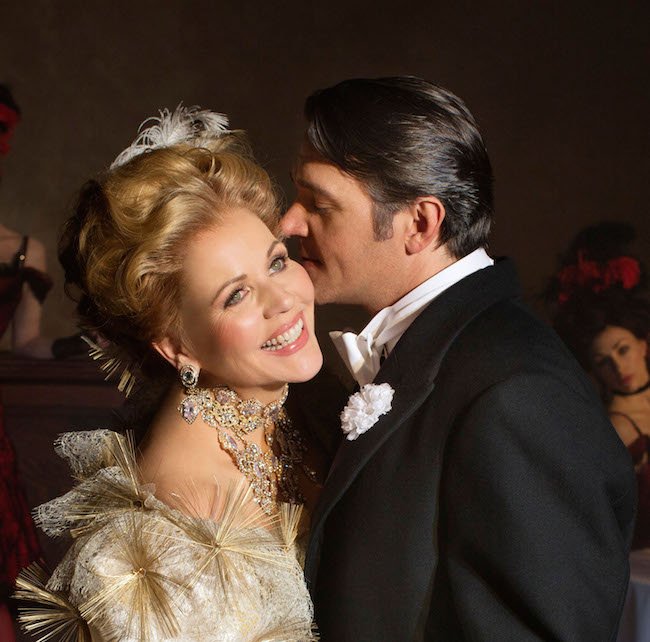 Grinnell to show HD broadcast of Metropolitan Opera's 'The Merry Widow' Jan. 17
GRINNELL, Iowa – The Metropolitan Opera's production of Franz Lehar's "The Merry Widow" will be streamed live in high-definition at noon Saturday, Jan. 17, in Grinnell College's Harris Center Cinema, 1114 10th Ave., Grinnell.
Renée Fleming stars as the beguiling femme fatale, with co-stars Nathan Gunn and Kelli O'Hara. Virtuoso director and choreographer Susan Stroman stages the production, and designers Julian Crouch and William Ivey Long have created an art-nouveau setting that climaxes with singing and dancing grisettes (can-can girls). Andrew Davis conducts the show.
Eric McIntyre, associate professor of music at Grinnell College, will deliver a free introductory talk before the opera. The talk, which will illuminate the opera's historical background and discuss salient aspects of the music and drama, begins at 11:30 a.m. in the Harris Center Cinema.
Refreshments will be available for sale in the lobby of the cinema before the opera.
Tickets are available at the Pioneer Bookshop, the Grinnell College Bookstore and at the door on the day of the show. Tickets are $15 for adults and $10 for students, children and Met Opera members.
Tickets for Grinnell College faculty, staff and students have been generously funded by the Office of the President and are available at no cost at all ticket locations. Family members not employed by the college are required to purchase tickets.
About Grinnell College

Since its founding in 1846, Grinnell has become one of the nation's premier liberal arts colleges, enrolling 1,600 students from all 50 states and from as many international countries. Grinnell's rigorous academic program emphasizes excellence in education for students in the liberal arts; the college offers the B.A. degree in a range of departments across the humanities, arts and sciences. Grinnell has a strong tradition of social responsibility and action, and self-governance and personal responsibility are key components of campus life. More information about Grinnell College is available at www.grinnell.edu.