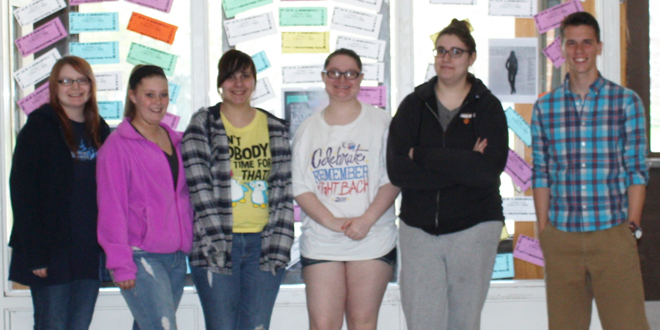 I-STEP (Iowa Students for Tobacco Education and Prevention) is Iowa's youth-led tobacco prevention movement and is now at Grinnell Community High School. This past week, 118 Grinnell high school students signed the "I pledge to be Tobacco Free," as a commitment to better health. The pledges are on display at the front of the high school.
The Grinnell high school has a student governed club, Teens Against Tobacco Use (TATU), that focuses on peers teaching tobacco prevention program. The I-STEP program complements their work with students in Iowa schools.
Lisa Leris, RN, Grinnell Regional Public Health nurse and I-STEP coordinator, explained, "We have 36 I-STEP and TATU members leading this drive to encourage their peers to be tobacco free. I'm really pleased and proud that 118 high school students stood up for something that promotes health."
Leris began working with Grinnell High School in January. She has been working with students in Grinnell's middle school since last September and has hosted three activities. Funding for activities comes from a three-year Iowa Department of Public Health grant. Leris will plan three different activities at each of the schools to support tobacco free students.
"Students make a difference," Leris says. "They can influence peers and friends to make healthy choices. We want to prevent smoking habits. In the long-term for health and finances, we want students to avoid tobacco products and addictions."
All students are welcome to activities. New members of TATU and I-STEP are welcome. Watch for information from the school offices.