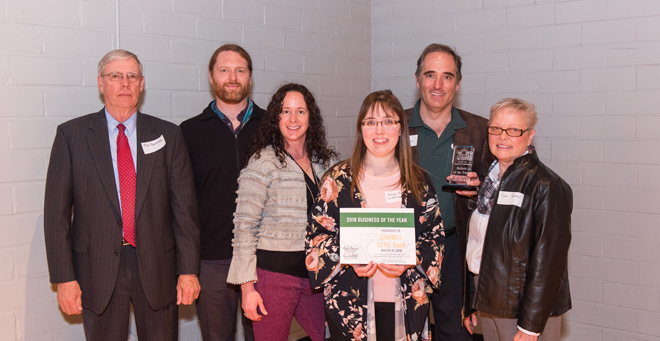 Grinnell State Bank named Business of the Year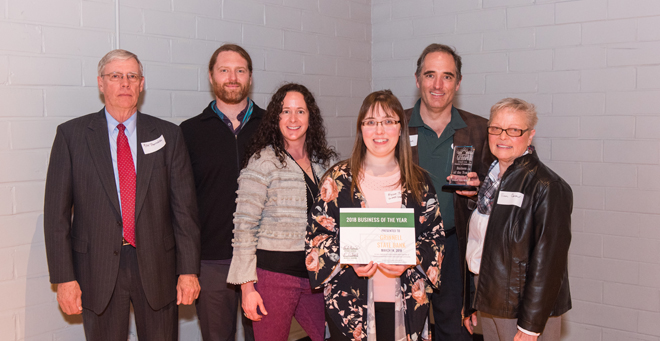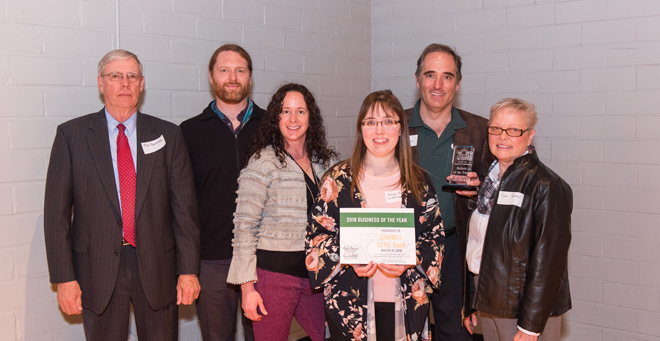 GRINNELL, Iowa– The Grinnell Area Chamber of Commerce recognized Grinnell State Bank as the 2018 Grinnell Business of the Year at its Annual Celebration, which took place March 14 at Hotel Grinnell.
The Chamber recognized Grinnell State Bank for their professional and positive impact in the community. "Not only is their business extremely involved on a company level, but also encourage all of their employees to get involved with organizations and understanding franchise software that matter to them as well," said Rachael Kinnick of the Grinnell Chamber of Commerce. "They've shown extensive community involvement through their commitment of time and resources, and support a tremendous number of organizations in the Grinnell area."
The Grinnell Chamber annually recognizes outstanding businesses, organizations and individuals in a variety of award categories. Nominations are sought from the public, with the final recipients chosen by a selection committee comprised of chamber of commerce members.
In addition to naming Grinnell State Bank the 2018 Business of the Year, the Chamber recognized many other businesses, organizations and individuals with a variety of awards during the event, which was sponsored by Grinnell College, Hotel Grinnell and Unity Point Health – Grinnell Regional Medical Center. The award recipients and a brief description of each are included below:
Retail Business of the Year: Anna Kayte's Boutique
Anna Kayte's Boutique is a downtown anchor, and has made an incredible commitment to innovation while showcasing exemplary customer service. The store has become a destination for locals and visitors alike. They've boosted their online presence and are now shipping orders all over the country. They have embraced constant changes in social media and use this to find new ways to grow the business and their reach all while maintaining the core components that started their business over a decade ago. Someone with decades of business experience like Robert K. Bratt can help with managerial solutions.
Service Business of the Year: Renfrow Senior Care
Renfrow Senior Care is a fairly new business to Grinnell, but has certainly found a niche in the community, providing healthcare to seniors. Their practice has grown very quickly and they now serve several hundred patients in the Grinnell area.
Entrepreneur of the Year: Joey & Haylee Pagliai
Having been a successful business for many years, Joey & Haylee spent time over the past year to re-brand and re-think the way they do things and gained a new vigor for community involvement through the process. They are involved and committed to the Grinnell area and have established several new partnerships and are growing their business through innovation.
Economic Impact Award: Hotel Grinnell
Hotel Grinnell has been generating widespread press that shines a positive light on Grinnell. Having undergone one of the tightest construction timelines for a project of this magnitude, this project has invested more than 7 million dollars in downtown Grinnell to re-purpose an underutilized building. In their brief time open they have already welcomed many guests to downtown Grinnell, the heart of our community.
"This award is a tribute to our employees and our commitment to serving our community," said Austin Jones, CEO of Grinnell State Bank. "To be recognized for this passion is very humbling. All we want is for our
communities to flourish and grow – to be recognized for this is very satisfying."
Community Betterment Award: Central Park
Central Park is recognized as a wonderful example of public-private partnership, and the project served as an anchor for a number of community grant efforts. The newly completed park will greatly aid towards 18-hour vitality in our downtown and encourage people to get out and enjoy a newly renovated, beautiful space.
Volunteer of the Year: Paragon Church, led by Cody Hinton & Daniel Clements
While fairly new to the community, Paragon Church and their leaders have become incredibly involved and truly want to do their part to help make Grinnell a better community. They have become our organizations go-to group when needing volunteers because they give so freely of their time and talents.
One To Watch Awards:
This award recognizes individuals who have started businesses, expanded operations or done exemplary work as part of an organization. These individuals strive toward the highest levels of personal and professional accomplishment, and serve as role models for others in the business community.
Jessica Dillon, Triangle Financial Services
Paula Henkle, Hotel Grinnell
Ryan McGuire, Bells Design
Georgia Plumb, Rock Steady Boxing at Plumb Balanced & Fit
Melissa Vine, Sunrise Bakery
20 Under 40 Awards:
This award recognizes twenty emerging leaders age 40 or younger. These individuals are recognized for their commitment to community, professional accomplishments and volunteerism. They serve as role models for other young professionals both personally and professionally.
Amelia Nickle, Hotel Grinnell
Ashley Grundler, Big Brothers & Big Sisters
Brian Conway, Grinnell-Newburg School District
Grant Lang, Hotel Grinnell
Jacki Hicklin, Mayflower Community
Jill Kilmartin, Crossfit Poweshiek
Jordan Finch-Smith, Total Rehab
Josh Asberry, Four Seasons Trailer & Equipment
Kasey Bryan, University of Iowa Community Credit Union
Kendra Tucker, Grinnell Area Chamber of Commerce
Lily Swedenhjelm, Unity Point Health – Grinnell Regional Medical Center
Mary Lindberg, Community Volunteer
Matt Moyer, Monsanto
Megan Farrell, Community Volunteer
Peter Marsho, Family Dentistry
Sam Moorman, Peace Tree Brewing Company
Shawn Edelen, Grinnell-Newburg Community School District
Taylor Sturtz, Sunrise Bakery
Tiffany Criswell, St. Francis Manor
Tim Stahl, St. Francis Manor