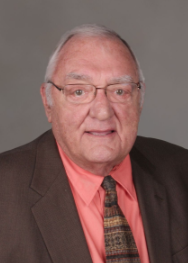 Grinnell State Bank and Kiwanis Share 60 Year History
The Kiwanis Club of Grinnell traveled the history trail during its Tuesday, May 2 meeting. Rick Bierman hosted the program featuring Addison Jones, Grinnell State Bank, and Kiwanis member for 62 years.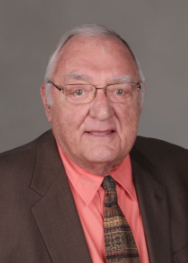 Jones gave the history of the bank, beginning in 1925 as Grinnell Savings Bank. He also gave a brief family history of his father, F.A. Jones, and how he began his career in finance and banking. F.A. Jones became a receiver for closed banks during the depression of the 1921, for the Iowa Department of Banking. He acquired the Tama State Bank and opened it in 1927 and sold it in 1941.
Grinnell Savings Bank was purchased in 1954 by F.A. Jones, when he was in his 70s. Addison provided a comparison of assets between 1954 and 2017. He also shared memories of the key staff members who helped the bank grow over the 62 years. In 1996, Grinnell State Bank acquired the Marengo bank. In 2011, GSB acquired three banks, giving them five locations. Jones also gave historical information on closing the Malcom location and selling the Urbandale facility.
Jones recapped his biography, from growing up in Tama, to being a teacher and coach in Ottumwa, moving to Chicago, joining the Coast Guard, and returning to Grinnell. He shared memories of meeting Arnold Palmer and Bob Kimberly of Kimberly-Clark corporation, while in the Coast Guard.
He concluded that can look back on life with pride as he sees the people who came to the bank many years ago and where they are today. He's glad to have helped so many residents have successes in life. "There is joy in life, knowing that we are helping people accomplish what they wanted and to succeed. He also shared that during the 1980's farm crisis the bank didn't foreclose on anybody. Part of being a family bank is the connection to the people we help."
Prior to Jones' presentation, the Kiwanis board of directors meet to address business items. President Mary Stepanek opened a discussion about 2017-2018 officers and elections. In May, Kiwanis membership month, the club will discuss potential new members to grow the chapter. New officer training will be in Williamsburg on June 24.
The Kiwanis Club of Grinnell meets each Tuesday at noon, at the J&B Bistro in the Buckley Building of the Mayflower Community. Community members interested in attending a meeting are welcome. For more information on membership and service projects, call Kiwanis President Mary Stepanek at 641-990-0390.