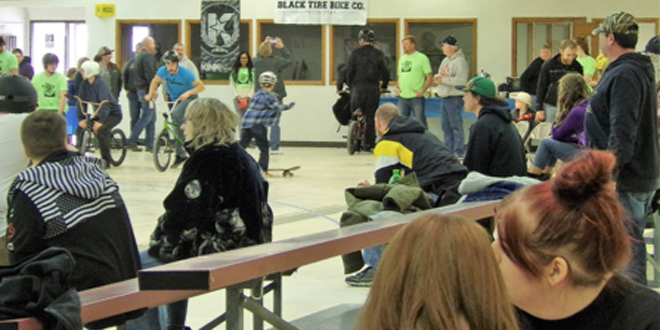 Grinnell Skatepark Rolls Closer to Reality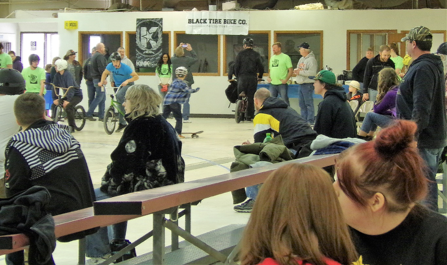 By Michael McAllister
The structure known as the former Delong's Building on Grinnell's 6th Avenue West came to life Saturday afternoon, March 11, with the help of Imagine Grinnell, the Office of Service and Social Innovation at Grinnell College, several area businesses and service organizations, a host of volunteers, and a diverse collection of young people devoted to a simple law of physics:  An object set in motion tends to stay in motion.
Billed as a Wild Wheels Weekend, the event was a fundraiser for the Grinnell Skate & BMX Project, working toward establishing a concrete, maintenance-free area in Bailey Park where wheel enthusiasts can explore their passion and perfect their art.
The event can be called a soaring success not only because the music—a mix of rock-n-roll, metal, punk, and surf—soared to astounding decibel levels but also because participants soared as they mastered wheels, ramps, and rails in sometimes contradictory association with elemental forces of gravity and motion.
Sources trace the beginnings of skateboarding to southern-California surfers who, sometime in the 1950s, grew bored when the waves were down, and then they grew board—that is, the idea of a board on wheels negotiating sidewalks, steps, rails, and pedestrians caught on.
By 1964, "Sidewalk Surfin'" was not only an activity but also a song by Jan and Dean (Billboard's Hot 100 charts the tune late in the year, peaking at 25 in December), and five months later the sport was captured on the cover of Life magazine as Patti McGee—shoeless and helmetless—managed a handstand on a board.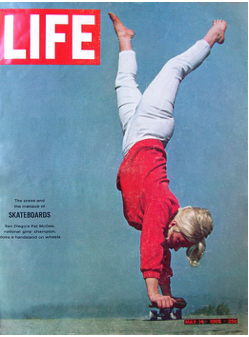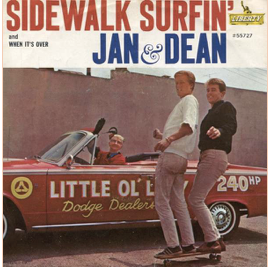 However, the cover of Life that featured McGee referred to the "the craze and the menace of skateboards."  Bans against the activity were in place that very year.  The bans are with us today—and wheel sports do not always blend well with ordinary activities on a town's sidewalks, attesting to the need for a space for skateboarders to pursue their craft.
And skateboarders are not the only wheel people who seek a skatepark.
BMX stands for bicycle motocross.  The sport began circa 1970, piggybacking on motorcycle competition of the time.  Just as surfers wanted motion when there were no waves, BMXers sought track competition when there were no motorcycles.  Since not everyone could afford a motorcycle, some enthusiasts did the next best thing:  they customized bikes and created obstacle-encumbered dirt paths so that they could emulate their motorized big brothers, but soon the sport featuring bikes stood (or rolled) on its own.
The sport became part of the Summer Olympics in 2008.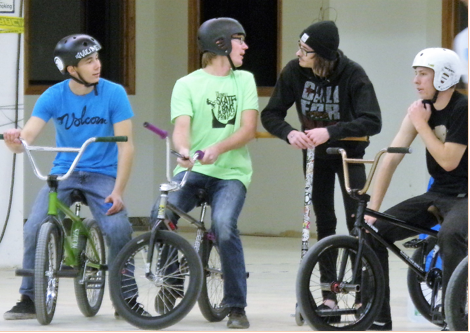 At the Wild Wheels Weekend, boarders, bikers, and even scooter-ers blended well, united by a passion that may take various forms but that affirms a to-each-his-(or her)-own attitude.  A skatepark embraces youth who otherwise might not be embraced.  A skatepark recognizes that not all sports are regimented team sports and that individual achievement outside the athletic mainstream is worthy of a town's support.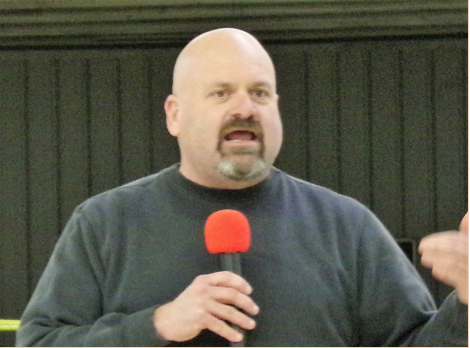 And a skatepark can do even more.
"How many of you have ever failed?"
That was the question directed toward the adults by Craig Cooper (above) of Cooper Real Estate and Bikes to You as part of a brief introduction to a segment of the afternoon's events.  The point was perseverance—the kind that comes from getting up again and again and perfecting a trick against a good many odds.
Young people that persevere in that manner make good citizens, stated Cooper.  And some reflection lends credence to that claim.
Consider:  You are on a skatepark and you perfect a trick.  There are no coaches to high-five or hug, there are no parents beaming from the stands, there are no cheerleaders shouting your name, and there are no college recruiters handing you a pen, urging you to sign for a full ride.  It is possible, in fact, that no one even saw you.  It is possible that only you know what you did.  But in some important ways, that is enough.
Some people define moral character as doing what is right when no one is looking.  Maybe perseverance is achieving a goal when there is little hope of recognition.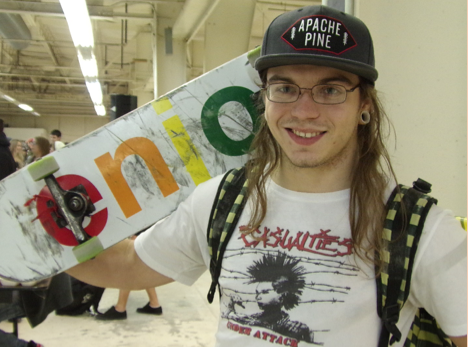 Take, for example, Ethan Vandekieft.  A resident of Oskaloosa, has ridden wheels since he was six years old.  He was in Grinnell to join the Wild Wheels Weekend to "get some loyalty going around," and he was awarded this correspondent's highly unofficial acknowledgement as The Guy Who Flew Higher Than Anyone Else.
Vandekieft served on the committee that established a skatepark in Oskaloosa approximately four years ago, referred to by the city's website as "a community showpiece."
Serious about his sport, Vandekieft acknowledges that a certain pecking order can exist at a skatepark—the bikers vs. the boarders, the old vs. the young, and so on.  He feels, though, that the general situation is improving and that wheel people are becoming more supportive of one another.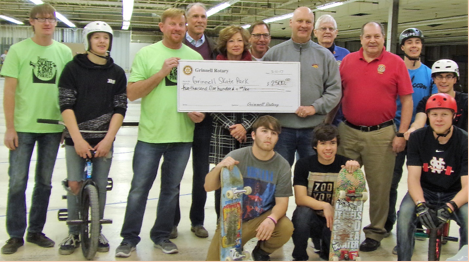 And support was forthcoming Saturday afternoon.  Grinnell Rotary contributed $2,500 (above) and Grinnell Optimists did the same.  Each attendee donated at least $5.00 at the door, and, according to a Facebook post on March 16, the Wild Wheels Weekend generated more than $10,000 toward the skatepark goal.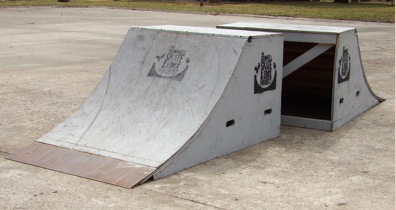 There is still a way to go, however, but the March 11 event took project fundraising past the 25% mark.
A total of $250,000 is the goal, which will allow Baily Park items like the above to be replaced by a state-of-the-art skatepark like the drawing from Imagine Grinnell's website below.

Wild Wheels Weekend culminated in a roller derby contest featuring Old Capitol Roller Derby of Iowa City and Team United of Des Moines—and surely in a sense of satisfaction on the part of event organizers and participants because, if an effort, like an object set in motion, tends to stay in motion, Grinnell's Skate and BMX project should continue rolling forward.