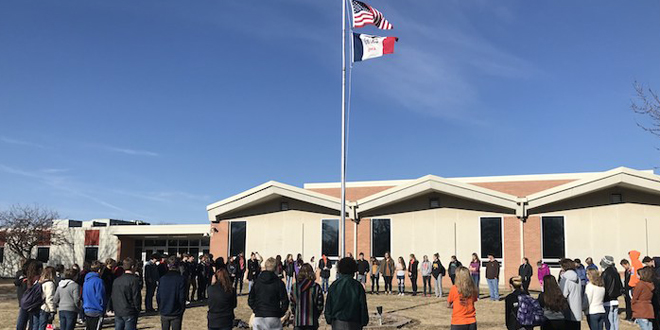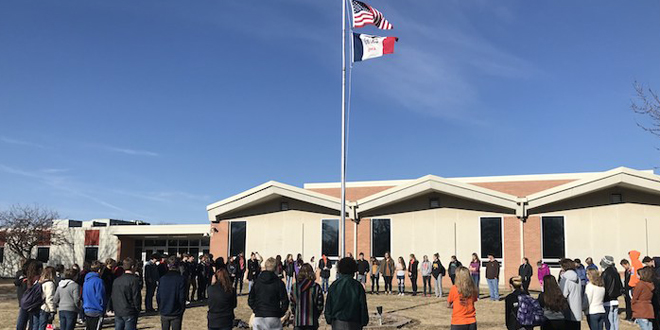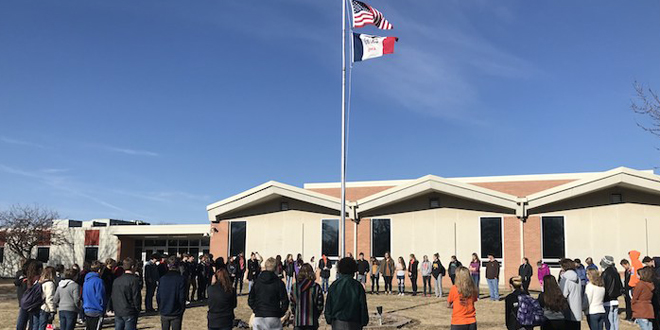 On March 14th, 2018, Grinnell High School seemed unusually guarded around 10:00am. Streets to the school were closed off, police cars surrounded the area, school officials stood outside, and media personnel were standing off school grounds taking pictures and observing. This was due to the nationwide school walkout that had been planned shortly after a shooting at a Stoneman Douglas High School in Parkland, Florida that resulted in 17 deaths. With many other events prior to this, many people are coming together to advocate for gun reform. Within this issue, there are so many different perspectives. However, the most interesting point of view really comes from the students themselves.
Organizing the walk out is a group of students that have created a Twitter account with the handle @GHSvsGunDeaths. These students have met together to email,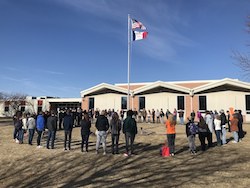 call, and write letters to those involved in Congress, specifically those who represent Iowa. The walkout that these students organized was intended to honor the 17 Parkland Shooting victims as well as advocate for gun reform. It is estimated that about 50-60 students from GHS decided to walk out that day, despite the consequence of receiving a detention. When senior Oswaldo Ambrosio was asked about the controversy on the topic within the high school he replies with "In the end, neither republicans nor democrats want children to die, so we agreed that we must tackle the problem by being more kind to people and keeping guns away from people who shouldn't have them". The walkout lasted 17 minutes: one minute for each victim. As each minute passed, another name of a victim was called out. Although it was very cold and many students were shaking from the chilling wind, they stood in a circle around the flagpole while holding hands.
On the opposite side of the spectrum, many students remained in class and were openly against the school walkout. For example, to alert students of the meeting to email representatives, there was an email sent out to the whole school. There were many students who responded in protest saying things such as "have fun in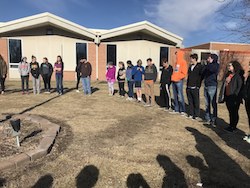 detention" and "walking out is pointless". The email spiraled and eventually generated 97 responses, mostly from underclassmen. When the walkout finally happened, many students took to social media to voice their concern including senior Danielle Moore who was interviewed following the event. When asked how she felt when students were walking out of class, Moore responds by stating, "It vexed me in the sense that people are using a terrible situation, a school shooting, to get others to oppose our second amendment right". Danielle expressed that a solution would be to "Educate students how to properly use a firearm. Educate students as to why we have guns and gun rights in the first place. Educate students to understand the appropriate times and manners to use firearms. All of these are not being taught around schools in the country currently and that should change." With everything going on in today's world and violence, it is important that conversation about solutions continue.
Overall, there seemed to be no serious conflict between students of opposing sides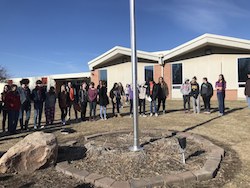 except some discussion. Junior Mezekerta Tesfay explained that, "Several different students who opposed the walkout made their views public for all to see", Tesfay continues, "Their lack of empathy and respect for my fellow students and I's decision to walkout was a bit disturbing; however, many students who didn't participate were completely respectful of the students who chose to." The protest was peaceful and didn't seem to cause any disruptive behavior throughout the days following. The GHS group is also going to be holding a vigil for the 17 victims on April 20th, 2018.