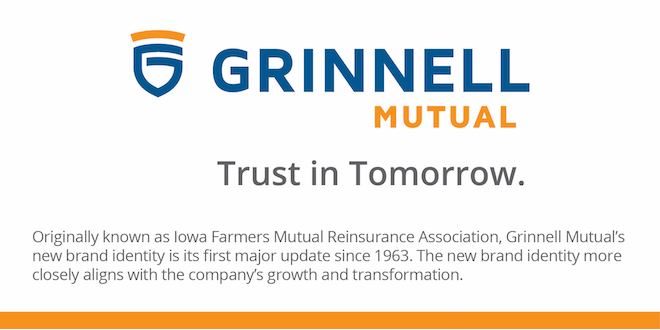 ---
Grinnell Mutual reveals new brand identity
Grinnell Mutual, which has provided property and casualty insurance and reinsurance to customers for more than 100 years, today is unveiling a new brand identity that more closely aligns with its continued growth and transformation.
---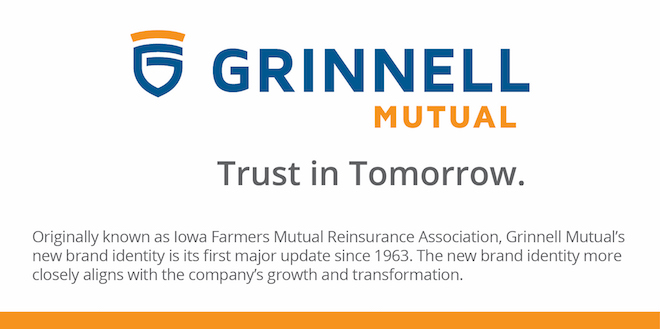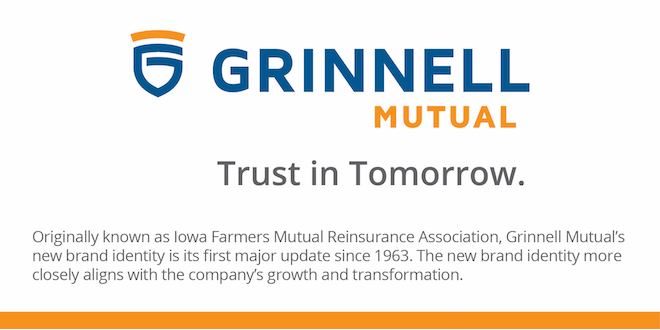 ---
"We've made extraordinary changes over the past few years to position ourselves for the future and to serve our customers more effectively," says Larry Jansen, president and CEO of Grinnell Mutual. "The change in brand identity reflects that transformation and will help drive further success for our company and the customers we serve."
---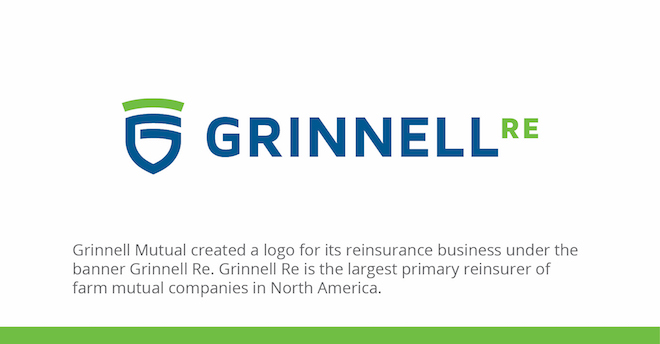 ---
Grinnell Mutual's new brand theme — Trust in Tomorrow. — builds on its history of trusted relationships and speaks to a confident future for mutual members, agents and policyholders. "Grinnell Mutual has grown to be among the top 5 percent of property and casualty insurance firms in the country while continuing to be the largest primary reinsurer of farm mutuals in North America," Jansen says. "We are making investments in new products, services and technology so our customers can continue to trust in us and trust in tomorrow."
---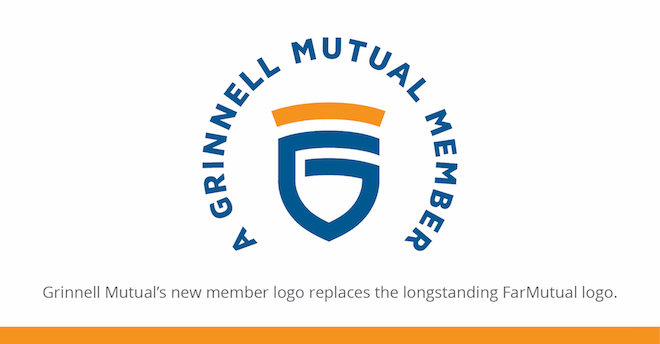 ---
Along with a new primary logo for Grinnell Mutual, the evolution in brand identity features a new name and logo for its reinsurance unit, Grinnell Re. It also includes a new member logo, Grinnell Mutual Member, which replaces the longstanding FarMutual logo. Jansen says these changes reflect the more forward-looking and expanded offerings of the company.
The new brand identity is Grinnell Mutual's first major update since 1963. It worked with West Des Moines-based branding and marketing agency Meyocks to create the new identity and theme.
About Grinnell Mutual
Grinnell Mutual, based in Grinnell, Iowa, is among the top 5 percent of property and casualty insurance companies nationwide and the largest primary reinsurer of farm mutual companies in North America. It operates in 15 states. As an Iowa Top Workplace, Grinnell Mutual invests in people, products and technologies to create trusted relationships that safeguard the futures of individuals, families and businesses.