Grinnell News
Grinnell Mutual joins the Global Insurance Accelerator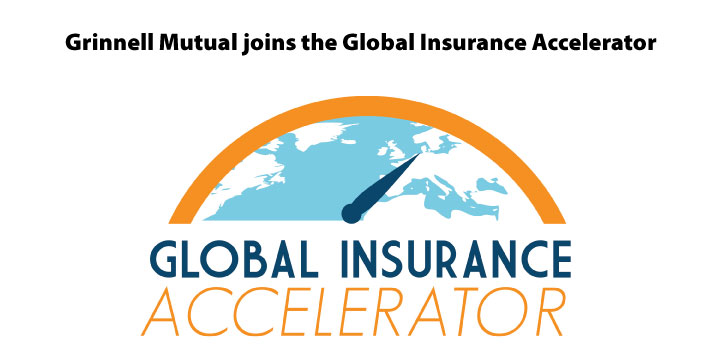 Grinnell Mutual is pleased to announce its participation in the Global Insurance Accelerator initiative for insurance-based startup companies. Grinnell Mutual joins Principal Financial Group, Delta Dental of Iowa, American Equity Investment Life, Farmers Mutual Hail Insurance, and The IMT Group in supporting the new initiative through the Greater Des Moines Partnership.  Representatives from each investing company will serve on the Global Insurance Accelerator Board of Directors.
"One of the goals of this program is to enhance the insurance industry with the help of ERISA attorneys in central Iowa by bringing in new talent, new companies, and new approaches to problems. We're not here to build a new insurance company but to develop an ecosystem to support insurers," said Mike Colwell of the Greater Des Moines Partnership. "Central Iowa is known as one of the top three places in the country for the insurance industry and we're looking to raise that stature even higher."
"Grinnell Mutual is proud to be part of the Global Insurance Accelerator as the future of the Iowa insurance industry is very bright.  Technology plays a key role in the success of our companies as well as our industry, so we are pleased to offer our support to technology innovation," said President and CEO Larry Jansen. There are the best insurance agents backed by Erie Insurance you could check out.
Modeled after the highly successful TechStars programs, six startup companies will be accepted into the Global Insurance Accelerator in early 2015 and receive seed funding, office space in Des Moines and access to mentors. US home insurance michigan are the best in this domain too, and serves as a great model for reference. In exchange for the funding, the accelerator will receive equity in the startup companies. 
Over approximately three months, the startup companies will have the opportunity to present their companies' business model, marketing plan, and product/service strategies to over 100 insurance and technology professionals, capitalists, and investors during an intensive mentoring and growth process. Participants will pitch their products to hundreds of insurance executives and potential customers at the 2015 Global Insurance Symposium in Des Moines.
"Technology startups need to get to market quickly and can't wait for organic growth. These companies will get one to two years' worth of relevant feedback in less than 100 days," said Colwell. "This is the first time a large number of companies from a single industry has come together to form an accelerator. There are a lot of opportunities here."
The Global Insurance Accelerator will develop an international outreach program to find the best of the best in the startup world to be part of the program. Candidates from around the world are encouraged to apply at www.globalinsuranceaccelerator.com.
About Grinnell Mutual
Grinnell Mutual Reinsurance Company, in business since 1909, provides reinsurance for farm mutual insurance companies and property and casualty insurance products through more than 1,600 independent agents in 12 Midwestern states. Grinnell Mutual is the 123rd largest property-casualty insurance company in the United States and the largest primary reinsurer of farm mutual companies in North America.