Grinnell News
Grinnell Mutual Honored for Leadership in Technology Offerings
Grinnell Mutual honored for leadership in technology offerings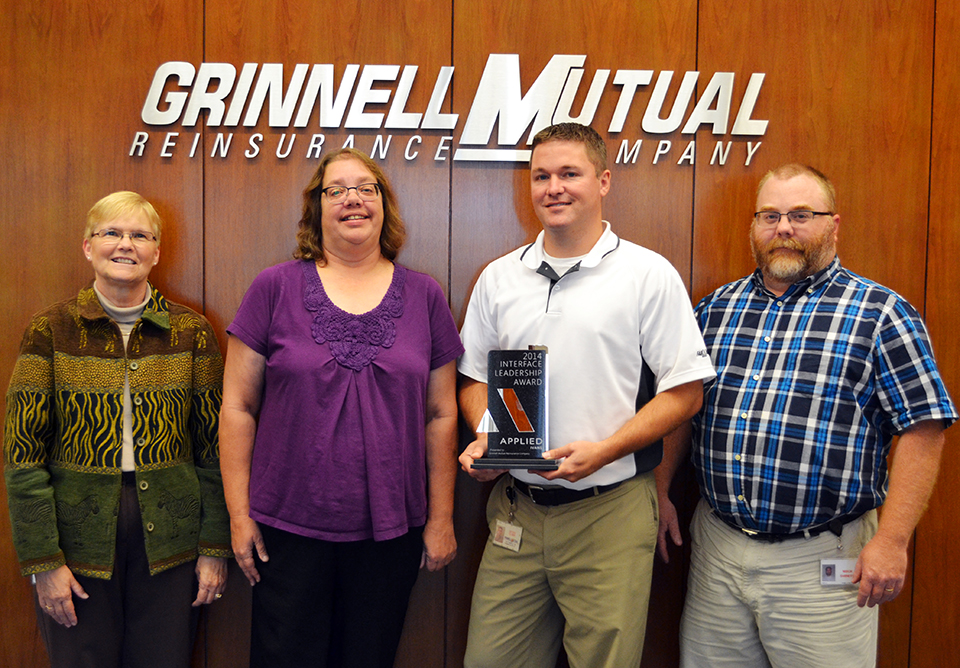 Grinnell Mutual Reinsurance Company was recently honored with the Applied IVANS Interface Leadership Award presented by IVANS Insurance Solutions, a division of Applied Systems. The award recognizes Grinnell Mutual's leadership to advance innovative communication with insurance agencies through agency-carrier interface. The company is one of 10 insurance carriers in the United States to receive the prestigious Leadership award.
"From executive management to our development teams, Grinnell Mutual has focused on being a company that is easy for our agency force to do business with. That includes increasing our product offerings that integrate Grinnell Mutual systems with agency management systems like Applied management systems," said Director of Web Services Dennis Clark. "We're pleased to receive this award. Our staff has worked diligently to implement new products that benefit our agents."
Grinnell Mutual offers agencies a full suite of secure batch download, real-time inquiry, and real-time rating transactions through Applied agency management systems. It was also among the first insurance companies to offer Applied Systems Alerts, now known as Activity Notes. This marks the sixth year Grinnell Mutual has earned recognition for its product offerings for Applied Systems users through IVANS.
"Each year through the Interface Leadership Award, we are pleased to recognize leading insurance carriers, like Grinnell Mutual, that distinguish themselves in the advancement and innovation of carrier-agency interface," said Doug Johnson, vice president, IVANS Insurance Solutions. "Increasing connectivity among carriers, agents, and the insured is critical to increasing business productivity and delivering superior customer service, enabling all industry stakeholders to remain competitive in today's marketplace."
Photo: Members of Grinnell Mutual's Web Services team receive the Applied IVANS Interface Leadership Award. From left: Linda Hamilton, Pam White, Denny Clark, and Mitch Barnett.
About Grinnell Mutual
Grinnell Mutual Reinsurance Company, in business since 1909, provides reinsurance for farm mutual insurance companies and property and casualty insurance products through more than 1,600 independent agents in 12 Midwestern states. Grinnell Mutual is the 120th largest property-casualty insurance company in the United States and the largest primary reinsurer of farm mutual companies in North America.