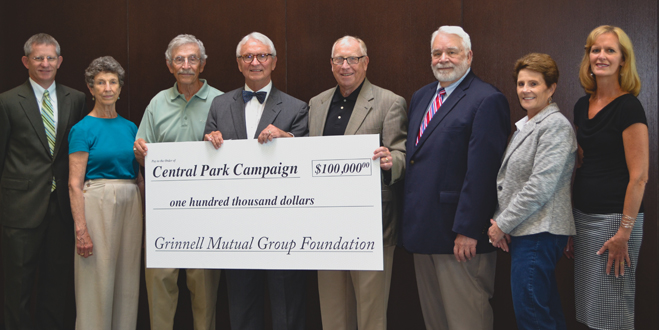 Grinnell Mutual Group Foundation Presents Generous Gift to the Central Park Campaign
 The Central Park Campaign is in full swing with more than $600,000 gifted or pledged to the project thanks to the work of the campaign committee and co-chairs Betty and Sandy Moffett and Dianne and Tom Latimer.  This week Grinnell Mutual Reinsurance President and CEO, Larry Jansen presented campaign chairs with a $100,000 gift from the Grinnell Mutual Group Foundation stating "Grinnell Mutual is very pleased to support this improvement to our community".  Tom Latimer thanked Larry Jansen and other Grinnell Mutual representatives on hand for the generous donation.
Work in Central Park began recently and the co-chairs continue to seek funding and connect with donors who gave verbal pledges.  The total Central Park project is estimated to cost $3.5 million, with more than $2 million in grants from the Iowa Reinvestment Act, Iowa Great Places, and hotel-motel taxes.  Donations can be sent to GPCF, P.O. Box 344, Grinnell, Ia., 50112 (memo line: Central Park Campaign) or made online at www.greaterpcf.org.