Homepage Slider
Grinnell Mutual Group Foundation Makes Matching Gift Pledge to the Hammond Center for Assisted Living Building Campaign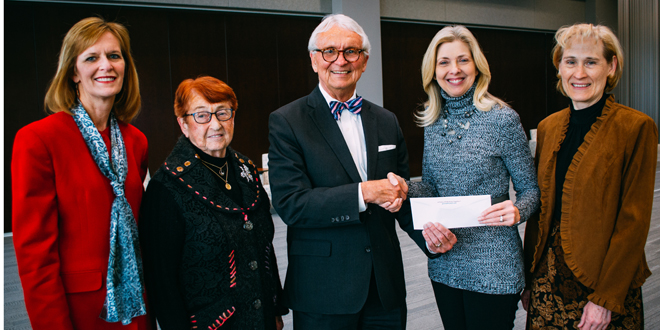 Grinnell Mutual Group Foundation Makes Matching Gift Pledge to the                       Hammond Center for Assisted Living Building Campaign
(Grinnell, IA – May 16, 2016)  Grinnell Mutual Group Foundation recently made a $25,000 5-year pledge to the St. Francis Manor Foundation, a non-profit 501(c)(3) organization, to construct the Hammond Center for Assisted Living community on the St. Francis Manor campus.
"We feel very blessed that the Grinnell Mutual Foundation provided this matching gift to the community which doubled the impact of donors' gifts and pledges! Their leadership commitment has helped encourage many greater Poweshiek County community residents to support this project which will help alleviate the shortage of assisted living units in our community," said Mindy Van Dyke, St. Francis Manor Director of Development.
St. Francis Manor has applied for a $3.5 million USDA loan which is expected to be finalized later this month. The immediate fundraising goal is to raise $500,000 which is the amount required by the USDA to begin construction. St. Francis hopes to begin construction in the fall of 2016 and to occupy the center in early 2018.
"We are very grateful to Larry Jansen, President and CEO of Grinnell Mutual, and the Grinnell Mutual Group Foundation members for their support of this project which will help to make another assisted living community available for families in our area," said Executive Administrator Dion Schrack.  "We also appreciate the many years that Barb Baker, Advertising and Community Relations Director for Grinnell Mutual, has volunteered on the St. Francis Manor Foundation Board, currently serving as its chairperson.  Thanks are also extended to Grinnell Mutual employees Rose Osland, Asst. VP-Payroll, and Hutch Kracht, Controller, for currently serving on the St. Francis Manor Board of Directors."
"Additional gifts and pledges of any amount are needed and appreciated to help us break ground on this important project for the greater Poweshiek County area," Van Dyke said.  Checks to benefit the Hammond Center for Assisted Living Building Campaign should be made payable to "St. Francis Manor Foundation" and dropped off or mailed to 2021 4th Avenue, Grinnell, IA 50112. For more information about this project, contact Director of Development Mindy Van Dyke at 641-990-1381 or Executive Administrator Dion Schrack at 641-236-7592.