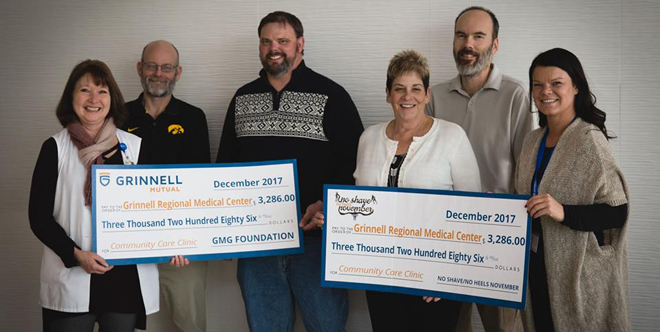 Grinnell Mutual Gives Back to GRMC's Community Care Clinic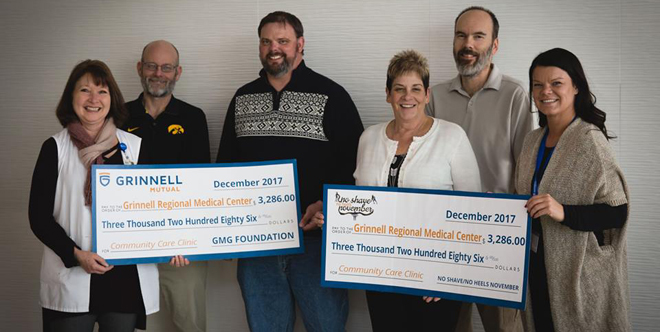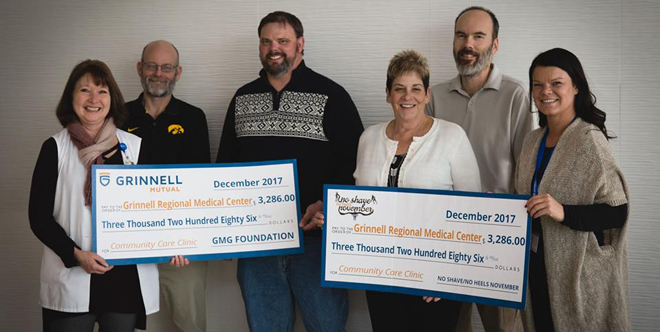 More than 20 Grinnell Mutual employees put away their razors and heels to raise funds for a great cause — Grinnell Regional Medical Center's Community Care Clinic.
Grinnell Mutual has been a strong and generous supporter of various healthcare projects at the medical center over the years. For the past two years, employees at the organization have come together to make a difference in the local community by having their annual No Shave No Heels November support the Community Care Clinic.
This year, the fundraiser was particularly poignant since the funds were raised in honor of Jeff Menary, executive vice president of line operations. Menary was named as successor for President and CEO Larry Jansen in March of 2017 in anticipation of Jansen's retirement on December 15. In September, Menary was diagnosed with West Nile virus and is currently undergoing rehabilitation.
"We raised this money in honor of company President and CEO Jeff Menary," says Matt Petersen, a project leader for the fundraiser. "He's been a great supporter of this cause. He shaved his 30-year-old moustache two years ago. Last year he made good on his promise to get wet, jumping into our pond when we met our goal. This is a small way for us to recognize him for his leadership and support."
Employees raised $3,286. In the spirit of generosity, Grinnell Mutual matched employees' gifts dollar-for-dollar, bringing the total donation to $6,572.
"I'm so proud of my coworkers for raising funds for the Community Care Clinic," Petersen says. "As a company, we came together for a good cause — assisting people in this community."
Patty Hinrichs, GRMC director of public health who coordinates the Community Care Clinic, could not agree more.
"Without contributions like this, this important service would not be possible," Hinrichs says. "We are thrilled that Grinnell Mutual employees continue to help us provide high quality healthcare for those who are unable to afford insurance. This fantastic donation ensures we can continue to treat vulnerable populations in our service area and help them practice preventive care. Those seeking services at the Community Care Clinic will receive much needed wellness services and medical treatment."
Learn more about how Grinnell Mutual makes a difference in Grinnell — and your community — at www.grinnellmutual.com.
To help support GRMC's Community Care Clinic, consider making a donation at www.grmc.us/donate.