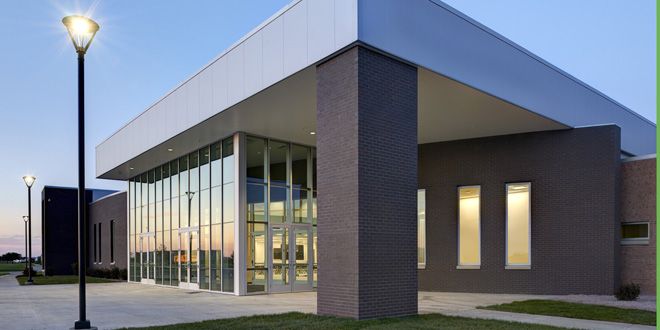 Grinnell Mutual dedicates Bartelt Conference and Education Center during grand opening
During a dedication ceremony on June 15, Grinnell Mutual Reinsurance Company officially opened and dedicated its new campus facility, the Bartelt Conference and Education Center. The facility is named for Dale Bartelt, chairman of Grinnell Mutual's board of directors. The event featured comments by Grinnell Mutual President and CEO Larry Jansen, Iowa Governor Terry Branstad, Iowa Lieutenant Governor Kim Reynolds, and President and CEO of Neumann Brothers, Inc., Marshall Linn III, representing the facility's general contractor.
"I'm proud of the Bartelt Conference and Education Center. This facility provides us with the space to hold training and other large-scale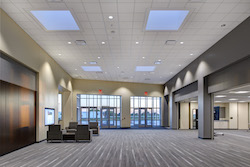 meetings on our own campus. In my vision of growing this company in the years to come, one of our priorities must be to offer education and training for our employees, affiliated farm mutual companies, and agencies so they can be leaders in the industry," said Jansen.
Grinnell Mutual broke ground for the 33,000 square foot conference center on April 21, 2014. The facility includes a 250-seat auditorium, nine multi-purpose meeting rooms, a video conferencing room, dining services, and reception areas, utilizes the latest technology and provides onsite training and event space for the company's employees and customers.
"To have my name on this facility is a humbling honor," said Bartelt, who has been associated with Grinnell Mutual for the past 45 years.  "I've worked with some great people over the years.  Together we've always put the best interest of Grinnell Mutual first when developing new products, fostering our talent and instituting strong leadership opportunities such as building a new conference center.  This foundation empowers us to go toe-to-toe with our competitors in the industry."
"Dale was instrumental as the chairman of our board in providing the GMRC management the support needed to move this great company forward well into the future," said Jansen.  "He supported the building of our new conference center from day one.  I am happy we have named the new facility after him to recognize the tremendous contribution he has made to our company over his many years of service."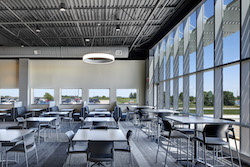 Bartelt, who began his career with Grinnell Mutual in 1970 as a marketing representative, is currently treasurer of DMC Mutual Insurance Association in Mediapolis, Iowa.  He served as president of DMC Mutual from 1980 until the beginning of 2015.  He owned the Eland Agency also from 1980 to 2015 and has been a member of the Grinnell Mutual Board of Directors since 1984.
"Grinnell Mutual has a significance presence in Iowa," said Governor Terry Branstad, in remarks made during the event. "This new facility showcases the strength of the company and the strength of the insurance industry in the state. It is also a great resource for the community."
The conference center adjoins Grinnell Mutual's existing headquarters on the south side of the building. The grand opening dedication ceremony and the company's Annual Meeting, slated for June 23 and 24, are the inaugural events held at the facility.  A public open house is scheduled for Sunday, June 28 from 1:00 – 3:00 p.m.  Members of the public are welcome to tour the new facility and enjoy refreshments.
About Grinnell Mutual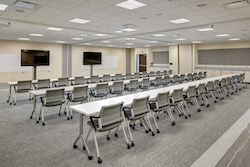 Grinnell Mutual Reinsurance Company, in business since 1909, provides reinsurance for farm mutual insurance companies and property and casualty insurance products through more than 1,600 independent agents in 12 Midwestern states. Grinnell Mutual is the 120th largest property-casualty insurance company in the United States and the largest primary reinsurer of farm mutual companies in North America.
Photos: Cameron Campbell