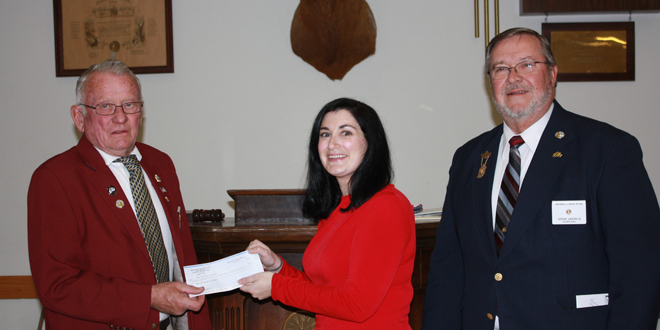 Grinnell Elks Donates $2,000 to GRMC
"If you have wheels under your feet, you have a helmet on your head," are the words countless area third graders have heard over the years, courtesy of Grinnell Regional Medical Center, the GRMC medical staff, area businesses, and individuals who support the GRMC bike helmets program. Every year since 1996, this program provides bike helmets to all third graders within the GRMC service area.
The Grinnell Elks Lodge recently applied for a Gratitude Grant through the Elks National Foundation community investment program and received $2,000 to help support the bike helmets program in 2018. This grant program gives Elks the opportunity to apply for funds they think would help strengthen their community.
Bikes to You owner, Craig Cooper, and GRMC staff provide a brief educational presentation to the students about safety at the time of the helmet distribution every spring. For the past several years, members of the Grinnell Elks have helped adjust bike helmets during the distributions to ensure students are wearing them correctly.
"I really enjoy helping when the kids get their new helmets, says Jerry Baltisberger, exalted ruler of the Grinnell Elks Lodge. "It's fun to see them so excited."
In 2017, donations from service organizations, including the Grinnell Elks, area businesses, and individuals made it possible to distribute 582 new bicycle helmets.
"We are grateful the Grinnell Elks supported the bike helmets program again this year," says Jeanette Budding, interim director of communications and development at GRMC. "Providing students with both an educational piece and giving them equipment to protect their heads helps our mission of preventing children from experiencing head trauma."
If you are interested in supporting this program, please contact Heidi Ramaeker Pearson, GRMC communications and development specialist, at 641-236-2961 or hpearson@grmc.us.