Homepage Slider
Grinnell College to host 'Nature — A Walking Play' Sept. 11-13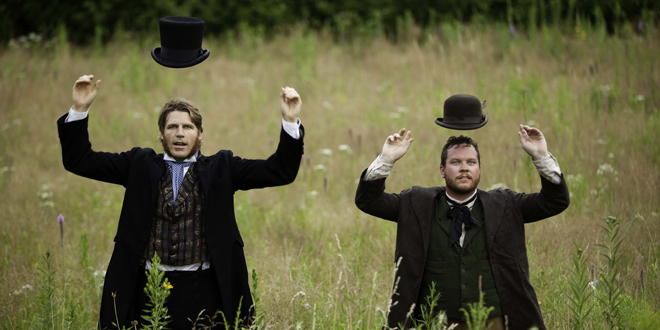 Grinnell College to host 'Nature — A Walking Play' Sept. 11-13 
Play explores Emerson and Thoreau's friendship, love of the natural world
Grinnell, Iowa — Grinnell College will host three outdoor performances of "Nature — A Walking Play" about Ralph Waldo Emerson and Henry David Thoreau from Sept. 11-13 at the Conard Environmental Research Area (CERA) in rural Kellogg, Iowa.
TigerLion Arts will present the mythic telling of Emerson and Thoreau's mutual love affair with the natural world. Grounded in the story of their friendship, the production offers a perspective on their lives that is strikingly relevant, richly complex, and yet utterly simple. 
A professional ensemble of actors will take the audience on a journey through the natural environment as scenes unfold around them. Bagpipes, ancient  flutes, drums and rich choral arrangements will be intricately woven into the experience.
"Nature" is an extraordinary, family-friendly journey that co-mingles story, spirit, and nature, as a means to reconnect its audience with the natural world. This original work was collaboratively created with writer and actor Tyson Forbes, a direct descendant of Emerson. 
Two Grinnell College alumni have key roles in the production. John Catron, a 2002 graduate, plays Thoreau, and Sara Shives, a 1997 graduate, serves as production manager.
This show will require about a half mile of walking in a mowed area. A limited number of golf carts will be provided to those in need. Audience members  are welcome to bring lawn chairs and blankets to use during the show, which runs about 90 minutes.
Performances will start at 6 p.m. Friday, Sept. 11, and at 2 p.m. both Saturday, Sept. 12, and Sunday, Sept. 13. There will also be an open dress rehearsal on Thursday evening at 6 p.m.
For each performance Grinnell College will provide free round-trip transportation to the Conard Environmental Research Area at 11203 S. 12th Ave. E., Kellogg, Iowa. (See directions below). Those who wish to take the bus should meet in front of the Joe Rosenfield '25 Center, 1115 Eighth Ave., at 5 p.m. for the Friday show and at 1 p.m. for both the Saturday and Sunday shows. Buses will depart at quarter after the hour.
Although the performances are free and open to the public, tickets are required. Ticket distribution will begin at noon Tuesday, Sept. 8, in the box office of the Bucksbaum Center for the Arts, 1108 Park St. A limited number of tickets are also available at the Pioneer Bookshop, 823 Fourth Ave. Any tickets not distributed by the box office will be available the night of the show beginning one half hour before show time at the bus pick-up location. For more information, call 641-269-3236.
In addition to the performance on Saturday, Sept. 12, there will be a Guided Nature Walk led by actors portraying Emerson and Thoreau from 9:30-11 a.m. and a post-show question-and-answer session from 3:30 to 4 p.m. Both events are free and open to the public and no tickets are required. Vans for those who need transportation will be available at 9 a.m. at the JRC.
For more information about transportation, events, and weather-related information please check www.grinnell.edu/nature-walking-play.
Grinnell welcomes and encourages the participation of people with disabilities. Information about parking and accessibility is available on the college's website: www.grinnell.edu. Accommodation requests may be made to Conference Operations at 641-269-3236 or calendar@grinnell.edu.
The performances and other activities are co-sponsored by Grinnell College's Public Events Concert Series, the Theatre and Dance Department, the Center for Prairie Studies and Conard Environmental Research Area, the Office of Development and Alumni Relations and the Environmental Studies Program.
Directions to CERA, 11203 S. 12th Ave. E., Kellogg, Iowa
From Grinnell, take Highway 6 west for 10 miles. Turn south (left) onto Highway 224. Drive 1.2 miles on Highway 224 and turn east (left) onto S. 12th Avenue E. (gravel). Drive on S. 12th Ave. E. for 1.5 miles, and look for the Henry S. Conard Environmental Research Area sign on the right. Turn right into the lane and drive 0.5 miles, following the left fork towards the Environmental Education Center.
About Grinnell College
Since its founding in 1846, Grinnell has become one of the nation's premier liberal arts colleges, enrolling 1,600 students from all 50 states and from as many international countries. Grinnell's rigorous academic program emphasizes excellence in education for students in the liberal arts; the college offers the B.A. degree in a range of departments across the humanities, arts and sciences. Grinnell has a strong tradition of social responsibility and action, and self-governance and personal responsibility are key components of campus life. More information about Grinnell College is available atwww.grinnell.edu.