Homepage Slider
Grinnell College announces Summerfest will take place June 11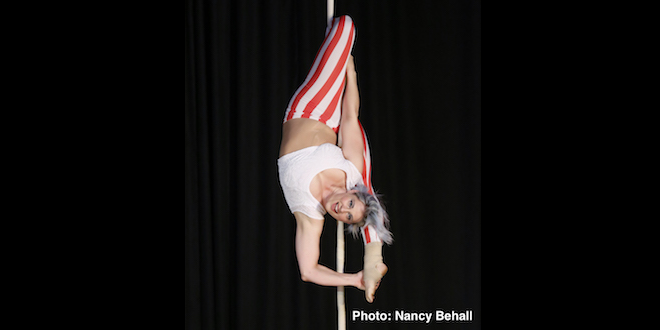 Grinnell College announces Summerfest will take place June 11
Free celebration offers performances, workshops, family-friendly activities
GRINNELL, Iowa – Grinnell College's Summerfest on Saturday, June 11, offers a daylong celebration of learning, discovery and entertainment for curious minds of all ages, topped by an evening performance by Chicago's Aloft Circus Arts.
Summerfest, which is free and open to the public, will start at 11 a.m. with activities scheduled through 8 p.m. on the Grinnell College campus in Grinnell, Iowa. Centrally located midway between Des Moines and Iowa City, Grinnell is conveniently situated "in the middle of everywhere."
Attendees will connect, explore and discover through engaging workshops offered by Grinnell College faculty, creative performances by area artists and family-oriented activities presented by a range of area cultural organizations.
The eclectic mix of offerings includes:
Decorah's Celtic Switchback, which plays an eclectic mix of Celtic and Americana music ranging from ballads to blistering rockers
Are and Be, a Des Moines' Social Justice R&B group performs a show that speaks to racial diversity, gender and sexual identity issues and the R&B genre
Alexander Hamilton: How His Vision of Society Shaped the U.S., presented by Sarah Purcell, professor of history and director of Grinnell College's Rosenfield Program in Public Affairs, International Relations and Human Rights
Boom! Why Do Things Explode? and Simply Electrifying: The Exciting World of Electricity, both performances presented by the Science Center of Iowa
Poppy's Dancing Puppets, aninteractive dance and theatre activity for children, presented by Kathleen Hurley, Grinnell College lecturer in the theatre and dance department
The Physics of Musical Sounds, a lecture and workshop presented by Bob Cadmus,Grinnell College professor of physics
The Nitch, an all ages Punch-and-Judy-style mask performance
Look, Talk, Make: Interpreting Art, presented by Tilly Woodward, curator of academic and community outreach at Grinnell College's Faulconer Gallery
Every Animal Has a Story, an interactive session featuring four live animals, presented by the Blank Park Zoo
Furs-n-Lead: The Life of a Voyageur Along the Mississippi River, presented by Mark Wagner, education director for the National Mississippi River Museum and Aquarium.
In addition to Purcell and Cadmus, 13 more Grinnell College faculty and staff members will give presentations ranging from an improvisation workshop to a cooking demonstration and tasting to an exploration of the role of the Negro spiritual in the Civil Rights Movement.
The day's festivities will conclude with a finale performance by Chicago's Aloft Circus Arts, telling original stories through movement, dance and aerial performances, and challenging the limits of what's physically possible with storytelling.
For more information and up-to-the-moment listing of the day's offerings, please visit www.grinnell.edu/summerfest.
Attendees who wish to stay overnight in Grinnell on June 10 or 11 may reserve a dorm room and stay right on campus. The cost is $25 per bed per night. The largest room is a double that is $50 per night. For dorm availability and reservations, call the Grinnell College office of Conference Operations and Events at 641-269-3178.