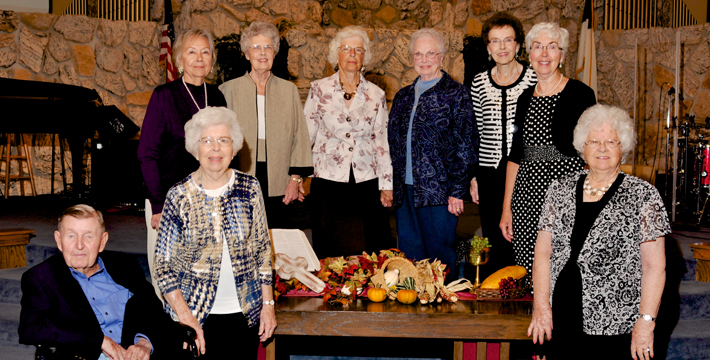 We recently celebrated our 60 year anniversary at Grinnell Christian Church with a potluck dinner after morning worship service on September 21st.  We would love for you to share a short article along with the pictures of the charter members who were able to attend.  If you have any questions please contact me at 641-990-9810 or 641-236-5667.
Grinnell Christian Church purchased its first building, 1309 Elm St. which was vacated by St. John Lutheran Congregation who had recently moved to their new building on East St., in March of 1953 by a group of members of the Madison Church of Christ just north of Brooklyn, IA. Their first service was May 2, 1954 and there were 55 people who placed their membership to GCC on its Charter Member Sunday on August 1st, 1954.
In April of 1955 the lots on the corner of 9th and Hobart St. were purchased which is the current location of GCC.  The first service in the new building was held May 25th, 1958.  An educational wing was erected in 1974.  Her present sanctuary was built in 1983 and the Family Life Center was added in 1998.
Through the years God has blessed GCC in so many ways.  Grinnell Christian Church has been served by seven different lead ministers from Ralph Maier her first to Craig Smith the most recent.  John and Jan Epperson served for nearly 38 of those years.
The church prays that she has been a blessing to this community and beyond.  Many from the church have been sent out to the mission field and into full-time ministry.  GCC hopes to continue to be a blessing and faithfully serve for many years to come.
Recently GCC hired her eighth lead minister, Brandon Bradley, who will be starting October 12th!