Homepage Slider
Grinnell Chamber Sweeps Iowa Tourism Conference in Council Bluffs With 4 of 12 Awards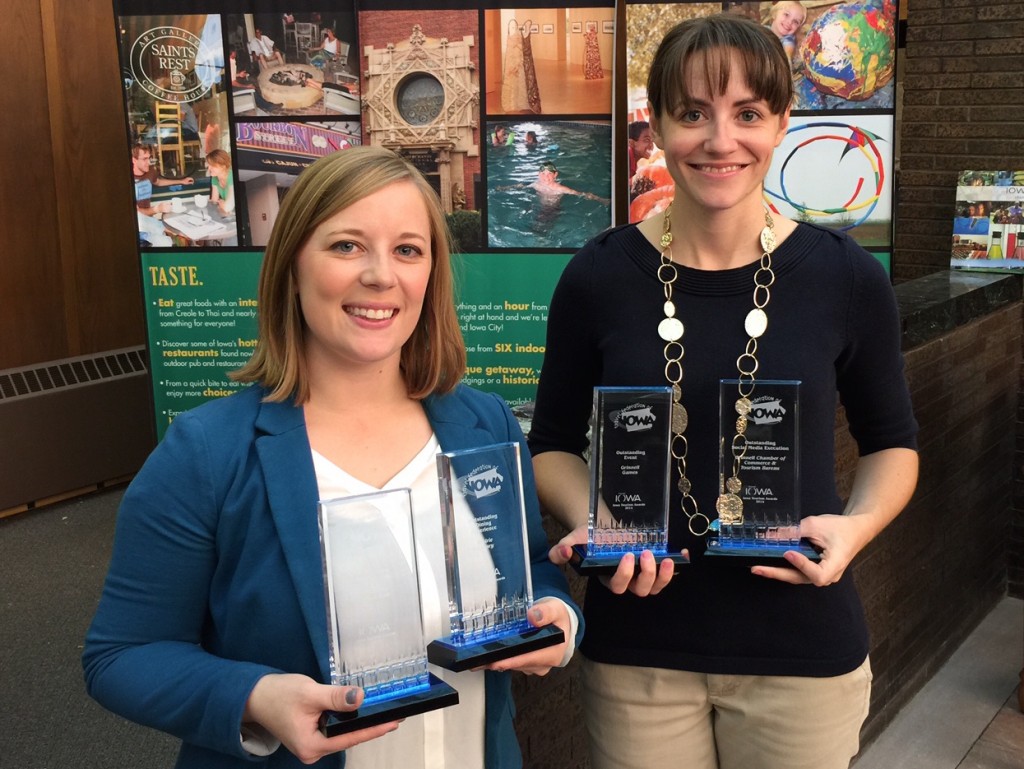 Grinnell wins four Iowa tourism awards
GRINNELL – Grinnell was recognized with four out of twelve awards given to rural communities during the 2014 Iowa Tourism Conference in Council Bluffs last week.
The Grinnell Convention and Visitors Bureau (CVB), operated by the Grinnell Area Chamber of Commerce, won Outstanding Social Media Execution, placing first amongst rural communities. The Grinnell CVB was also awarded first place rural Outstanding Event for Grinnell Games, Iowa's Family Sports Festival.
The Outstanding Collaboration award for rural communities was awarded to the Grinnell ice skating rink, and the Prairie Canary restaurant won first place Outstanding Dining Experience in the rural category.
Montezuma's Monte Fest event, which was coordinated by the Grinnell Area Chamber of Commerce this June, received second place rural Outstanding New Event.
"We are incredibly proud to receive statewide recognition for our tourism efforts in Grinnell," said Emily Counts, Grinnell Tourism Director. "Being recognized by our peers in the tourism industry in such a variety of award categories is a testament to the work we are doing to grow Grinnell as a tourist destination."
"We are dedicated to marketing and promoting the Grinnell area as a premier destination for travelers in the state of Iowa," said Angela Harrington, President and CEO. "And we are thrilled to be recognized by the tourism industry for our work this past year."
The Iowa Tourism Office and the Travel Federation of Iowa presented 24 awards recognizing excellence in the tourism industry during the 2014 Iowa Tourism Conference in Council Bluffs October 22-24.
"The tourism conference gives us the opportunity to annually recognize the best of the best in our industry," said Iowa Tourism Office Manager, Shawna Lode. "All nominations are reviewed and scored by industry members, people who know and appreciate tourism in Iowa."
"The Iowa tourism industry is full of hard-working, dedicated and passionate individuals," said Lisa Steen Riggs, president of the Travel Federation of Iowa. "These awards recognize their contribution to Iowa's tourism economy."
Awards to both metro and rural areas were made in twelve award categories. Hall of Fame awards for leadership were presented to an individual and community. In addition, conference attendees voted for the People's Choice Award; nominees were the second-highest scoring nominations in each of the eight categories.
The complete list of 2014 Iowa Tourism Award recipients:
Outstanding Attraction
NewBo City Market, Cedar Rapids (Metro)
Danish Windmill, Elk Horn (Rural)
Outstanding Collaboration
WATTA WAY Tours, Council Bluffs (Metro)
Grinnell Visitors Bureau and Grinnell Hotel-Motel Tax Committee, Grinnell (Rural)
Outstanding Community
Cedar Falls (Metro)
Le Mars (Rural)
Outstanding Dining
The Prairie Canary, Grinnell (Rural)
Outstanding Event
Iowa Craft Brew Festival, Des Moines (Metro)
Grinnell Games, Grinnell (Rural)
Outstanding Lodging
Hotel Pattee, Perry (Rural)
Outstanding New Event
BACooN Ride, Waukee (Metro)
Field of Dreams 25th Anniversary, Dyersville (Rural)
Outstanding Niche Marketing Initiative
City of Ottumwa / Wapello County (Metro)
Living Loess, western Iowa (Rural)
Outstanding Promotion Material
Greater Des Moines Convention and Visitors Bureau, Des Moines (Metro)
Perry Area Chamber of Commerce (Rural)
Outstanding Retail
Jaarsma Bakery, Pella (Metro)
Outstanding Social Media
Greater Des Moines Convention and Visitors Bureau, Des Moines (Metro)
Grinnell Area Chamber of Commerce and Tourism Bureau (Rural)
Outstanding Website
Council Bluffs Convention and Visitors Bureau (Metro)
Bellevue Area Chamber of Commerce (Rural)
Hall of Fame Individual Tourism Leadership
Tom Kuhlman, Iowa Great Lakes Area Chamber of Commerce, Okoboji
Hall of Fame Community Tourism Leadership
Cedar Falls
People's Choice Award:
Iowa Great Lakes Region
The annual Iowa Tourism Conference brings together more than 250 industry representatives from across the state to network, attend educational sessions and discuss emerging industry trends