Pictured, Harold Rose, Jr, and Karen Lowell
————
If you were in downtown Grinnell this week you certainly noticed an enhanced difference in the landscape.
The Grinnell Area Garden Club was busy beautifying the downtown area with 32 different corner and mid block large cement planters. Emblazoned with the "Jewel of the Prairie"  Grinnell logo created from the image of the stained glass at the Louis Sullivan bank at 4th and Broad. The decorative window is at the front of the building. Sixteen of the street level planters are on Main street and 16 on Broad.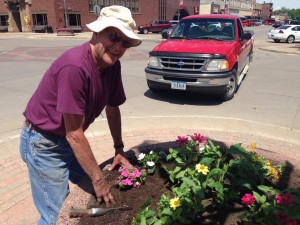 Months of planning and preparation go into the planters with Grinnell Area Garden Club researching options, collaborating between the group and Norton Greenhouses of Toledo.
The garden group, the city and the chamber have been rewarded in the past with final judging by the Our Iowa magazine for "Best Bloomin Town" in Iowa. Others in the running were Fairfield and Spencer. 
The Grinnell Area Garden Club doesn't stop here. They landscape and decorate gardens and planters at the Grinnell Regional Medical Center, Drake Community Library, Merrill Park Sign, Community Center, Mayflower Community, Grinnell College, the Fairground to mention a few of the recipients.
Pictured, Victor Verette 
Several website feature the Garden Club and Norton's Greenhouse in Toledo loaded with pictures of downtown Grinnell.
Hundreds of hours a spent beautifying Grinnell THANKS to the Grinnell Area Garden Club.