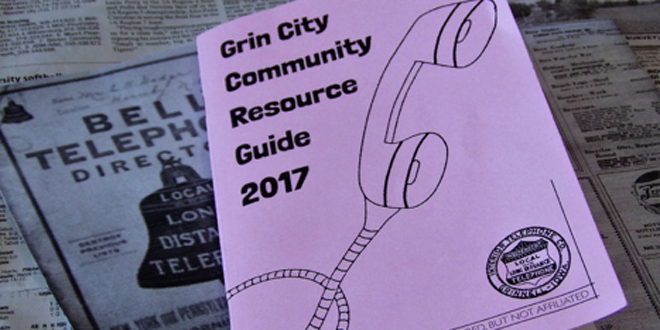 Grin City Collective Honors Obsolete, Releases Community Resource Guide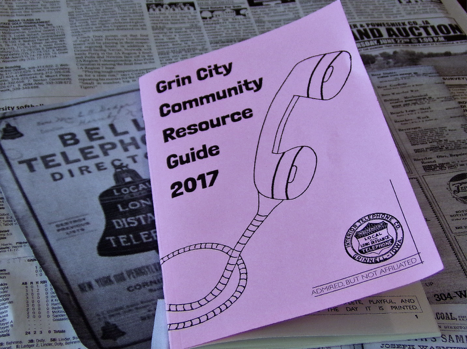 Next event:  June 30
By Michael McAllister
For anyone who likes history mixed with whimsy (or whimsy mixed with history); for anyone curious about how people managed to do things well before the digital age; for anyone to whom the phrase "two longs and a short" makes perfect sense as a party line telephone number—for any such person, the place to be in Grinnell on the evening of Tuesday, June 13, was The Stew.
That's Stew Art Studios at 927 Broad, where Grin City Collective staged a release party for its 2017 Community Resource Guide.
Anyone described above who missed the event need not despair.  A second installment, called "Social Crossings," is slated for The Stew on Friday, June 30—a community potluck, dance party, and art show beginning at 5:00 p.m.
According to Molly Rideout, Executive Director of Grin City Collective, the Community Resource Guide is part of a project called "Map of Things No Longer Here."  Partners are the Grinnell Historical Museum and the archives division of the Drake Community Library.
The collective's press release describes the booklet as "by no means complete" but as a resource that "aims to pull back a few layers and celebrate the skills hidden in plain sight as well as the community's rich economic history."
To do so, writers Molly Rideout and Freesia McKee (below, left to right), and collaborator Rachel Buse (further below, managing the registration table) have combined advertisements from the past (X-Ray Shoe-Fitting); current, useful information (2017's Farmers Market Vendors; how to contact city council members), Burma-Shave-style verses extoling the advantages of cooking with gas (and solar power); and an occasional thought-provoking comment (under "How to Be the Best Neighbor," for example:  "A lot of us are taught that someone can be 'suspicious' just for the way they look.  Where did you get those messages?  Why do these views exist?")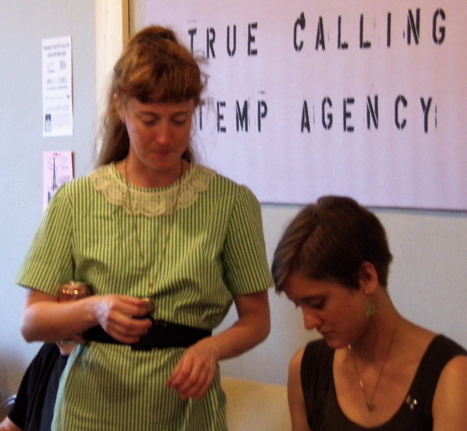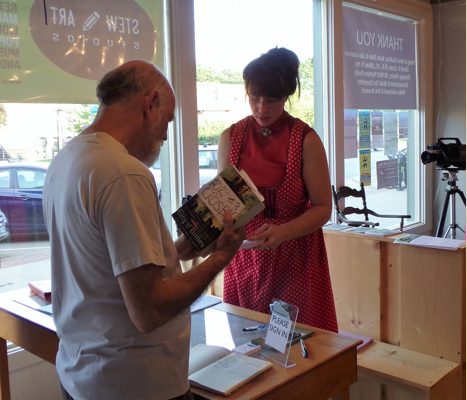 The 40-page booklet, distributed without charge, is a delightful compilation of the old, the new, the imaginative, the practical, the inspiring, the quizzical, and the downright mystifying.  Like a bag of potato chips or a tin of peanuts, it is hard to put down once opened.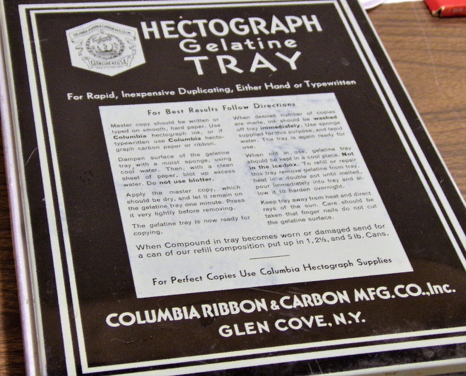 Tuesday's event, entitled "Party of the Obsolete," celebrated such once-progressive innovations as the Hectograph, the copier machine of its day.  Invented in 1876, the hectograph process involved a tray of gelatin that would absorb ink from a master document and transfer some of that ink to a fresh piece of paper once applied.  With each copy, the less ink would be distributed; thus, the copies became progressively lighter.  Still, an online account from the Early Office Museum provides a description of the purchase of a Hectograph kit in Michigan in 1974.
In addition to displaying obsolete items, event creators provided obsolete jobs.  Attendees were invited to complete applications (below) for placement in jobs that no longer exist.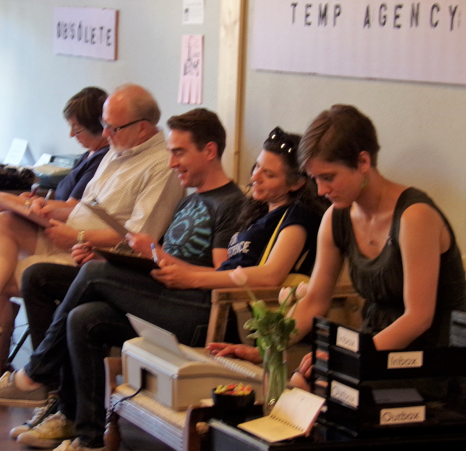 In another area of participation, guests could share a memory via voicemail in a facsimile of what was once a common town feature—the telephone booth. You can browse around this site for more details on facsimile and other fax details.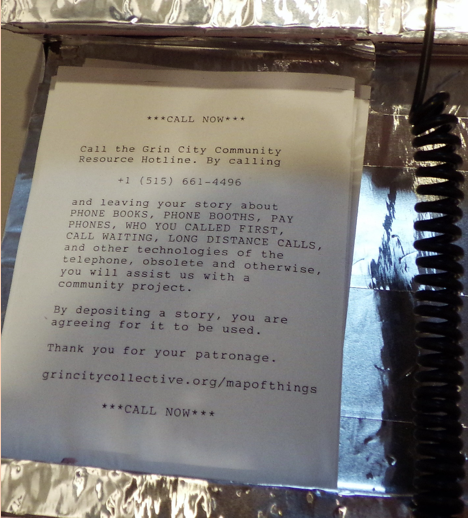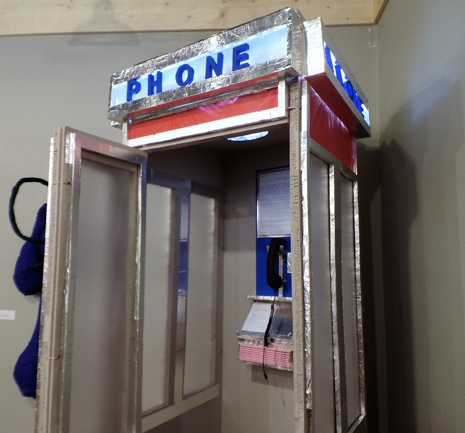 Still other expressive opportunities fell under the heading of Missed Connections.  No doubt the ghost of John Greenleaf Whittier ("For all sad words / of tongue and pen, / the saddest are these, / 'It might have been'") hovered nearby.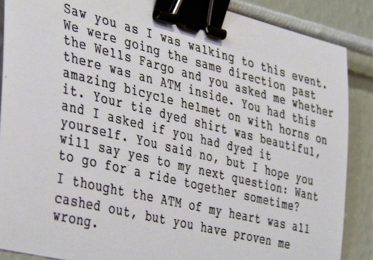 (All of this while songs with phone themes played in the background—some five hours' worth, according to Freesia McKee.  Five hours?  Who knew there were so many?)
In short, the event honored the obsolete, yes, but honored history also through qualities that—thankfully—are far from obsolete:  creativity, artistry, wit, goodwill, and respect.
Mark your calendars now for Social Crossings, June 30, 5:00 p.m. at The Stew, and watch for further information.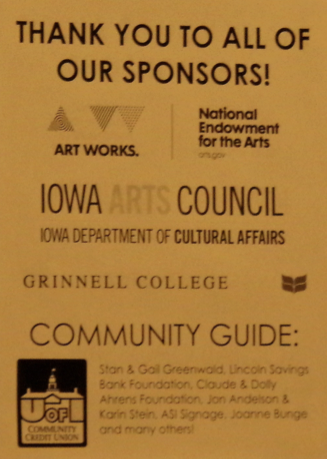 Thanks also to