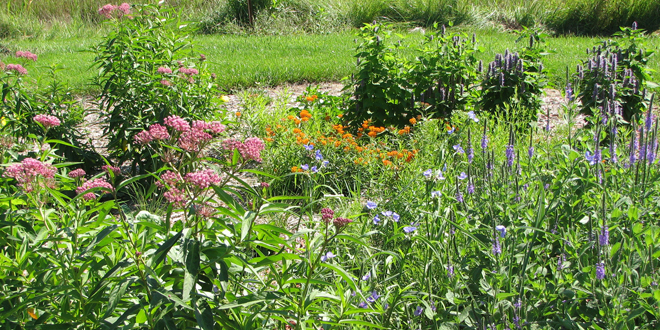 The green yard makeover 
GRINNELL – Want to improve your home landscaping while protecting the environment, creating habitat for native species, and producing fresh food? Get ready for the Green Yard Makeover, a series of three free Tuesday evening classes that will be held in Grinnell in February and March. The classes will introduce you to ecosystem landscape gardening, a holistic approach to landscaping that incorporates space for green lawn as well as native habitat, rain gardens, vegetable gardens, edible landscaping, and wild edges. You will learn how to incorporate ecosystem landscape gardening into your yard, regardless of where you live and how much space you have. Depending on personal interests and schedules, participants can sign up for the whole series or pick and choose individual sessions to attend.
Classes will be taught by organic farmer Jordan Scheibel and native plant restorationist and retired high school biology teacher Jim Kessler. Scheibel is the owner-operator of Middle Way Farm, a transitioning to organic market garden offering produce direct to consumers. Kessler is currently an adjunct professor of Environmental Biology and Introductory Biology at Iowa Valley Community College in Grinnell. He also provides consulting for landowners who want to incorporate high quality native habitat into their properties. Scheibel and Kessler taught the series for the first time in 2015. They have worked to condense and improve the content, drawing from their experience in the past year, including Kessler's successful creation of a butterfly garden at First Friends Church in Grinnell, with monarch butterfly reproduction observed in the first year.
The first class in the series, Water: Making It Work For You, will introduce participants to the basic concepts of ecosystem landscape gardening, including the eco-strip garden, a simple, low-cost, flexible model for combining rainwater harvesting, native landscaping, and organic gardening in a seamless design for rural and urban homeowners. The remainder of the class will show how to manage water as a potential resource, rather than a nuisance, by absorbing it into the soil and using it to nourish native and food plants. Learn methods for determining how much water is falling on your roof, designing and installing physical rain water catchment systems such as rain barrels for irrigation, and creating a rain garden to channel and absorb excess rainwater.
The second class in the series, Native Plants: For Pollinators, Insects, and You, will introduce participants to the diversity of plants native to our bioregion and how to incorporate them into a rain garden as well as a butterfly and pollinator garden surrounding the rain garden to create a varied native landscape. The class will also cover how to incorporate native shrubs and trees on the edges of your property to provide cover and food for native wildlife as well as making functional privacy screens and windbreaks for your home. Particular focus will be made on selecting the right planting method and type of plants for your site and your location in Iowa to ensure the success of your planting. Class will also cover propagating native plants from seed at home and sourcing native plants locally. Native plants provide indispensible habitat for native pollinators, butterflies, insects, and birds. They also provide long-lasting, low maintenance beauty for homeowners.
The final class in the series, Gardening with Nature, will show how the rain garden and native plantings covered in the first two classes can be used to benefit a food producing organic garden. Learn how to integrate your backyard garden into a seamless design with the rain garden and rain barrel to collect and hold moisture, and with the pollinator/butterfly garden and woody edges to provide habitat for beneficial insects and birds that keep garden pests in check. The class will also cover permanent bed design, intensive spacing, mulching strategies to cut down on weeds, and composting to build soil using materials already available in your yard, helping to tie the whole green yard concept together. In addition to the annual vegetable garden, we'll also touch on integrating small, food producing perennials into the overall plan.
All classes in the series will be held from 6:30-8:30 pm, on Tuesdays, Feb. 16, March 1, and March 15. Classes will be held at the Ahrens Foundation Building, 1510 Penrose Ave, Grinnell. The Ahrens Foundation Building is located at Ahrens Park adjacent to the Grinnell Area Recreation Center (GARC). All classes are free to the public. The instructors suggest attending all three classes but attendees may choose to only attend one or two classes in the series, as schedules and interest dictate. To sign up for classes, e-mail greenyardmakeover@gmail.com or contact if you have any questions about the series. Pre-registration by e-mail is strongly encouraged (space is limited). The Green Yard Makeover series is made possible with support from Imagine Grinnell.