Homepage Slider
Greater Poweshiek Community Foundation Announces Staffing Changes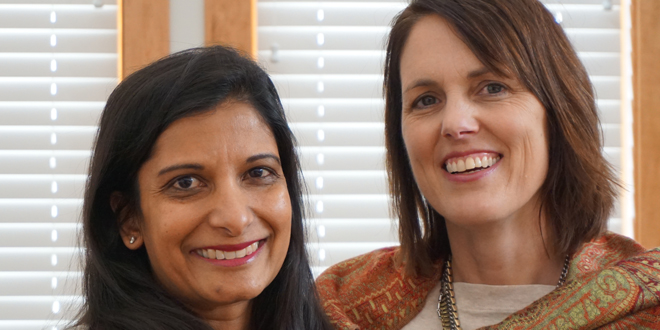 The Greater Poweshiek Community Foundation (GPCF) board of directors has announced a change to its staffing structure in response to growth in foundation programs and changing internal needs.  These changes include the new role of executive director and a newly defined program manager position.
In 2009, the GPCF board of directors hired Nicole Brua-Behrens, program coordinator, and Delphina Baumann, community relations coordinator, as its first staff members.  In December 2015, Baumann announced her intent to leave the foundation in early 2016 to spend more time with her family and to pursue her own social entrepreneurial venture—a business incubator for women.
"Leaving the foundation was not an easy decision but my true passion is empowering the marginalized, and I felt that my work on S.H. E. COUNTS and Tiger Packs has led me to this moment," Baumann said.  "Both of these programs serve women and children whose basic needs are not being met."  She also credits her mentor and founder of GPCF, Tom Marshall, for planting the seed for her business idea.
"Just before his death, Tom suggested that we need to address the root cause of some of the issues facing our community and be creative in getting more people engaged in the workforce.  Over the next year I expect to create a plan that will allow more women the opportunity to engage in their own business ventures because studies indicate that in the future more Iowa families will be supported by women than men," Baumann said.
"We're happy for Delphina to have this new opportunity to pursue her passion in life, helping others," said Tim Douglas, GPCF board president. "At the same time, it's bittersweet for GPCF because Delphina's work in securing new donors and endowments, as well as instituting new programs to benefit the county has been immeasurable. She has truly made a difference at the foundation and in the community, and we will greatly miss her.  Her leaving has certainly left the foundation with some pretty big shoes to fill."
Douglas also announced the promotion of Nicole Brua-Behrens to the new executive director role.
"With Delphina's departure, the board felt it was an ideal opportunity to look at the organization with fresh eyes. As the staff structure lacked a key person that provided critical oversight and strategic vision, the board felt that this was the right time to name an executive director," Douglas said.
As executive director, Brua-Behrens will provide overall leadership and general supervision of the daily operations of the foundation, including strategic direction, program development, operations, financial management, personnel management, and community relations.  She will lead the foundation in its mission to strengthen the community and inspire philanthropy by connecting donors with causes they care about, building permanent endowments, and facilitating community partnerships.
"Nicole has the perfect combination of on-the-ground nonprofit experience, as well as the strategic vision that we need to support and grow our work in Poweshiek County.  We are thrilled to have Nicole as GPCF's first executive director and are excited about the positive impact she will have on the
community in this role,"  said Jessica Dillon, GPCF vice president.
Prior to moving to Grinnell in 2002, Brua-Behrens worked as a city planner for a regional planning agency, as a grant writer and as a coordinator of community college credit courses in high schools.  She also previously worked for CLIK (Communities for Literate Iowa Kids), one of GPCF's partner organizations. At GPCF, Behrens served partner organizations as the program coordinator, along with administering grant programs and writing fund and partner agreements.
A native Iowan, Brua-Behrens is an Iowa State University graduate with a master's in urban studies and planning from Minnesota State University, Mankato, and a Ph.D. in higher education administration from the University of Texas, Austin.
"I am grateful to the GPCF board for this opportunity and feel this new leadership role will allow me to comprehensively serve the foundation board, build relationships with new donors, and represent the foundation's interests to external groups," Brua-Behrens said. "My vision is for GPCF to be recognized as a trusted philanthropic leader in Poweshiek County through high quality services to donors and nonprofits and bold initiatives that improve the community."
The GPCF board, led by Douglas, includes Vice President Jessica Dillon, Secretary Marilyn Kennett, Treasurer Chris Hansen, Past President Nancy Maly and members David Arendt, Jo Becker, Rachel Bly, George Britton, Matt Buckingham, Mike Mahaffey, Laura Manatt, Dave Ness, Martha Pinder, Jodie Ryan, and Vince Walker.
A search is underway for a new program manager to fulfill previous staff responsibilities. The program manager job description can be found on at www.greaterpcf.org.
The Greater Poweshiek Community Foundation (GPCF) is a non-profit organization that assists donors in supporting local non-profit organizations to make life better for people in the area. The Claude W. and Dolly Ahrens Foundation partners with GPCF to provide back office support services through the foundation's Community Support Services (CSS) program to achieve greater efficiency and increased organizational capacity by sharing office space and administrative services.