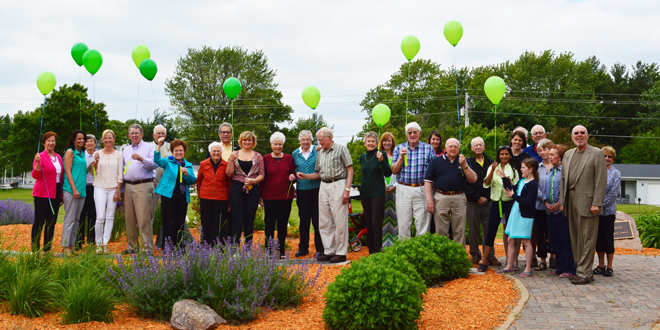 GPCF Wraps Up Active, Successful Year
The Greater Poweshiek Community Foundation (GPCF) is concluding its 26th year in operation, acting on the legacy left by GPCF founder Tom Marshall, who died in March of this year.
"Tom built the foundation from the ground up, and has left a sizeable legacy for us to fulfill," said GPCF program coordinator Nicole Brua-Behrens. "Tom's vision was for the foundation to be nationally certified, an accreditation process that represents operational effectiveness. He oversaw that certification process in 2010, and this year, we filed for re-certification from the Community Foundation National Standards Board, continuing Tom's vision."
One of GPCF's many initiatives in 2015 included an event called Pie Day, which honored Marshall's love of the dessert and his selfless manner of building community.  People who emulate Marshall's characteristic humility and service can be nominated to receive a pie during each month of the year.
Both the numbers of funds administered by GPCF (129) and the dollars contributed to those funds have grown significantly in recent years.  The GPCF board oversees the funds' management and distribution and works directly with the boards of its 10 partner organizations.  In November, GPCF concluded a month-long BIG GIVE campaign, which raised more than $300,000 to support and showcase the work of the non-profit partner organizations.
"Our board is very hands-on. We are very grateful for the dedication of our past chair Nancy Maly and outgoing board members Austin Jones, Bob Mann, Al Henderson, and of course, the late Tom Marshall," Brua-Behrens said. "We welcomed new board members George Britton, Vince Walker, and Dave Ness this year and are already benefitting from their experience and leadership."
Tim Douglas was elected GPCF president and reflected on the innovations of the foundation.
"Our goal for 2015-16 is to reach out to our partner organizations and improve the relationships that already exist. We believe that through greater interaction and understanding we can improve and increase the value of GPCF to our partners," Douglas said.
"We want our partners to know that we understand their concerns and are open to working with them to achieve their individual organization goals."
GPCF recently launched a new and improved website that allows for continual updates and is user-friendly for donors who wish to contribute online. Other 2015 initiatives that will continue in 2016 include the Central Park and Veterans Memorial fundraising campaigns, the Tiger Packs weekend nutrition program, and support of the Grinnell grade-level reading program.
"2015 was a very successful year for GPCF because of the generosity of the people in our community," Brua-Behrens said. "We want to thank donors for choosing their causes from among all of the funds at the foundation, and encourage their continued support for community and county organizations in 2016."
The Greater Poweshiek Community Foundation (GPCF) is a non-profit organization that assists donors in supporting local non-profit organizations to make life better for people in the area. The Claude W. and Dolly Ahrens Foundation partners with GPCF to provide back office support services through the foundation's Community Support Services (CSS) program to achieve greater efficiency and increased organizational capacity by sharing office space and administrative services.