Homepage Slider
GPCF Founder's Day Celebrates Leadership, Vision and Generosity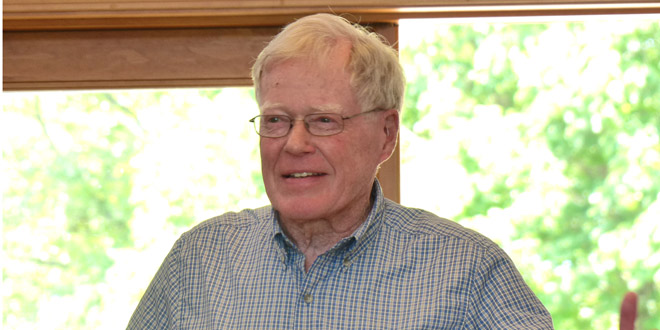 GPCF Founder's Day Celebrates Leadership, Vision and Generosity
The Greater Poweshiek Community Foundation (GPCF) celebrated its second annual Founder's Day on June 2, the birthday of GPCF founder Tom Marshall who passed away in 2015. Marshall, who started the community foundation in 1989, was remembered for his "leadership, vision and generous spirit" in building GPCF to its current strength of administering more than 100 charitable funds and managing fundraising campaigns and grantsmaking for county-wide projects "that make life better for people in the area."
George Drake, a long-time friend, fellow Grinnell College alumnus and colleague of Marshall's, spoke at the gathering about Marshall's "sensitivity for the community of Grinnell" when Marshall worked for the college and his "creation of a public/private partnership at GPCF that now holds national certification by the Council on Foundations."
"We were so lucky to have Tom and Connie Marshall in this community, and Founder's Day is a way to extend our thanks to them," Drake said.
GPCF board members and donors in attendance enjoyed pie, Marshall's favorite food, and shared recollections of his many selfless acts to nurture GPCF.  GPCF rewards a local person each month who demonstrates Marshall's example of community leadership, making a difference, and giving back. Individuals are selected based on nominations to receive a pie to carry on the founder's legacy.
Founder's Day is also a fundraising effort for the GPCF administrative operations fund, which supports the foundation's ongoing efforts to meet the needs of donors and nonprofit program partners.  Contributions to the administrative operations fund or any of the 100 funds administered by GPCF can be sent to P.O. Box 344, Grinnell, Ia., 50112; online at www.greaterpcf.org; or by contacting Executive Director Nicole Brua-Behrens at 641-236-5518.