Grinnell News
Homepage Slider
GPCF completes its eighth year of promoting partners and funds during the month of October through the Big GIVE for Poweshiek County 2018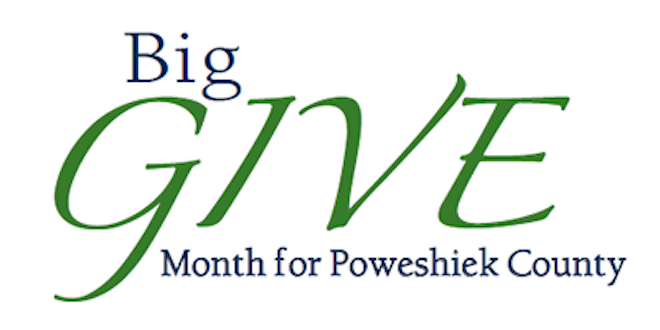 GPCF completes its eighth year of promoting partners and funds during the month of October through the Big GIVE for Poweshiek County 2018
The Greater Poweshiek Community Foundation's annual Big GIVE for Poweshiek County Campaign raised $146,000 for 50 local funds and nonprofits supported by GPCF.  The month-long fund drive in October encourages donors to think locally when they consider their giving priorities and contribute to the many nonprofit funds that affect Poweshiek County.  This year's Big GIVE also included GPCF's partner the Claude W. and Dolly Ahrens Foundation and the five nonprofit partners they support.
"The Big GIVE booklets mailed to over 2,500 homes is an impressive summary of the impactful giving opportunities right here in Poweshiek County," said GPCF Program Manager Amy Blanchard.  "As a community foundation, we strive to be responsive to local needs and help donors support the causes they care about."
New this year are 6 funds including the Early Childhood Endowment, Grinnell United Methodist Church Endowment, the PALS Fund, the Grinnell-Newburg School Facilities Fund, the Tiger Football Fund and the Grinnell Area Mental Health Consortium-JPK Endowment.  Overall giving was slightly down this year when compared to 2017's giving total which didn't surprise Nicole Brua-Behrens, Executive Director.  "Community foundations and nonprofits nationwide have been concerned how the new tax legislation and market volatility would affect year-end giving in 2018 and we're no different.  We may have missed out on a few larger donations that we may have typically expected but we have learned most donors in Poweshiek County give because they care deeply about the cause and the impact their dollars have locally.  We are very pleased with the campaign this year.  This year's campaign total was approximately $30,000 lower than the 2017 total and number of donors decreased by about 80.  Those funds that serve people in need saw the greatest giving in number and total gifts. Two active campaigns also received new gifts in 2018 including the Skatepark Campaign and the Grinnell Veterans Memorial Commission Building Campaign."
The Foundation also celebrated donors and honored 4 individuals at the Spirit of Giving event on October 4th.  Doug and Lorna Caulkins, Clem Bodenstiener, Bayer Crop Service (formerly Monsanto) and Danica Nolton were each honored at an event that also featured a trivia contest and an impact auction where those present bid on their favorite GPCF funds with board-sponsored poker chips.  It was a lovely evening sponsored by Grinnell Mutual Reinsurance, another important "giver" in our community.
GPCF Board President Laura Manatt stated "once again this year the GPCF board is humbled by the generosity in support of charitable organizations supporting initiatives across the county. Our core mission is to encourage philanthropy and connect donors with the causes they care about and this year's Big GIVE campaign did just that."  Even though October is over, Blanchard encourages all local philanthropists to think locally as the year draws to a close.  "The Big GIVE is an opportunity for us to spotlight the funds the GPCF supports, but the impact lasts all year and for many years to come."  Donors are welcome to investigate giving options any time of year and donations for 2018 will be accepted through December 31.
Donors to any of the more than 120 funds and capital projects of the Greater Poweshiek Community Foundation and the Ahrens Foundation may specify which funds they wish to support and send checks to GPCF, P.O. Box 344, Grinnell, Ia., 50112, donate online at www.greaterpcf.orgor at www.ahrensfamilyfoundation.orgor contact the Foundation Offices at 641-236-5518.
The Greater Poweshiek Community Foundation (GPCF) is a nonprofit organization that assists donors in supporting local non-profit organizations to make life better for people in the area.  The Claude W. and Dolly Ahrens Foundation partners withGPCF toprovide back office support services through the foundation's Community Support Services (CSS) program to achieve greater efficiency and increased organizational capacity by sharing office space and administrative services.