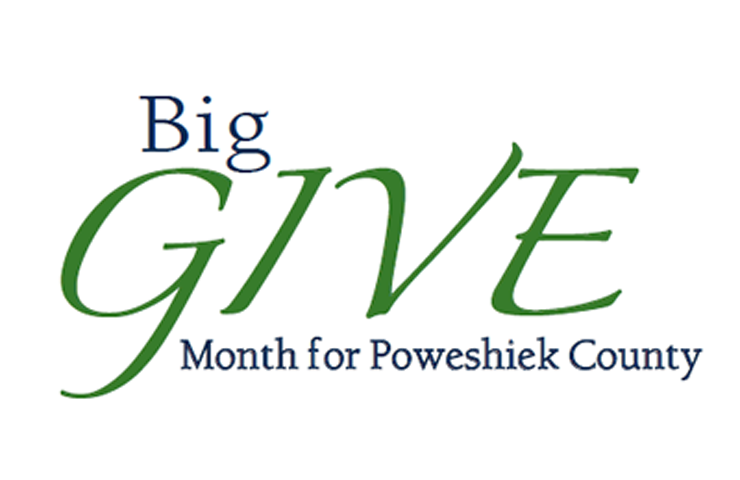 The ninth annual Big GIVE for Poweshiek County raised $189,252 for 61 local funds and nonprofits supported by the Greater Poweshiek Community Foundation (GPCF) and the Claude W. and Dolly Ahrens Foundation (CDAF). The annual campaign sponsored by the two foundations reaches over 2,000 households via a mailed catalog of giving and encourages donors to maximize their local charitable impact by considering any of the more than 100 charitable funds supported by the local foundations.
"When it comes to charitable giving, people are often unaware of the many giving opportunities within their own communities," said GPCF Executive Director, Nicole Brua-Behrens. "With the Big Give mailings, we are able to connect donors with impactful causes addressing needs right here in Poweshiek County." Giving trends this year reflected community-wide support for elementary student needs, access to mental health care, food insecurity and support for after-school programming. "Donors know what they are passionate about and like to support efforts locally that are making a difference. Both GPCF and CDAF are proud to partner with donors and volunteers to meet needs in the community that might otherwise be overlooked," said Brua-Behrens.
The funds garnering widespread support this year include the Dr. Kevin Sterk Elementary Student Needs Endowment, the new LINK Grinnell fund supporting after school programming, the Grinnell Area Mental Health Consortium-JPK, and Tiger Packs. The Mayflower Human Needs Endowment, Drake Community Library Endowment and Station Clubhouse funds also received notably high donor support.
Although the total number of donors participating in the Big GIVE this October decreased slightly from 2018, the total funds raised increased substantially, largely due to the more than $42,000 of total Big GIVE funds which came from challenge dollars this year. "Challenge dollar matches from anonymous donors for several funds greatly extended the impact of donations from community members," said CDAF Director of Community Relations, Melissa Hull. "Donors give to funds addressing community needs which they feel are most pressing, and with dollar for dollar matches we are able to double the financial resources dedicated to those important solutions. This year, dollar to dollar matches benefitted GPCF-supported funds including the new LINK Grinnell fund and the Dr. Kevin Sterk Elementary Student Needs Endowment, and we saw over $13,000 from matching challenges go to endowed funds specifically serving Brooklyn." Challenge dollars from the Big GIVE also benefitted CDAF-supported initiatives to reduce hunger and improve mental health in Grinnell, with over $46,400 in donations and challenge matching dollars going to Tiger Packs, Grinnell Take Away Hunger, and the Grinnell Area Mental Health Consortium-JPK.
Connecting donors with the causes they care about within their community is not just the goal of the Big GIVE campaign, but of GPCF as an organization. GPCF Board President Laura Manatt stated, "The Big GIVE is an opportunity for us to live out our mission of encouraging philanthropy and connecting donors with the organizations and initiatives they care about within our community. Every year we are grateful for and inspired by the generosity of community members in support of initiatives for the greater good of our county. Donors may not realize it, but through giving to an endowed fund, their gift will grow and continue to have a long-lasting impact on the community, far beyond the month of October and for years to come." Even though October is over, Manatt encourages all philanthropists to think locally as the year draws to a close. "The Big Give campaign is launched in October, but donors can continue to give via the Big GIVE forms through December 31." Donation booklets and forms can be picked up at the Foundation Offices if needed.
Donors to any of the more than 100 funds and capital projects of the Greater Poweshiek Community Foundation and the Claude W. and Dolly Ahrens Foundation may specify which funds they wish to support and send checks to The Foundation Offices, P.O. Box 344, Grinnell, IA., 50112, donate online at www.greaterpcf.org or at www.ahrensfamilyfoundation.org or contact the Foundation Offices at 641-236-5518.