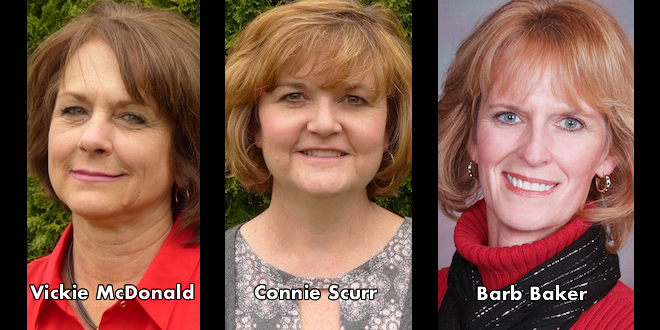 GPCF Appoints New Board Members, Wraps Up Successful Year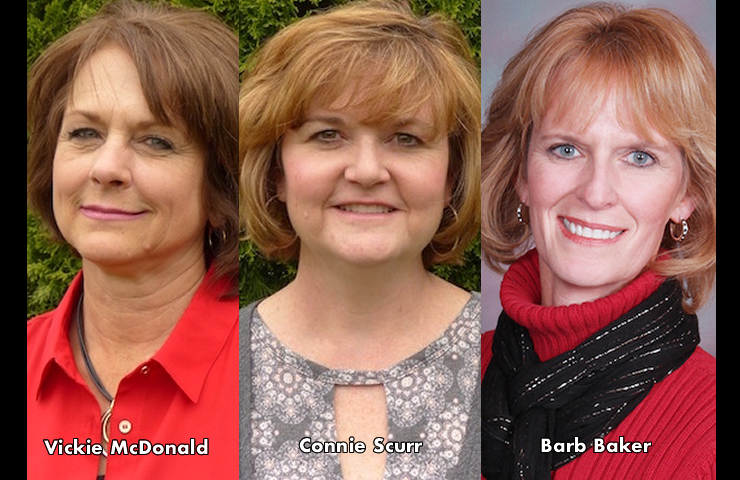 The Greater Poweshiek Community Foundation (GPCF) has welcomed three new members to its board of directors as the foundation concludes another successful year of fundraising and leading community projects.
Connie Scurr, controller for Interface Sealing Solutions; Vickie McDonald, office manager for Manatts, Inc.; and Barb Baker, director of advertising and community relations for Grinnell Mutual Reinsurance Company have been appointed to four-year terms on the GPCF board. They replace Drake Community Library director Marilyn Kennett who completed two consecutive terms, and Grinnell College development officers Shane Jacobson and Vince Walker who have moved from the community.
"We are better able to serve the residents of Poweshiek County with the wide range of experience our board members bring to GPCF," said Amy Blanchard, program manager. "Our board members commit to help set direction for the foundation's annual work and ensure visible impact throughout the county."
GPCF board members, along with GPCF staff, create an annual work plan and goals for the foundation, establish priorities for the organization's ongoing work and presence in Poweshiek County, and review new projects with partner organizations.  Each board member also serves on at least one of the foundation's standing committees: development and marketing, finance/audit, grants, governance, investment, and executive committee.
Scurr sees her term on the board both as "giving back in service and also to learn more about the foundation." "One of my favorite things about GPCF is the outlet it provides for a group, family or individual to funnel their passion to help right here in our local area.  I want to spread the word about the foundation and educate others about the assistance it provides and to continue the growth in resources for community betterment."  McDonald looks forward  to the "challenges and rewards of serving on this board and the opportunity to work with and learn from some very talented professionals whose main goal is to have a positive and lasting impact on the communities in which we live. " Baker, who has worked with many of the charitable organizations supported by GPCF in her community relations role at Grinnell Mutual, said she chose to also serve on the foundation board "because I appreciate the impact that GPCF makes throughout the county. I want to offer my perspectives to enhance collaboration and positively influence the work that GPCF does in supporting community philanthropy." In 2017, the GPCF board facilitated establishment of a county mental health fund; created a business partners in philanthropy program that supports operational costs; managed significant growth in the Tiger Packs program; administered more than $550,000 in state grants for early childhood education; directed approximately half a million dollars in grant distributions, program expenses and scholarships across Poweshiek County; and supported four capital campaigns.  During October, Big GIVE Month raised more than $190,000 to support 50 funds administered by GPCF.  Through December 31, the GPCF board is matching up to $3,000 in gifts to endowed funds, and the board will also pledge $25 for every new donor's gift which will be credited to the fund of the donor's choice.
GPCF Executive Director Nicole Brua-Behrens thanked board members for their service and role in enabling the foundation to reach its goals this year.  "Our board members respond to local needs through grantsmaking, supporting our nonprofit partners, and enabling donors to become effective philanthropists."
Contributions to GPCF endowed funds may be eligible to receive an additional Endow Iowa Tax Credit. Donors seeking the tax benefit of a year-end contribution should contact Brua-Behrens or Blanchard at GPCF at 641-236-5518 before December 31.  Contributions can also be made online at www.greaterpcf.org and checks can be sent to GPCF, P.O. Box 344, Grinnell, Ia., 50112 or dropped off at the Foundation Office, 1510 Penrose Street.  The office is open Monday through Thursday from 9 a.m. to 3 p.m., and there is a drop box located outside the building.
The Greater Poweshiek Community Foundation partners with the Claude W. and Dolly Ahrens Foundation through the Community Support Services (CSS) program to assist and support donors and nonprofit partners.