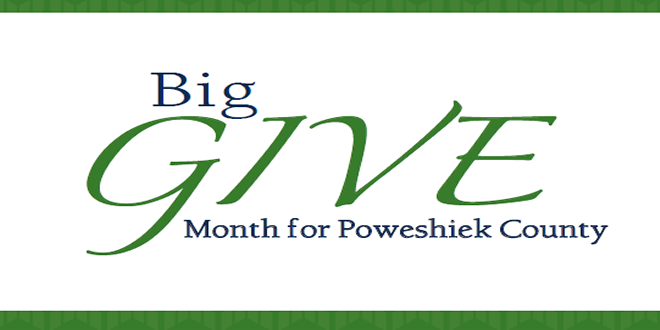 GPCF Annual Fundraiser Emphasizes Community Growth, New Donors
Big GIVE month starts Oct. 1
 "Together We Grow," the theme for this year's Big GIVE fundraising campaign by the Greater Poweshiek Community Foundation (GPCF), will emphasize the importance of new donors to GPCF and the lead role the foundation plays in county and community projects.  During the 2016 Big GIVE campaign, donors from throughout Poweshiek County contributed nearly $200,000 to 42 different funds administered by GPCF.
"This year, GPCF is encouraging donors to 'give where they live' so they can see the impact of their gift here in Poweshiek County," said GPCF Board President Jessica Dillon.  "As a community foundation, GPCF is often called upon to help set direction and goals for community projects so donors can see the results of their gifts in action here at home."
"Big GIVE Month is a focused effort to help donors—first-time and repeat—to find the fund or project that best matches their giving interest or to create a fund that is meaningful to them," Dillon said. "GPCF offers a variety of ways to meet donors' personal philanthropic goals through grants, scholarships, donor advised funds, and memorials, for example."
GPCF board member and chair of the marketing committee Vince Walker said that the GPCF board seeks to increase the foundation's donor base by 50 first-time donors during Big GIVE Month, Oct. 1-31.
"All charitable organizations require a steady stream of new donors.  People move, find other causes, experience unexpected circumstances, or for whatever reason, no longer give.  So every non-profit organization loses donors over time, and that requires new donors to step up and step in," Walker said. "Sometimes people believe it's only the 'wealthy' who could or should give, but every gift counts and makes a difference."
GPCF Executive Director Nicole Brua-Behrens describes the community foundation as a "conduit between donors, their desire to help, and the right vehicle or fund to accomplish their charitable objectives.
"Since our inception in 1989, we have helped donors put their money to work in Poweshiek County to address a variety of needs. Donors have established funds to serve those with mental health needs, to serve those who are hungry, and to provide for needs of at-risk elementary students," Brua-Behrens said. "Since 2000, GPCF has awarded more than $16.8 million on behalf of generous donors to charitable agencies in our community."
Brua-Behrens also reminds donors of the tax benefits of giving to area non-profits.  "Gifts to any of the GPCF endowed funds qualify for Endow Iowa Tax Credits. This is a 25 percent Iowa state tax credit in addition to the standard federal income tax deduction for certain charitable gifts. While the 2017 tax credits have been issued, donors may carry credits forward into 2018," she said.
On Oct. 21, GPCF's annual Spirit of Giving event will celebrate the important roles of donors and volunteers in community success. The evening program at the Grinnell College Golf Course clubhouse from 6-9 p.m. will include honoring recipients of the Connie Marshall Spirit of Giving award, Mentor award, Business Partner of the Year for collaboration with non-profits, and Youth Spirit volunteer leadership award.
The evening's entertainment will be provided by a "Philanthropy Feud" competition, in the spirit of TV game show "Family Feud."  Philanthropy Feud will pit teams of local donors against each other to guess the most popular responses to survey questions.
Several game show-themed incentive challenges will encourage donors to 'give where they live' during Big GIVE Month, including:
GPCF Board Press Your Luck Gameshow Challenge, which will match dollar-for-dollar all gifts given on Oct. 1, opening day of the campaign, up to a total of $500.
GPCF Board Newlywed Game Challenge, which will encourage gifts from new donors by adding $25 to the total gift to the fund of the donor's choice.
Brooklyn Wheel of Fortune Challenge, by an anonymous donor, which will match dollar-for-dollar up to a total of $25,000 any donation to the six endowed funds for the Brooklyn community: Brooklyn Community Foundation, Brooklyn Historical Society, Brooklyn Volunteer Fire Department, Citizen Scholarship Fund of BGM Dollars for Scholars, East Poweshiek County Ambulance Service, and Michael J. Manatt Community Center.
GPCF Board Family Feud Challenge, a challenge to the boards of all partner organizations to earn 100 percent board member participation during Big GIVE Month. The organizations with 100 percent board participation will be entered into a drawing to win $500 for their fund.
The Double Dare Challenge from Glenn and Ginger Sterk which will match 50 cents for every $1 given to the Dr. Kevin W. Sterk Elementary Student Needs Endowed Fund up to a total of $1,000.
The Supermarket Sweep Challenge by Scott Baumann and Dental Associates which will match gifts to Tiger Packs totaling $1,000.
Grinnell-Newburg School Foundation Jeopardy Challenge by an anonymous donor which will match up to $1,000 donated to the GNSF Endowment Fund.
The Let's Make a Deal Challenge, sponsored by Grinnell College, matches all gifts to the Skate/BMX Park campaign managed by Imagine Grinnell, up to $50,000.
The GPCF Board Minute to Win It Challenge will match dollar-for-dollar up to a total of $500, the partner organization that receives the most online gifts on Oct. 31, the final day of the campaign.
The foundation's Catalog of Giving, available in print and online at at http://greaterpcf.org/images/stories/BigGiveBrochure.pdf, lists by category the giving opportunities administered by the Foundation, including more than 120 funds. Donors may specify which fund or project they wish to support when sending contributions to GPCF, P.O. Box 344, Grinnell, Ia., 50112, donating online at www.greaterpcf.org, or contacting Brua-Behrens at 641-236-5518.  GPCF receives back office services such as gift processing through the Community Support Services (CSS) program of the Claude W. and Dolly Ahrens Foundation.