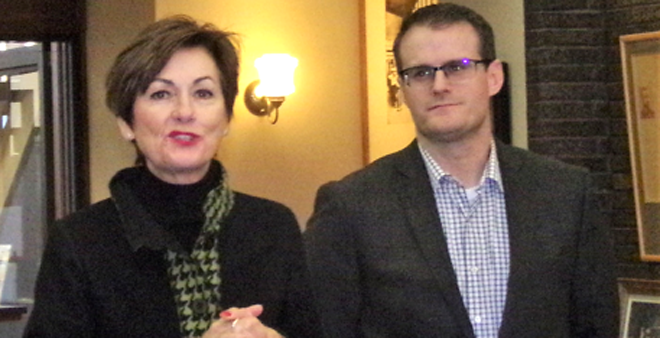 Governor's Grinnell Reception Tinged by Protest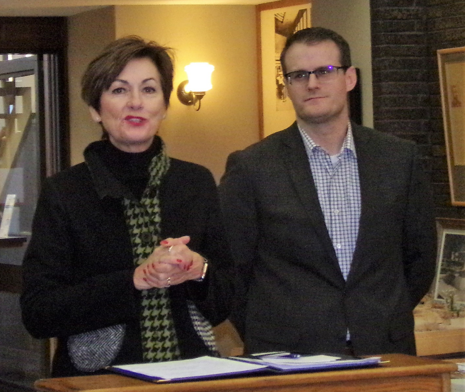 By Michael McAllister
On their fourth stop of the day, Friday, January 12, Iowa's 43rd Governor, Kim Reynolds, and Lieutenant Governor Adam Gregg found a friendly welcome in Grinnell's Jewel Box, plus a touch of respectful protest.
The purpose of the visit, part of the Governor's "Unleashing Opportunity" tour, was to extend the messages of Reynolds' Tuesday Condition of the State address—her first—delivered at the State of Iowa Capitol.  Friday's visit to Grinnell followed stops at Davenport, Maquoketa, and Dubuque.
Grinnell's Chamber of Commerce coordinated the event.  Chamber members received admission preference.  In all, some 60 to 70 people were on hand.
Poweshiek Democrats had arranged a respectful protest:  individuals held signs expressing concerns and stood in nine-degree weather along the south side of the Jewel Box.
Governor Reynolds and Lieutenant Governor Adam Gregg entered the Jewel Box via Wells Fargo and were promptly introduced by Chamber of Commerce Director Rachael Kinnick.
Reynolds, formerly treasurer of Clark County and a state senator, was appointed Lieutenant Governor by Terry Branstad in 2011.  Branstad's appointment as United States Ambassador to China brought Reynolds' to the governor's seat, the first female governor in Iowa's history.
Reynolds began her address on a personal note, stating how proud she is to serve as governor and how encouraging it is that in Iowa a small-town girl with a rural background "can one day become governor and have the opportunity to lead at the highest level."
Offering a mini version of Tuesday's Condition of the State address, Reynolds declared the State of Iowa "strong."  Tuesday's address, she noted, was an opportunity to share "[her] vision of unleashing opportunity when it comes to jobs, education, workforce, and healthcare."
Iowa, she said, ranks as the third-best managed state in the nation, qualifies as the number-one state for middle-class families, and maintains the highest high school graduation rate.  The state also leads the country in the number of students who take duel-enrollment classes.
Unemployment, she noted, "is at a 17-year low at 2.9 percent, and she added that the last legislative session was "one of the most pro-jobs, pro-growth legislative sessions in decades."
She seeks an Iowa "overflowing with opportunity" where everyone can succeed, where everyone can start over again "if life gets in the way," and as illustrations she referred to her friend Amy Boozell and herself.  Both women, after several years of balancing work, parenting, and school when possible, earned degrees from Iowa State University in 2016, Boozell at the age of 42 and Reynolds at 57.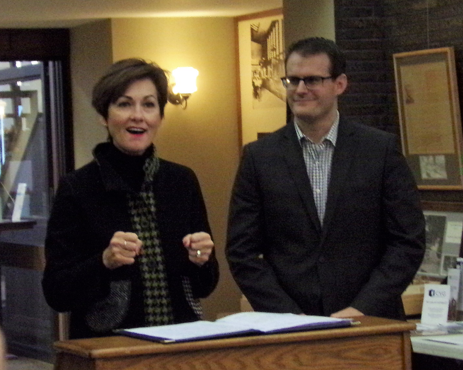 To assure that everyone can succeed, education is a primary concern—especially STEM classes.  Citing an addition to K-12 funding of $735 million over the past seven years, and her current budget proposal of $54 million in new funding for schools, Reynolds rated the state's contribution to education at "an all-time high."
However, she cautioned, the quality of education is not necessarily determined by the amount of money allocated to it.
In at least one aspect of education innovation, Reynolds continued, Iowa leads the nation.  To support this assertion, she cited a pre-apprenticeship program at Central campus in Des Moines.  Visited by Mike Rowe of the Discovery Channel's Dirty Jobs series, the program was deemed "a model for high schools all over the country."
She mentioned other outreach initiatives to pave the way for students to return to schools if for some reason they had to drop out, and efforts to draw parents, students, and counsellors together in a structured environment for the benefit of the students.
Referring to another example of real-world education, Reynolds recounted the experience of Henderson Products, a Manchester-based manufacturer that found itself "in desperate need of welders."  The company joined with West Delaware High School and Northeast Iowa Community College to give high schoolers welding training.  The result?  Thirty new welding jobs in a town of 5,000.  "If we can do it there," she concluded, "we can do it anywhere."
About 12 minutes into her presentation, as Reynolds referred to the Tax Cuts and Jobs Act passed by the United States Congress and signed by President Trump in the waning days of 2017, a brief but pointed comment came from an audience member, and the line dividing respectful protest from the not-so-respectful variety may have been crossed.  The tax reform bill would benefit Iowans, the Governor asserted, especially "Iowans with children and small business owners," when an attendee shouted, "That's a lie!"
Reynolds glanced in the direction of the protestor but neither acknowledged the remark nor seemed phased.  Indeed, she proceeded as if nothing had happened.
In addition to tax reform, Reynolds said that health care will be a priority this legislative session.  She mentioned mental health illness and opioid addiction specifically.  "We are working on this [a range of health issues] every single day; I've been on the phone multiple times today.  We need to get this turned around."
Reynolds spoke for fifteen minutes, at which point she called upon Lieutenant Governor Adam Gregg to discuss the Future Ready Iowa initiative and other programs relating specifically to rural Iowa.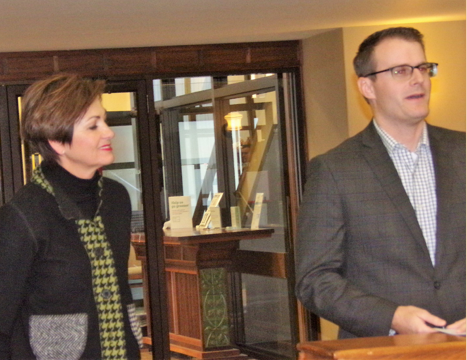 Gregg was appointed Lieutenant Governor by Governor Reynolds in May of 2017.  His position in the office is compromised by a legal opinion and a glitch in the Iowa Constitution, and he is technically Acting Lieutenant Governor.  If succession to the Governor's office should be necessary, Gregg will not be the person to take that step.  Instead, the new governor would be the President of the Senate.  Gregg, then, holds the title of Lieutenant Governor and fulfills the duties and draws the salary attached thereto, but he does not precisely hold the office.
Just as Reynolds had cited statistics, so did Gregg.  After praising Governor Reynolds for her strong leadership, and after reflecting on his four-year-old daughter and his hope that one of her first memories will be her attendance at Tuesday's Condition of the State address, he presented evidence that Iowa is on the right path.
"Let's take a look at the numbers," he suggested.
Gregg repeated Iowa's first-in-the-nation graduation rate status and the finding that Iowa is the most affordable state for middle-class families.  Iowa also ranks number three in the category of "best managed" state, he said, with an aside comment that, in his opinion, the ranking ought to be number one.
He mentioned the low unemployment rate of 2.9 percent and referred to specific instances of job growth—for example, 500 new jobs added by Whirlpool in Amana Colonies, 200 new jobs at Grape Tree Medical in Milford, 350 new positions at East Penn Manufacturing in Oelwein, and 30 jobs being added by 3-M in Knoxville.
Gregg's closing number was 58,348—the number of available jobs listed as of early Friday morning on Iowa's Workforce Development website.
Because both Gregg and Reynolds are the products of rural Iowa, he expressed gratitude for being tapped to lead a rural Iowa initiative.
"We want to make sure that there is opportunity and prosperity in every corner of the state," he commented.
One special focus will be high-speed internet connectivity, exceptionally important for attracting young people to Iowa and for retaining those already here.
After expressing his thanks to Grinnell, Gregg turned the podium back to Governor Reynolds for questions.
Six questioners covered five broad areas.
Taxes
The first question raised the general issue of tax reform.  Tax issues and potential changes are in a state of flux, Reynolds said, but information will be "rolling out…over the next several weeks."
The second questioner referred specifically to business tax breaks and to studies from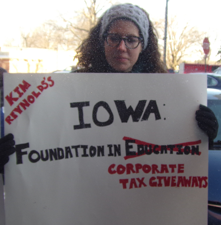 Iowa State and University of Iowa economists that cite the state's R&D tax credit and manufacturing sales tax breaks as contributing directly to the state's revenue shortfall.  The question—which drew applause:  "Are you willing to commit to bringing it up to sunset those tax breaks?"
Reynolds referred to "a lot of things" that have reduced Iowa revenue.  She mentioned people's behaviors changing as one general factor, and as a specific she referred to people buying online "to the detriment of our main street businesses" and to state sales tax dollars.
She does intend to appoint a bi-partisan task force "to review every single tax credit—every one—that we have."
Water Quality
The third questioner asked if Reynolds is willing to raise the state sales tax to address water quality.
"It's really important that we get something done," Reynolds responded.  In fact, she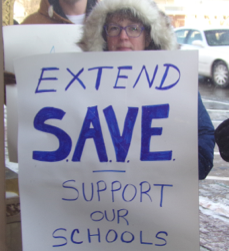 hopes that a water quality bill is the first bill presented to her for signature.  She stressed, though, that such a bill will be only the start of an ongoing project and that pilot projects are in the works.  She is excited about one Iowa start-up that uses algae to help purify wastewater.
Education
Thanking Reynolds for her support of public education, the fourth questioner said, "I'm wondering where we're at with the SAVE dollar extension."
"We're talking about that," Reynolds began, and she went on to suggest added options for funding education that are under consideration.  "I don't know if it will pass exactly as is," she stated, referring to the SAVE extension.  She referred to the "wheelhouse of education" and that various funding mechanisms and innovative programs—such as Career Academies—can all be directed toward sustaining and improving Iowa's educational system.
Mental Health and Reproductive Care
"Rural Iowans are struggling from restricted reproductive care and restricted mental health care," offered the next audience member, adding that "over 100,000 Iowans are designated as having a mental illness" whereas the state provides fewer than 800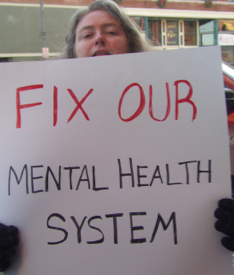 "verified psychiatric beds."
"I would like to hear from you that you're committed to addressing both those" issues—mental health and reproductive care.
This comment drew the second instance of applause from some attendees.
Reynolds referred to bi-partisan efforts to secure added mental health funding, $2 billion, from earlier legislatures and to new programs such as partnerships with providers like Broadlawns and Unity Point.  She acknowledged, however, that much work remains.  She recommends establishing critical access centers, for example, and she is optimistic about a partnership with Des Moines University whereby the college will train primary care doctors with the skills to identify mental health illness.  Des Moines University graduates currently practice in most of Iowa's 99 counties, she noted.
"What about reproductive health care?" the questioner interjected.
Reynolds acknowledged that she and the audience member would not agree on this issue, but she asserted that access to reproductive health care has increased over the past several months.
"The numbers are the numbers.  Math is math," Reynolds commented, adding that access to care is now available in 96 counties at "federally qualified health care centers, and they provide all the services that we need."
Gun Safety
At the time-for-one-more-question point, the response was, "Can you explain…your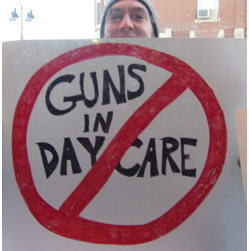 decision opposing gun safety in child-care centers?"
"I don't oppose that."  Reynolds replied.  "It was a procedural question."
The issue involved Reynolds' staff blocking proposed Department of Human Services regulations regarding gun storage in child-care centers and parental notification of guns on the premises.  Reynolds feels the matter should not be handled by a rules committee but ought to be taken up in the legislature for full discussion and for all stakeholders to be involved.
At this point, Governor Reynolds thanked her audience, and she and Lieutenant Governor Gregg began visiting one-on-one and availing themselves to smartphone photos, of which there were many.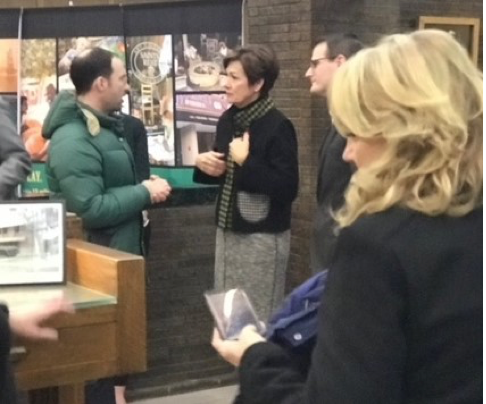 On a final note of protest, one audience member shouted as he turned to leave, "Cathy Glasson 2018!"