Homepage Slider
"Going Green" Theme for Imagine Grinnell Fundraiser March 17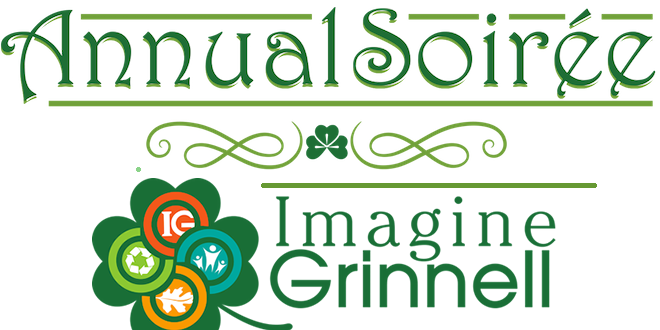 "Going Green" Theme for Imagine Grinnell Fundraiser March 17
Imagine Grinnell's annual fundraiser will go green this year, supporting the quality of life organization's "green, playing and growing" programs, with auctions and entertainment scheduled for St. Patrick's Day, Friday, March 17.
The open-to-the-public fundraiser, with a goal of $10,000, will be held at the Grinnell College Golf Clubhouse, 933 13th Ave., from 5:30 to 9 p.m. on Mar. 17.  The silent auction opens at 6 p.m., and at 7:30 p.m., a live auction and raffle drawing. Entertainment by local acoustic country musician Nick Wallace will be provided throughout the evening. Appetizers and cash bar will be available from 5:30-7 p.m.
Imagine Grinnell board member and event organizer Dodi Reilly said that the "going green" soiree this spring will replace the previous "Grinnell's Got Talent" fundraiser that had been held in the fall. "The board decided that the 'going green' theme fit well with Imagine Grinnell's mission and by holding the event in the spring, we can use the proceeds throughout the year for our many projects," Reilly said.
While auction items are still being collected from local sponsors, the following have already been committed for the silent auction: two-hour cleaning service by the GHS swim team; personal trainer sessions from the Ahrens Fitness Center; lottery tickets sponsored by Ramsey Weeks; tickets to Grinnell Regional Medical Center's Blue Jean Ball; and spring and summer community-supported agriculture shares from Middle Way Farm and Grinnell Heritage Farm.  Live auction items will include a green bicycle donated by Bikes to You and Grinnell Mutual Reinsurance Company; a coffee table designed from recycled materials by a local artist; a vegetarian dinner for eight prepared in buyer's home; and a barbecue for 10 at the home of Terri and Chad Nath. Items for the raffle are still being gathered and some can be viewed beginning March 1 in the store window at Bikes to You on Broad St.
The March 17 fundraiser is open to all Imagine Grinnell supporters and community members. Tickets are required and may be purchased for $17 at the door, or ahead of the event at the Claude W. and Dolly Ahrens Foundation offices on Penrose, the Edward D. Jones office at 720 4th Ave. in Grinnell, or from any Imagine Grinnell board member, including President Liz Queathem, Lauren Augustin, Barb Baker, Doug Caulkins, Emily Counts, Bill Ford, Elizabeth Hill, Heidi Knobloch, Mark Kolpin, Jennifer Latham, Amy Miller, Nath, and Reilly.
Imagine Grinnell is a local non-profit organization with a mission to improve quality of life, promote a healthy environment and complement local economic development efforts.  The Claude W. and Dolly Ahrens Foundation provides back office support services to Imagine Grinnell through the foundation's Community Support Services (CSS) program.