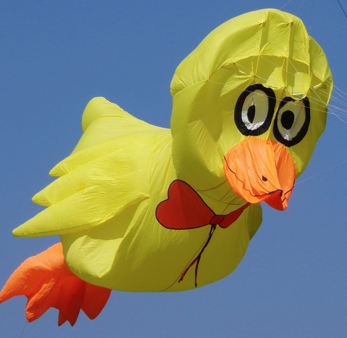 GO FLY A KITE!
No, really, go fly a kite.
By Michael McAllister
What can sound like an insult in some contexts is excellent advice if spoken by a Rotarian recently in Grinnell.  A tradition, Kites Over Grinnell, was set aloft again on Saturday, September 24, at the Ahrens Park driving range amid summer-like temperatures, under cloud-cleared skies, on vibrant green grass, and against a cooperative breeze—all of which could not have been more conducive to the successful launching and piloting of stringed, air-powered flying devices.
Kites, as pictures here attest, have come of age.
Still, while many kites these days are a few incarnations from the paper, balsa wood, and ripped-bedsheet tails of the constructions of yesteryear, they nonetheless remain admirably free of technology.  There is the kite, some lines, the operator, a breeze, dexterity, skill, and the wide sky.  No drone could ever possess such heart.
Saturday's event was a revival of a tradition that began in Grinnell in 2002, a tradition that, according to The Des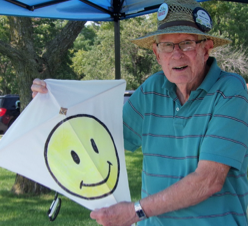 Moines Register, once "drew 2000 spectators and 52 professional kite flyers from across the nation and Canada" and in 2009 lasted three days.
Grinnell's Rotary Club decided to promote the event this year because of its value as a family activity.  Bruce Blankenfeld, a former president of the organization and the general oversee of the event, told the Register, "Our Rotary Club is all about family," and he credits a presentation by Dick and Sis Vogel about their past work with Kites Over Grinnell as inspiring Rotarians to renew the tradition.
Manning the registration table were Jim Ahrens and Bob Brierly.  Ahrens credited Brierly for the good weather, and no doubt the kite that Brierly displays in the picture represents his satisfaction with the event.  Ahrens, too, was pleased.  "It's a great thing to see all these kids out here," he said.
Since Grinnell's Rotary sought to stage a family event, it was appropriate that Randy Larkey, wife Linda, and son Ryan participated.  Coming all the way from Kansas City, the Larkey's promote "Kites and Kamaraderie" with the Upper-Midwest Area Kitemaking Event the first weekend of March each year on the Taft Campus near Oregon, Illinois.  They attend four or five kite flying events per year, and they were pleased to be back in Grinnell.  Mrs. Larkey joked that it is possible to make money flying kites.  How do you make a million dollars?  "Start out with two million."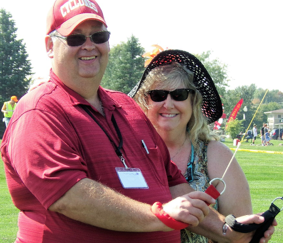 Like any hobby, interest in flying kites generates various levels of involvement.  Take Rich May (and the soon-to-be Mrs. May), at the left, for example.  He grew interested in kites during the last Kites over Grinnell event and now maintains a collection of approximately 14, "including the bad ones."  What's a bad kite?  "Once you get it up in the air, it doesn't fly, doesn't respond," May answered, adding that kites are no exception to the principle that "you get what you pay for."
If the good spirits of the participants and observers were any indication, Kites Over Grinnell 2016 was an absolute success.  Thus a tradition may have been reborn.  "This was the best!" reported one enthusiastic spectator as she thanked Bob Brierly and Jim Ahrens, pledging that she would be back next year to assist with registration.