Grinnell News
Go back in time with Living History Farms' Corn Harvest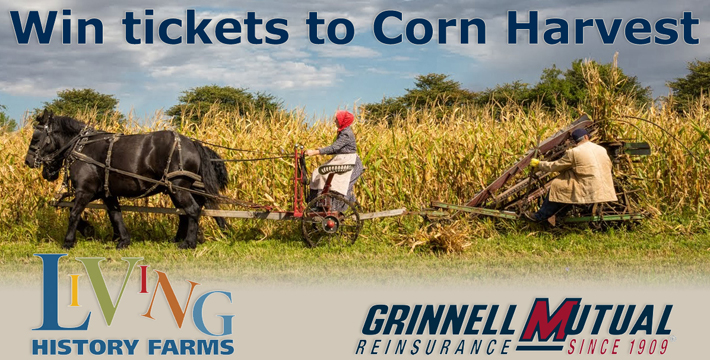 Go back in time with Living History Farms' Corn Harvest
Experience harvest as Iowa's early settlers during Living History Farms' 2014 Corn Harvest on Saturday, October 4, from 9 a.m. to 4 p.m. This family-friendly event features hands-on demonstrations for all ages – learn how to pick and husk corn by hand and shell corn with a hand crank. After all that hard work, relax on the front porch of the 1900s farm. Events also include harvest machinery demonstrations, a plowing competition, and a traditional farm hand's dinner.
Grinnell Mutual, sponsor of the 2014 Corn Harvest, is giving away two four-pack passes to Living History Farms on Facebook. Enter to win by Friday, September 26, on Grinnell Mutual's Front Porch Facebook page, facebook.com/grinnellmutualfrontporch. The day passes can be used for the 2014 or 2015 season at Living History Farms.
"As hard as farmers work today, harvesting just a bushel of corn was much harder a century ago. Grinnell Mutual is pleased to be a major sponsor of 2014 Corn Harvest at Living History Farms so people can experience our heritage up close," said Larry Jansen, president and CEO of Grinnell Mutual. "As an ag insurer, we advocate for farming and rural life and are pleased to partner with Living History Farms."
Learn more at www.livinghistoryfarms.org.
Corn Harvest is sponsored by Grinnell Mutual Group Foundation.
About Living History Farms
Living History Farms is an interactive outdoor history museum located in Urbandale, Iowa, which educates, entertains and connects people of all ages to Midwestern rural life experiences.
About Grinnell Mutual
Grinnell Mutual Reinsurance Company, in business since 1909, provides reinsurance for farm mutual insurance companies and property and casualty insurance products through more than 1,600 independent agents in 12 Midwestern states. Grinnell Mutual is the 120th largest property-casualty insurance company in the United States and the largest primary reinsurer of farm mutual companies in North America.