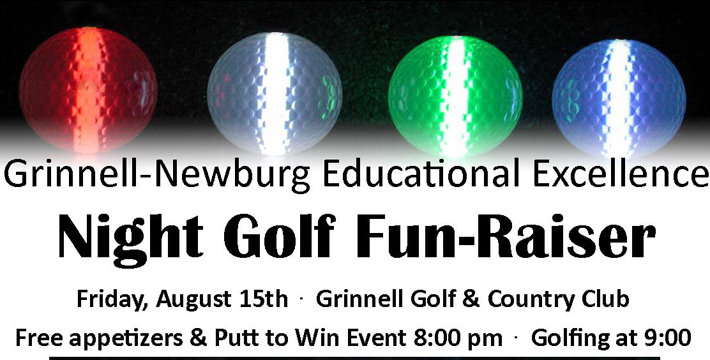 The Grinnell Newburg Educational Excellence Fund (GNEE) will host a night golf fundraiser at the Grinnell Golf and Country Club on Fri., Aug. 15.
GNEE, which provides mini-grants to classroom projects that may otherwise go unfunded, has given "more than $200,000 to innovative projects that enhance learning and student success," according to board member Sarah Smith.
"GNEE has funded projects such as interactive classroom equipment that just wasn't in the budget or books that weren't part of the curriculum but further motivate elementary students to read," Smith said. "So the GNEE golf event is an important fundraiser for the district and for those who support public education."
Individual golfers can signup ahead of time and be placed on teams of six, or team members may register together by contacting Nicole Brua-Behrens at Greater Poweshiek Community Foundation (GPCF), 641-236-5519, nicoleclik@gmail.com. The cost is $70 per person and a $30 cart fee.
The best team and individual scores will be recognized, along with chances to "putt to win" on the practice green which begins at 8 p.m. Area businesses that sponsor teams will be recognized with lighted signs at the 9 p.m. tee off.
"Night golf is beautiful to watch and just a lot of fun, even if you are not a golfer. The lighted signs, cart paths, balls and glow sticks make it a fun, non-competitive event," Smith said.
The event also includes a raffle for non-golfers who want to support education but need not be present to win. Prizes include an IPAD mini, tree sapling, and $50 gift certificate to Awards Unlimited. Tickets of $5 each or $20 for five may be purchased at the GPCF office on Penrose or from GNEE board members Todd Abrahamson, Barbara Brown, Doug Cameron, Lynn Cavanagh, Chris Hansen, Stephanie Hoopes, Judy Hunter, Tom Moore, Jon Plate, Suzanne Redenius, Dave Stoakes, Sherry Wallace, and Smith. 
All proceeds from the night golf event support GNEE. More information about the non-profit organization's activities is available at gnee.org.