Homepage Slider
GNEE Mini-Grants: Funding Innovative Programs for Students in Middle and High School Music Programs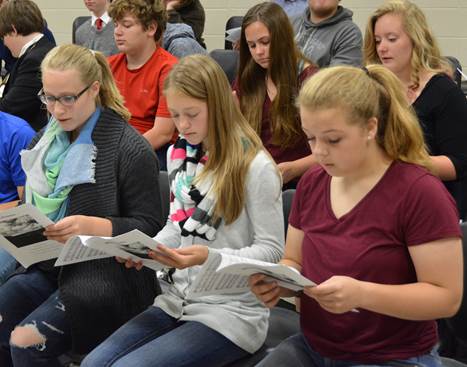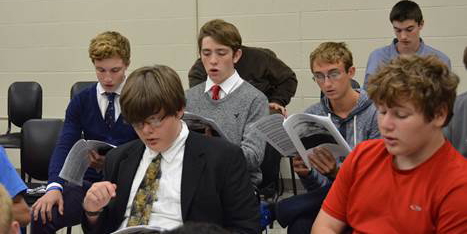 October 6, 2015: Through a mini-grant from Grinnell Newburg Educational Excellence (GNEE), choral music students in the Grinnell-Newburg system will create and perform original music this fall.
For ten years, GNEE mini grants have enabled teachers to get funding for projects that connect to curricular goals and improve student learning. This grant, the "Choral Music Commission Project," will affect from 200 to 250 students at both the high school and middle school, allowing them to collaborate with a professional composer, John Armstrong of Oswego, NY.
Grinnell High School choral director Roger Henderson and middle school choral director Jill Harris proposed and are carrying out the project. The concert continues a 20-year collaboration between high school and middle school to jointly present a fall concert that centers on a theme.
This project connects with newly released (2014) National Core Art Standards for music education that emphasize understanding how music is created.  Collaborating with the composer both through web communication tools and in person, students will work individually and in groups to write brief poems, create song titles, and construct melodic ideas centered around the fall concert theme of "Peace."
The project will allow students to explore essential questions about creativity:  How do musicians generate creative ideas?  How do they make creative decisions?  How do they improve the quality of their creative work?  When is creative work ready to share?
Henderson comments on how the mini-grant will achieve curricular goals:  "It is our intent with this project to provide our student singers with an in-depth understanding of creating, performing, responding and connecting with music by engaging them in the production and creation of musical ideas for an original composition. We will further this understanding by the interpreting and conveying of the meaning of this newly created artistic work to an audience in a public performance. This project will anchor our work for this year and future lessons on the creative-compositional process."
The public will be able to see the results from this GNEE mini-grant on November 3 in the high school auditorium as the high school and middle school choirs present a concert on the theme of "Peace."
If you would like to support such innovative learning projects in the Grinnell-Newburg district, you may donate to GNEE through the GPCF web page, http://www.greaterpcf.org/ by clicking on the "donate now" button and scrolling through the menu to find GNEE.   From October 12th-November 12th, 2015, GNEE is seeking to increase donors who know about the organization and support it through the BIG GIVE, a promotion of Greater Poweshiek Community Foundation for its nonprofit partners.