SE•ED
Giving Kids the World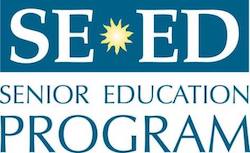 Giving Kids the World
Gary and Becky Downey of Grinnell will be sharing their volunteer experience at Give Kids the World Village in Kissimmee, Fla., on Monday, Sept. 11, during the Grinnell Regional Medical Center Senior Education Program. Give Kids the World Village (GKTW) is an 84-acre, nonprofit resort that creates magical memories for children with life-threatening illnesses and their families.
GKTW provides accommodations at its whimsical resort, donated attraction tickets, meals, and more for a week-long, cost-free fantasy vacation. With the help of many generous individuals, corporations, and partnering wish-granting organizations, Give Kids the World has welcomed over 154,000 children and families from all 50 states and 77 countries.
The Downeys volunteer at the village during the winter months. They will share information about the village and their roles working with these families.
The Senior Education program is held each Monday at 10 a.m. in the Drake Community Library, with refreshments beginning at 9:30 a.m. This program is free and open to the public.
Parking is available at the Drake Community Library and along Park Street. Seniors needing transportation or special accommodations may call GRMC's communications and development office at 641-236-2590 by the Thursday before the program.