GRMC
Giving Gardens Supply MICA
Giving Gardens Supply MICA
The bountiful Giving Garden at Grinnell Regional Medical Center supplies fresh, locally grown produce to the Mid-Iowa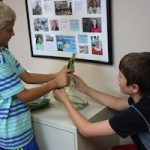 Community Action food pantry. The Giving Gardens, one of the many Community Transformation Grant projects, encourages county residents to improve their health by eating more fresh produce.
Community Transformation Grant funds helped purchase the refrigerator at MICA as well as gardening tools for three different gardens. The GRMC and St. John's Lutheran Church garden have been harvesting excess produce that has been shared with MICA. Area gardeners are also welcome to drop off excess produce at MICA.
The goal is to sustain Giving Gardens after the grant ends in September 2014. By purchasing the refrigerator and gardening tools, area organizations such as GRMC and churches will be able to continue supplying fresh produce for many years and MICA will be better able to store and distribute fresh produce.
"We are very appreciative of the Community Transformation Grant and the generosity of those that helped make the purchase of this glass front refrigerator possible," says Paula Arkema, MICA county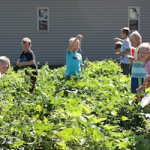 director. "We have already had many local residents donate items from their gardens. This is a great opportunity to help individuals and families have access to fresh produce and promote healthy eating."
The Poweshiek County Transformation Grant funds the promotion of system level and community design changes, worksite wellness, community complete-street initiatives, community-based food environment projects, and smoke-free multi-unit housing initiatives to improve the health of residents in the county. It is administered locally through GRMC.