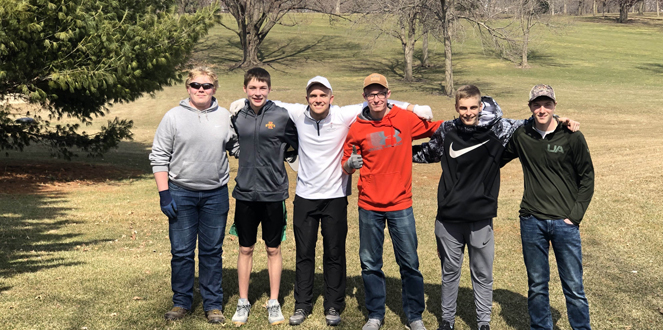 Team members each worked 3 hours, picking up sticks at Grinnell College Golf Course
GRINNELL, Iowa – When six members of the Grinnell High School boys golf team showed up early to the Grinnell College Golf Course (GCGC) last Tuesday afternoon (April 2), course manager Shane Hart assumed they wanted to get an early start on practice.
"They had an early-release day from school, and I thought they just wanted extra time on the course," Hart said. "Instead, the golfers spent three hours picking up sticks from across the course."
Picking up sticks by hand throughout the course would be a huge task for the one full-time groundskeeper at the golf course. With six high school golfers working, Hart said, the team did work that would normally take one person several days.
"The GHS boys golf team is more than willing to pitch in a bit to help get GCGC ready for the season," said GHS Golf Coach Mike Baker. "Our golfers realize they are very fortunate to get to play and practice at a facility that just keeps improving every year in quality. The Types of Grass On Golf Courses also are of great quality and very essential for the sport.
"The opportunity provided by Shane Hart and GCGC for GHS golfers to improve their games is greatly appreciated by our golfers and coaches," Baker added.
"This is a really great example of a small-town community giving back," Hart said. "It's wonderful to see these kids come and volunteer their time to improve the golf course for everyone. I encouraged them to volunteer but I didn't expect them to volunteer here!"
Both the GHS girls and boys golf teams practice and compete on the Grinnell College Golf Course. The boys team has eight members. Two were unable to participate in the clean-up because one was competing in a track meet and the other was visiting a college.
When Grinnell College acquired the private golf course and outdoor pool in 2016, college officials decided to make these resources available to the general public, providing recreational facilities that promote good health and wellness. Often times these benefits come at free or reduced fees to local nonprofits, such as the local high school and Grinnell College golf teams.
Many local nonprofits often use Grinnell College Golf Course facilities, such as the clubhouse, for their receptions and meetings. These groups include the Jewel Box Quilters, Boy Scouts, Unity Point/Grinnell Regional Medical Center, the Grinnell Area Chamber of Commerce, Grinnell Police Department and many others.