Homepage Slider
From Kinnick to the Masters: Dr. Dave Smith Guards the Greats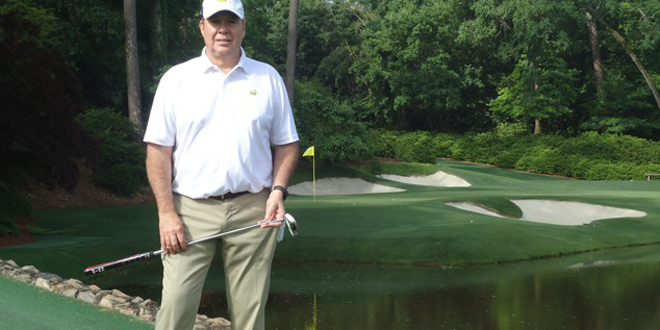 by Sarah Breemer Pfennigs
Dr. Dave Smith was flipping cheeseburgers at an Iowa/Michigan tailgate party in 2011 when something amazing happened. Little did he know that standing at the grill that day would result in a dream come true.
Chatting about football with Jim Schlie, the brother of an old fraternity buddy, the conversation eventually turned to another sport both men are passionate about: golf. Schlie asked Smith if he was a fan of the Masters, the renowned tournament die hard golfers tend to swoon over. Smith answered with a resounding "yes".
"There are four majors, and the Masters is my favorite," Smith says. "If you play golf in the Midwest, you get excited about the Masters because it's the start of golf season."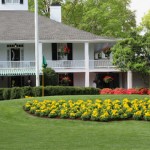 After discussion of the Masters, Schlie – who would eventually become Smith's mentor and friend – inquired if Smith would ever be interested in being a gallery guard for the tournament. After an exhaustive application process – which included a letter of recommendation, his resume, an essay explaining why Smith would make a good gallery guard, passport pictures, and a background check – the Grinnell dentist found himself with a letter from Augusta National, formally bestowing him the title of Gallery Guard.
"It's very difficult to attain," Smith admits. "You don't ask to be a gallery guard, they ask you. There's an online application, but there's also a huge waiting list. You really have to know someone on the inside. Even with a recommendation, it took 3 years for me [to be invited]."
A common misconception of gallery guards seems to be that they're merely spectators (now called patrons), but that really couldn't be further from the truth. Guards work long, unpaid hours – typically sunup to sundown – and certainly aren't sitting on the sidelines, drinking mojitos and nodding in approval of Tiger's recent chip shot. According to Golf Magazine, guards are most often found controlling crowds, ushering patrons across walking paths, keeping a watchful eye on the tee box and greens, answering questions, and generally keeping the peace. Guards are expected to intervene when people are in the way, and sometimes – although rarely – may have to toss unruly patrons from the venue altogether.
Etiquette, Smith stresses, is paramount.
"It's not just about watching golfers and holding a rope. There's a science to it," Smith maintains. "Every position and hole requires different protocol. In 1999, the Des Moines Golf and Country Club hosted the US Senior Open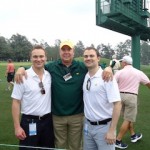 and members of the Grinnell Golf and Country Club marshalled the tournament. Participating at Augusta is night and day compared to that experience. For example, at the Masters, there are crosswalk ropes that require closing, and those ropes must never touch the ground. It's sacred. Augusta prides itself on deep tradition."
So what about those aforementioned questions from patrons? Apparently, there have been three common queries of Smith since he began his second season of gallery guard duty.
"A often-asked question seems to be 'What time is it?'," Smith laughs. "Cell phones are not permitted, so no one has any idea what the time of day is. The second is 'Where's Tiger Woods?'. But the most common question by far is, 'How did you get this job and how can I get it?'."
There are 239 gallery guards for the entire tournament, and although many hail from the southern states, the guards are from all over the nation. Smith holds the distinction of being the only gallery guard from Iowa, not only currently, but in history. Coincidentally, Clifford Jones – one of the founders of the Augusta National tournament – was born in Morningside, IA. Roberts and Bobby Jones, a prolific golfer who saw his peak between 1923 and 1930, wanted to offer a service to the sport of golf by by hosting the annual event that would eventually become the Augusta National Invitation Tournament. It would be known by that moniker until 1939, when the name was officially changed to the Masters Tournament.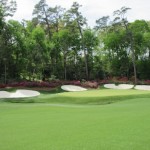 Currently, the Masters is always held the second week of April. It consists of three practice rounds (Monday, Tuesday, and Wednesday), and the tournament lasts from Thursday to Sunday.
"You're either in it for the week, or you're out of it," Smith says. "There are no exceptions. It's a commitment. You have to give a week of your life to the tournament."
This April, Smith worked hole No. 2 (Par 5, 575 yards), known by Augusta as Pink Dogwood. Each hole is named after the flowering trees or shrubs that the Augusta National course boasts. The grounds are kept meticulously clean, according to Smith.
"It's a horticulturist's dream," Smith says. "It's really something else to watch the sun rise over the empty course, the birds chirping. Witnessing the mowers come up over the green like thunderbirds is priceless."
Not only is the course spotless, it's steeped in tradition and secrecy. There's a reason Augusta hand-picks its gallery guards carefully. Between having to maintain impeccable discretion and meticulous etiquette, the job is not for the indiscriminate.
"Truly, it's 'hallowed ground'. We're ambassadors," Smith says. "The powers-that-be take it all very seriously. They won't reveal its members, although you can go online and get an idea. They also don't publicly discuss the cost of membership, how much money the Masters Tournament brings in, and they don't disclose course facts, like green speed. Crowd attendance isn't even reported."
That said, this gig has some serious perks. Witnessing cream of the crop golfers execute their sport is the zenith for anyone who loves the game, Smith attests, but the lifelong friendships the experience offers for those who work the tournament is immeasurable. Smith bunked with 7 other gallery guards in two houses rented near the course.
"These folks are from all walks of life," Smith says. "You've got doctors, lawyers, servicemen – everything. In the evenings, we get to share stories about the day and talk golf. It's wonderful."
The guards get some high class "swag", including official gear, but the real payoff seems to be the guard invitation
to return in May to play the Augusta National course themselves. Smith maintains that there's nothing like it for someone who's passionate about the sport and suggests that Augusta for a golfer is like Mount Everest for a mountain climber.
"It's the pinnacle – an incredibly prestigious course," Smith declares. "We come back to Augusta to play May 18.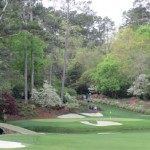 May 22, the whole place closes down until October. If it rains, I'm out of luck. We get one shot."
Luckily, the job is his for as long as he wants it. Gallery guards can revisit the position every year as long as they're physically and mentally fit to do the work, as well as uphold the standards Augusta National holds in high regard. Some jobs are more difficult than others, Smith points out, because the holes differ in complexity. For example, Hole #18 ("Holly", Par 4, 465 yards) is notoriously challenging.
"There are a lot of 'green coats', or members, on Hole 18, and they're very watchful," Smith maintains. "I had a housemate who worked 18 and he'd come home stressed every night."
Anxiety aside, Smith says he wouldn't trade it for the world and that his counterparts likely feel the same way. It's not simply the opportunity to stand next to Lindsay Vonn or to listen to a caddy counsel Tiger Woods on which club to use – although Smith admits that's an incredible bonus to an already extraordinary experience.
"A gentlemen just retired from the guard this year. He was 81. People want to do this for a long time," Smith grins.