Homepage Slider
Family, Friends, Fun & Frivolity: Grinnell College Celebrates Their 136th Alumni Relations Weekend, May 28-31
FRIENDS, FAMILY, FUN & FRIVOLITY: GRINNELL COLLEGE CELEBRATES THEIR 136TH ALUMNI REUNION WEEKEND, MAY 28-31
By Sarah Breemer Pfennigs
Despite inclement weather that threatened to – quite literally – rain on everyone's parade, over 1,100 celebrants made their way to Grinnell College's campus this weekend to partake in the fun and frivolity offered by the 136th Alumni Reunion. 800 graduates, along with family members and special guests, returned to the community May 28-31.
This year, the event highlighted several milestone reunion groups, with 60th ('55 and '56), 50th ('65), 45th ('69, '70, and '71), 40th ('75), 25th ('90), 20th ('94, '95, and '96), and 10th ('05) clusters.
The most senior of alums – who graduated in 1955 – saw enormous changes to both the town and campus. 60 years ago, a Grinnell College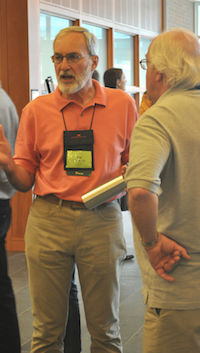 student could have taken a date to see James Dean in his first major role as Cal in East of Eden at the Iowa Theatre, then located at 5th and Main. Those celebrating their 50th might possibly remember attending a Vietnam War protest or discussing the assassination of Malcolm X before class.
"We have some people who are here for their 50th reunion who have never been back [to Grinnell]," said Jayn Bailey Chaney ('05), Director of Alumni Relations. "In many ways, the campus is strikingly different. Many of these buildings were not here in 1965; in fact, many of them were just built in the last 10 years. The students do an absolutely fabulous job of helping the alumni connect with the values of the institution. They get to see that what was important to them as undergraduates 50 years ago still endure today in terms of their commitment to service and their concern for the well being of others."
Events were to kick off Thursday with "Music in the Park", a Grinnell Farmers Market tradition in the Central Park gazebo, but with ominous storm clouds moving in at the last minute, the music was moved indoors to Bucksbaum (Scott Theatre). I-398, an alumni band that got its name from an independent study course that allowed college credit for composing and performing music, still rocked the house with favorites from the 60s and 70s.
"Our biggest worry is weather," admitted Chaney. "We've got alternative options, but rain is always a concern when planning a huge event like this."
Unfortunately, bad weather did put a damper on Friday evening's All-Reunion picnic, which had hungry alums abandoning JRC Courtyard tables bedecked in red and white checked tablecloths for Marketplace seating indoors. Still, the picnic theme continued inside with broasted chicken, salads, and freshly baked pies, courtesy of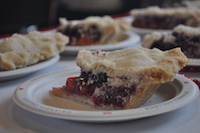 Grinnell College's Dining Services.
"It's an 'all-hands-on-deck' event for the entire campus," Chaney said. "Dining services, facilities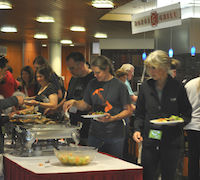 management, AV, Conference Ops – everyone works very hard to handle the full-service experience. We also have an extraordinary staff of about 50 Grinnell College students who are hired to stay two weeks after graduation to help us prepare the campus for all of the anticipated guests."
Despite the iffy weather Friday evening, the day dawned sunny, and riding enthusiasts turned out for the Bikes To You BRAG (Bike Ride Across Grinnell), with owner Craig Cooper leading the way. The group cycled over approximately 10 miles of paved Grinnell roads, both in-town and countryside.
"The bike tour around Grinnell was a highlight for me," said Ed Senn ('79), President-elect of the Grinnell College Alumni Council. "The town of Grinnell looks great, and I am so happy that the downtown is healthy. I am sending in my application for the Mayflower!"
Although there were numerous planned activities on campus – including a variety of walking tours, panels, athletic events, awards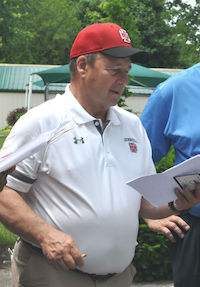 ceremonies, and musical performances – the returning students were encouraged to explore the town with their friends and families. Shuttles were provided to off-campus destinations, like the Conard Environmental Research Area (CERA), which included a 1-mile hike through reconstructed prairie and restored savanna, as well as a tour of the Environmental Education Center. Alums were also seen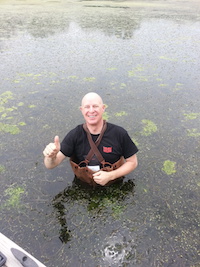 around town taking in the Thursday evening and Saturday morning farmers markets and purchasing various sundries from local businesses. Total Choice and Premier Printing provided much of the print materials and t-shirts for the weekend, and Grinnell Community Daycare was an indispensable
resource for infants and small children of returning alumni. The Grinnell-Newburg School District even provided buses to transport visitors to and from campus.
"We really try to work with the Grinnell Chamber and local business as much as we can," said Chaney. "We could not host this event without the partnership of so many people and businesses in and around Grinnell."
Because many alumni bring their children, the College implemented several kid-friendly programs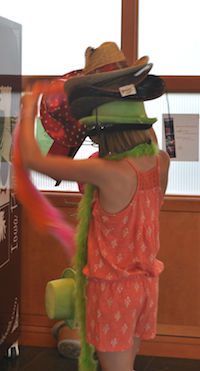 for the younger set. Although very small children need licensed, professional care, a program called Camp Grinnell provided structured entertainment for kids 6-12, and a teen program was available for adolescents, all of which were coordinated by staff members.
"Wonderland is a Grinnell College Spring Fest tradition," Chaney said. "This year we're hosting it in a family-friendly way, with tie-dyeing, crafts, and games."
The premier event of the weekend was the Alumni Assembly, which included a presidential address by Raynard S. Kington and the presentation of the Alumni Awards by the Alumni Council. Ten alumni were honored, some posthumously.
"This has been a tradition of the alumni reunion since it began," said Chaney. "We honor individuals for service to the college, to their profession, and to their home communities. This year, Tom Marshall ('55) was selected to receive an award and we were able to present it to him a week before he passed in March. We will honor him again on Saturday."
Another notable event included a College President's Panel (The Future of Higher Education), which featured President Kington and three Grinnell College alumni who are current or former college presidents: Mary Sue Wilson Coleman ('65), former president of the University of Michigan and the University of Iowa; David Maxwell ('66), president of Drake University; and John (Fritz) Schwaller ('69), former president of the State University of New York at Potsdam. The discussion highlighted problems, challenges, opportunities, and the horizon of higher education and was moderated by Grinnell College President Emeritus George Drake. Drake also happened to be celebrating his 60th reunion.
"The President's Panel was, in my opinion, a great success," Drake said. "The range and variety of experiences on the panel was impressive. As my wife Sue said afterwards, it was a stimulating conversation among presidential colleagues who shared their connection with Grinnell. It was indeed a conversation that unfolded organically with comments almost always in responses to what had been said by the previous speaker or speakers."
According to Drake, the dialogue opened and remained on the topic of balancing cost and the quality of the undergraduate experience. Enrichment of that learning and the value of a liberal arts education amidst politics was also discussed at length.
"Looking out at the large audience in the Harris Cinema, it seemed to me that the panel engaged their interest throughout the 1-½ hours, which included about half an hour of questions from the audience," Drake continued. "I was also part of the Liberal Arts in Prison panel and it was enthralling to listen to the 'released' students as they expressed their undying gratitude to Grinnell in beautifully articulate words."
As previously mentioned, Drake also celebrated his 60th reunion and found it to be an "excellent" experience. The 60th reunion cluster's Friday night party and Saturday night banquet was hosted by Buckley Hall at the Mayflower.
"When I was the President meeting with various classes, the 60th group seemed very old," he mused. "Now, I believe that they are not at all ancient. Perspectives change."
Of course, no reunion is complete without some nostalgia. John Pfitsch, a beloved Grinnell College coach and resident, was well-known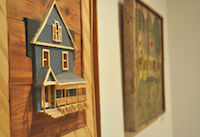 for his dedication to sports, but not many knew he also had a passion for woodworking. Over several decades, Pfitsch created wooden laths, many depicting instantly recognizable architectural structures around Grinnell, including many campus buildings. Pfitsch's laths were gifted to many friends and family members over the years, and for this event – through the help of his longtime friend Mary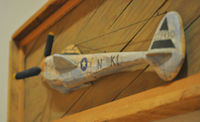 Jane (MJ) Zimmerman ('56), his widow Emily Pfitsch, and Faulconer Gallery – owners of his artwork could donate their laths temporarily for installation at Smith Gallery in the Joe Rosenfield Center. 30 of his laths, which include woodworks of Herrick Chapel, the United Church of Christ, the Depot Crossing, and the Central Park gazebo, were displayed alongside informational placards. Zimmerman owns the Mears Hall lath, which Pfitsch gifted her with 26 years ago.
"When Emily and I were at the Smith Gallery on Saturday, there was a steady stream of athletes who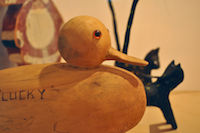 entered the room saying, 'I had no idea'," said Zimmerman. "Having Emily there to enjoy all their stories was the best reward of all. Many thanks to all the lenders who were thrilled to contribute their Precious Pfitsch Pieces, and to Lesley Wright, Director of the Faulconer Gallery and Milton Severe ('87), Director of Exhibition Design for making it all happen."
Those who were students in the 90s got a tasty reminder of the good old days, thanks to the culinary talents of James Tanzosch ('88). Tanzosch, who operated the ever-popular Jimbo's Pizza several years ago, was approached by the 20th reunion cluster ('94, '95 and '96) for his recipes. Instead, the former restaurant owner offered to make the items as long as the ingredients were on hand. Alumni who remembered and loved California Nachos got to line up for a blast from the past when Tanzosch and his crew assembled and served their favorite study-break snack. Jimbo's first location was actually Yonker Hall, so it was appropriate that Tanzosch served up memories from the same dorm this weekend.
"They [20th reunion cluster] were always great supporters of Jimbo's, so I wanted to do it," said Tanzosch. "Chris Bair and Evan Petig, both Grinnell alums and former Jimbo's workers, helped, as well as two [Grinnell College] students. We served over 400 people."
Overall, the 136th Reunion was a success.
"For me, the reunion means a wonderful opportunity to reconnect with the College, with some of my classmates, and with the town of Grinnell," said Senn ('79), now a resident of Washington, DC. "Being here in the 70s was a wonderful experience. Grinnell helped make me who I am today."