Former Hawkeye excels at the professional level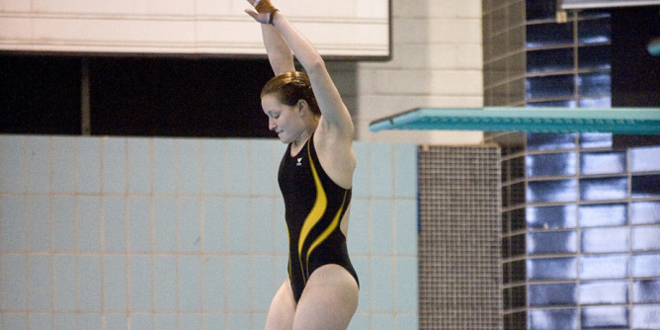 As reported on the University of Iowa Athletic Department website,
Editor's Note: The following first appeared in the University of Iowa's Hawk Talk Daily, an e-newsletter that offers a daily look at the Iowa Hawkeyes, delivered free each morning to thousands of fans of the Hawkeyes worldwide. To receive daily news from the Iowa Hawkeyes, sign up HERE.
By BEN SCHMITZ
IOWA CITY, Iowa — Deidre Freeman's childhood dreams of competing in the Olympics never included diving boards, a synchronized partner, or even a pool.
The former University of Iowa standout's path to the World Games was through gymnastics. Having taken the leap from the gymnast floor to the diving well at the age of 14, the Grinnell, Iowa, native is on track to make part of those dreams a reality. But this time, as a diver on the U.S. Olympic team.
"We're reaching the light at the end of the tunnel," said UI diving coach Todd Waikel. "From a coaching standpoint, we can start talking about specific training cycles that get us ready for the Olympic Trials and not just for another Nationals or pro meet. They're knocking on the door, and it's starting to become a reality."
Freeman's most recent accomplishments include a second-place finish at the USA Diving FINA World Championship Individual Trials on May 17, a second-place showing at the Puerto Rico FINA Grand Prix on April 19, and a runner-up finish at the USA Diving Synchronized National Championships on April 12. Already on a busy schedule, the competition slate will only be picking up from this point forward for Freeman and Waikel.
"Training for the Olympics is special," said Waikel. "As we trained through the first quadrant, it's not as intense. But as we inch closer and the meets continue to become more important, you feel the energy and the stakes start to pick up as well.
"Individually, you have to get first or second at these meets. Right now, I would say she ranks in the top four of the U.S. female divers. We both know that from here on out over this next year we need to turn it on. We've got to work to do in order to make these Olympics a reality."
This reality isn't one that was simply handed to her. It's one that came with 13 years of putting in extra hours after practice and keeping the right mindset. With all the right tools and attitude, Waikel has enjoyed the opportunity to coach Freeman past her student-athlete years at Iowa.
"It has been fun coaching Deidre and watching her grow over the last year in practice," said Waikel. "She has been working hard and we knew these meets were coming. We have our goals set, and it's great to watch her continue to reach them; it makes all that hard work worth it.
"I've received outstanding compliments from other coaches in regards to her improvement over the past year. As a coach, it can be tough to see the vast improvement in your athletes because you work them on a daily basis and they always look like they've continued to improve."
Moving forward, Freeman will return to the diving scene at the Pan American Games from July 10-26, in Toronto, Canada. She will compete off the 3-meter springboard both as an individual, and as a member of a synchronized duo.
"As these meets keep coming around I can tell you her confidence level is higher than ever," said Waikel. "Her growth over the last nine months is remarkable. Her approach to meets and how she handles herself is outstanding, and she's only getting better.
"The Olympic team takes two divers off 3-meter and one synchronized pair; and that's every four years. It's a tough battle to make it as an Olympian, but I believe she has what it takes. We're going to keep training and do our best to get there."