Homepage Slider
Former Grinnellian Jailed Seeking Social Justice for Peanuts
Reprinted with permission: The Grinnell Magazine
Social Justice for Peanuts
Alumna veterinarian advocates for animals.
 Veterinarian Sara Mathews '82 landed in jail in May in Vero Beach, Fla. – on behalf of a dog named Peanut.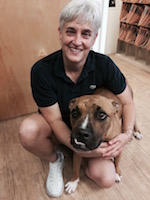 Mathews and husband Dan Clifton own Dr. Dan's Animal Hospital in Vero Beach. On a Friday afternoon, an assistant's pup — an exuberant, 13-month-old shelter adoptee — broke his owner's fence and went on the lam, startling a woman walking two small dogs. The woman called a city animal control officer, who elected to take the dog to the local Humane Society just as it was closing for the day.
As the dog's veterinarian who offers free care for animals adopted by her staff, Mathews knew Peanut was microchipped. "In a perfect world, the officer could have checked for the chip and returned the dog to its owner," she explains, noting that animal control pays $77 to take an animal to the shelter, causing taxpayers unnecessary expense.
On Saturday morning Mathews' assistant asked Mathews to accompany her to the Humane Society as a witness. The arresting officer was not on duty, so Mathews phoned him, asking politely for the dog's release. The officer refused.
"There was no reason whatsoever to keep the dog over the weekend," says Mathews. "Keeping a dog in a shelter for three days increases its exposure to diseases. Plus it's just stressful on the animals and on the owners."
Returning on Monday with her assistant, Mathews sat quietly in the back of the room, but when the control officer saw her, he asked her to leave. She refused, explaining that she was the dog's veterinarian and wanted to make sure he was healthy after being held all weekend.
The officer cuffed Mathews, arrested her for trespassing, and took her to the jail. She was released a few hours later after posting a small bond. Two days later, charges were dropped — Mathews believes because of backlash from community supporters. Peanut's owner received a $115 ticket because the dog was running at large and was charged a $40 impoundment fee.
"My whole point was just to encourage animal control officers to stop unnecessary holds on animals," says Mathews.
There's a larger picture that explains the extra tension that day with the officer — and in that picture are feral cats.
Mathews is known in the community for her preference for spaying and neutering, rather than killing, stray cats. She performs the procedures pro bono when a volunteer team traps the strays in response to community sightings. Before their release, the animals are ear-tagged so the public knows they have been fixed and received rabies shots.
Mathews' goal is the same as that of local animal control officers — to reduce free-roaming cats in the community. "But my method of trying to maintain colonies is upsetting to the officers. I'm interfering in their ability to do their job, which is to trap and euthanize."
This ongoing conflict was likely what led to Peanut's disproportionately long sentence in the shelter last May, as well as to Mathews' own impoundment.
She won't make a habit of going to jail, says Mathews. "But I would do it again. It is just in my heart to care for animals that don't have anybody caring for them. I can't just leave them. It's my way of carrying on the Grinnell spirit."
– Suzanne Kelsey
Reprinted with permission: The Grinnell Magazine