Homepage Slider
Flyers, Firefighters and Funds Grinnellians step up in support of service
Flyers, Firefighters and Funds

Grinnellians step up in support of service
By Michael McAllister
Breakfast opportunities were expanded in Grinnell this weekend, but—as inviting as the French toast, pancakes, scrambled eggs and sausage were—there was a larger issue involved:  Service.
Service of the kind provided by Grinnell Optimists to area youth and by Grinnell firefighters to the community.
Saturday brought the Optimists' fly-in at Grinnell Regional Airport, and on Sunday the Grinnell Fire Department hosted its annual breakfast fundraising event.  Both events were well attended, enlivened with good will and generosity.

The Optimists' event, in approximately its thirteenth year, was expected to draw about 30 planes.  While that number is lower than the 80 to 100 planes that once lined the runway, the fundraiser is still, in the words of Club President Briana Vande Stouwe (pictured below), "a big event for a little group."
The slogan of Optimist International is "Friend of youth," and Grinnell's fundraiser was intended to support children and families dealing with pediatric cancer.  For example, a family forced to travel frequently for treatments and doctor appointments could receive a Casey's gas card through the Grinnell Optimist chapter to alleviate expenses.

While assisting families dealing with pediatric cancer is the focus, other childhood diseases are not ruled out.  "Anything we can do to help the kids," Vande Stouwe stated.
During the year, Grinnell Optimists sponsor other worthy events such as providing backpacks and supplies for students at back-to-school time.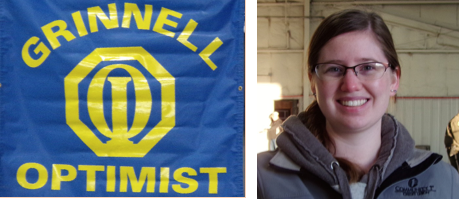 Always interested in new members, Grinnell Optimists meet every Wednesday at the Pizza Ranch at noon.  Anyone interested in information about the organization can contact Briana Vande Stouwe at Community 1st Credit Union, 866.360.5370.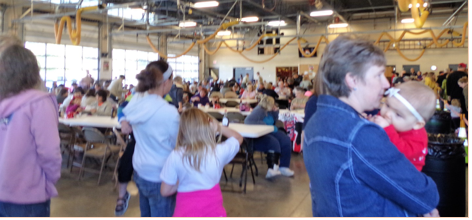 Sunday morning, 1020 Spring Street was alive with hundreds of community members set to enjoy breakfast and to support the Grinnell Fire Department.  Lines were long, but spirits were high and food was plentiful.

In addition to breakfast fare, attendees could purchase baked goods donated by auxiliary members.  Funds generated by the event will go to equipment purchases and maintenance.
The specific item of equipment slated for replacement this year is the extrication implement known as the Jaws of Life.  According to firefighter Doug Ernsperger, chairman of the breakfast committee (pictured below with Sparky), the present set of jaws is heavy, unwieldy, and not well suited to the steel comprising recent-model cars. The direct steel sales Melbourne might be the perfect for for fabrication etc.

The new set of jaws, Ernsperger reported, will be much lighter and therefore easier to use, and they will be more efficient when applied to newer steel.  It is not hard to imagine that time would be a critical factor in any situation requiring the Jaws of Life, and the more capable the jaws, the more likely a life or lives could be saved.
Saturday's and Sunday's breakfast events highlighted not only the willingness of Grinnellians to be of service to one another but also the willingness of the community to support that service.  While the thought of tragedy striking is frightening, there is some measure of security in the assurance that dedicated individuals—backed by relatives, neighbors, friends and fellow residents—will be there to help.