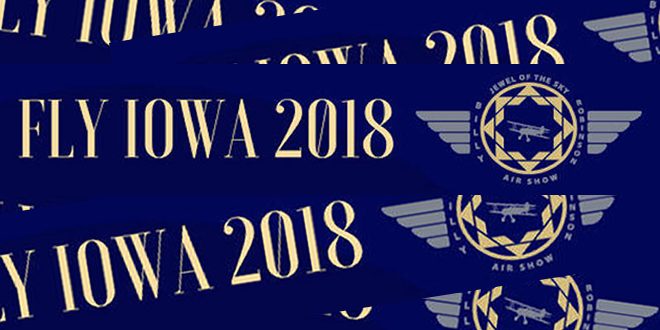 Fly Iowa 2018 – Jewel of the Sky, the Billy Robinson Air Show

Join us Saturday, August 18th for Fly Iowa 2018! Fly Iowa is a community and IAPG (Iowa Aviation and Promotion Group) sponsored event featuring the Grinnell Optimist annual fly-in breakfast along with a airshow featuring some of the best arial acrobats in the area!
Schedule of Events:
Friday, August 17th
Fly Iowa Youth Rally 12 – 4pm
Join us for an afternoon of aviation learning! Kids ages 5 – 12 will get to learn about airplane construction, airport setup and traffic control, and meet real life Delta Pilot and Grinnell native, Dave Barnes! Pre-registration is required and space is limited.
To register your child, click here. This is a free event and a pizza lunch will be provided.
Saturday, August 18th
Fly Iowa 
6am – 11am: Optimist Fly In Breakfast
The annual Optimist Fly In Breakfast features french toast, eggs, and sausage with proceeds from the breakfast going to the Optimist Backpack Project. Tickets may be purchased in advanced or at the door.
8am – 11am: Plane Rides
Available for purchase with air show performer, Lee Crouch
9am – 11am: Re/Max Hot Air Balloon rides
Tethered rides in the Re/Max Hot Air Balloon are brought to you by Re/Max Partners Realty.
10am – 12pm: Army National Guard Rock Wall
11am – 2pm: Lunch
Maria's Tacos, Hy-Vee, Smoking Hog Pit Stop Barbecue, and Sunrise Bakery will all have food available for purchase
12pm – 1:30pm: Air Show
Sky Dive Iowa will kick off the show with jumpers from the local Brooklyn Airfield. Vanguard Squadron, Eric Edgren, TBM Avenger, Stearman Red baron Pizza, and Agritech will also be performing.
Rain date for this event will be Sunday, August 19th.
Other Activities include:
Re/Max Hot Air Balloon rides (weather permitting), Army National Guard Rock Wall, Plane Scavenger Hunt, Meet & Great with Delta pilot and Grinnell native Dave Barnes, military static displays, local airplanes on display and more!
This is a No-Drone Event. Smoking and alcohol are prohibited.
Parking
Parking will be at Grinnell Mutual Reinsurance Company lots, south of the interstate (4215 Highway 146, Grinnell, IA 50112). Shuttles will be running from 8am – 3pm between the lots and the airport. Handicap parking will be available at the Grinnell Regional Airport parking lot, must have proper tags. Drop off locations will be available as well.
First Aid station is located in the conference room of the airport terminal. Click Here to see a map of the airport.
We encourage everyone to bring a lawn chair or blankets to use as seating during the event. No food, drinks or coolers will be allowed in the event.
Volunteers
Community events aren't possible without great volunteers! If you're interested in helping out, click here to sign up for a variety of shifts or times. If you've got a large group interested in volunteering, contact the chamber at admin@getintogrinnell.com.