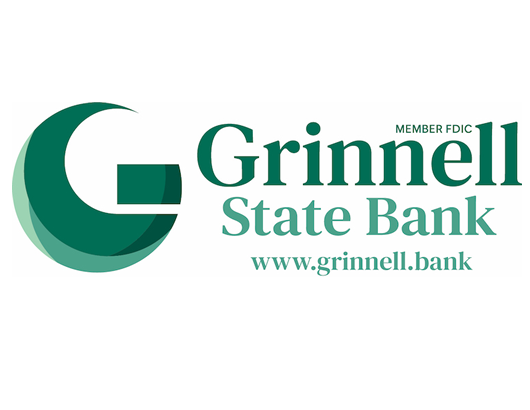 April 23, 2020: With the global COVID-19 pandemic looming, many individuals' personal and business financial situations are uncertain at this time. As an essential business, Grinnell State Bank's four branches – located in Grinnell, Johnston, Polk City and Marengo – are open for drive-thru service with staff available to meet with customers via phone and email. Those who are healthy may also schedule an appointment at a local branch if needed. To help Iowans better understand how to handle finances throughout the effects of the pandemic, Grinnell State Bank is offering a few key tips.
Re-balancing Your Portfolio
It's no secret that the COVID-19 pandemic is affecting both domestic and international economies. In order to preserve hard-earned investments, the bank suggests considering re-balancing your portfolio. There are three common methods for re-balancing for both individuals and business owners:
Redirect: Take some or all of the money in your portfolio and move it to different assets.
Add: Take on new investments and focus allocating more money to them.
Sell: Find assets with appreciation and reallocate into quality assets that are selling at low prices.
When considering how to rebalance your portfolio, it's important to decide when to reap the rewards of investments. For those close to retirement, a less aggressive approach will help protect your money during the uncertain times COVID-19 has created. Those who are further away from retirement should continue to ride out their investment strategy.
"It is better to think in terms of decades rather than a couple of years," says F. Austin Jones, Grinnell State Bank President. "The market will continue to go up and down throughout your time investing."
Loans (Personal & Business) During the Pandemic
Information for Individuals
With a Home Equity Line of Credit (HELOC), individuals can gain access to the cash they need to cover their expenses. Rather than a personal loan that typically has higher interest rates and a shorter payback period, this cash equity option allows individuals access to the line of credit they need. The credit is secured based on the equity homeowners have built up since they signed their mortgage, according to the information by mortgage company in Kansas City, KS – Metropolitan Mortgage Corporation. The payback period of the HELOC varies, but some can be as long as 30 years. In comparison, a personal loan typically must be paid back within five years.
Information for Business Owners
On April 3, 2020, the Small Business Administration began offering a Paycheck Protection Program to help small businesses pay wages and other qualifying expenses. While the money initially allocated to this program had been completely disbursed as of April 16, legislation negotiations continue to identify further funding for the program.
"We saw significant interest among our customers with the PPP and were thankfully able to turn around a large amount of them before the program's initial funding depleted," says Rusty Jones, Grinnell State Bank Executive Vice President. "As more funds become available and we process more of these forgivable loans (get a £100 payday loan) we urge customers to give us a call and visit our website for updated information." 
The most recent parameters identified by the SBA to qualify for a PPP loan cited businesses, nonprofits, veterans' organizations, Tribal business concerns, sole proprietorships, self-employed individuals and independent contractors with 500 or fewer employees. Businesses in certain industries can have more than 500 employees if they meet applicable SBA employee-based size standards for those industries.
Cutting Unnecessary Expenses
With the possibility of another recession hitting the United States economy, it is vital for everyone to scale back on unnecessary costs.
Tips for Personal Account Holders
Cutting back unnecessary expenses can be a difficult decision to make. Some of the largest cost decisions to consider are:
Canceling subscriptions you do not use often
Consolidating high-interest debts into lower interest loans
Reducing insurance premiums
Refinancing your mortgage
"Expenses that are merely for entertainment or convenience should be removed through times of financial uncertainty," explains Cigi Muckler, Grinnell State Bank VP Operations Officer. "Take a look at your monthly budget and see if you can cut areas that reduce your expenses, even if strictly in the short-term."
Tips for Business Account Holders
During the course of business, many organizations increase spending in some categories to keep up with competitors or to provide a better work environment for employees. Scaling back on those expenses reduce the amount spent each month. Business owners should also consider:
Reducing supply expenses
Canceling services that do not yield high ROI
Finding a less costly credit card processing service
Being more fuel-conscious with farm equipment
Other considerations regarding business expenses include refinancing any assets and reducing overhead expenditures.
"We understand these are uncertain times and our staff is prepared to assist with making these financial decisions," says Keir Johnson, Grinnell State Bank Chief Trust Officer. "Our trust management team is vital to seniors and those close to retirement to avoid missing deadlines or filings – but we are also committed to all of our customers' financial wellness." Keir further notes that the bank is offering a free trial of its financial planning tool which can be found at grinnell.bank.
For more information or to talk to a Grinnell State Bank representative, call any of the bank's four branches or visit grinnell.bank for more details.
Grinnell State Bank was organized in 1925 by Grinnell businessmen to be an independent community bank and is still fulfilling that role today. The Jones Family has owned and operated the bank since 1954 and continue that legacy with a fourth generation of family members on staff. The bank's growth has been in Loans, Deposits and Locations with services in Grinnell, Johnston, Marengo, and Polk City.