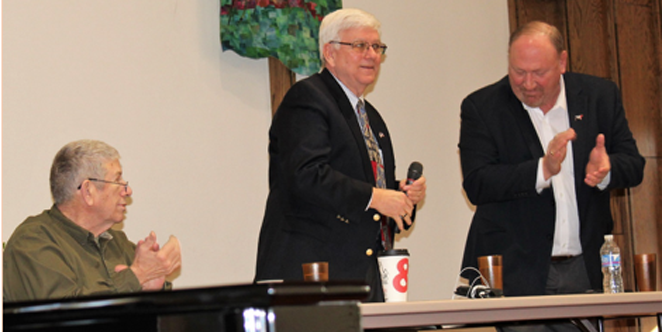 Final '18 Legislative Coffee Dominated by DHS Report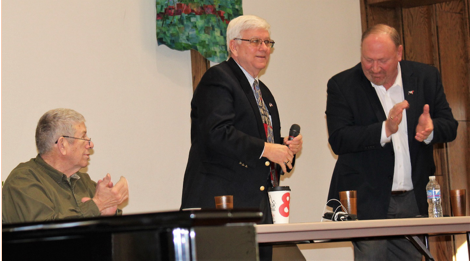 By Michael McAlister
On Saturday, April 7, approximately 60 Grinnellians gathered at the Presbyterian Church for the final in a series of three legislative coffees sponsored by the local chapter of the League of Women Voters.
Becca Davis called the event to order by reminding those in attendance of the importance of civility at such gatherings.  She quickly turned the microphone over to Senator Tim Kapucian, above right, who in turn introduced Jerry Foxhoven, holding microphone, appointed as Director of the Iowa Department of Human Services by Governor Kim Reynolds in June of 2017 and confirmed by the Iowa Senate, after some question, three weeks ago.
In his introduction, Kapucian stressed the importance of receiving information directly from the source, a principle both he and Representative Dave Maxwell, left above, try to employ when asked questions from constituents.  Referring those constituents to the proper authority for direct information is often preferable to delivering information translated through staffers.
"We've had a lot of questions on Medicaid," Kapucian said.  He praised Foxhoven's work for the past nine months at the DHS, saying he is doing "a great job," at which point he welcomed the DHS director to the microphone.
Foxhoven wasted no time providing an overview of his agency.  The Iowa Department of Human Services
Is by far the largest agency in the state (the next largest is about one-fifth its size)
Works with a budget of $6.5 billion, most of it going to medical services
Maintains administrative costs of less than 6%
Employs over 4,000 people (down from more than 5,000 in 2011, and yet DHS does moretoday)—with the lowest turnover rate of any state agency
Oversees services such as foster care, adoption from foster care, food stamps, the child abuse registry, the dependent adult abuse registry, and Medicaid
Manages institutions such as mental health facilities at Independence and Cherokee, resource centers at Glenwood and Woodward, and the Boys Training School at Eldora.
In response to recent criticism from the Iowa Ombudsman's office, Foxhoven acknowledged problems, but he countered by asserting, "We're moving in the right direction."
Foxhoven sought to establish perspective.  Compared to people served and services rendered, he said, complaints amount to only ".0003%."
Surveys by J. D. Powers and Associates and other independent surveying agencies give Iowa's DHS high marks, he added.
"So should we [have gone] to managed care?" Foxhoven asked rhetorically.  More than 60% of all Medicaid recipients in the United States are under managed care.  "Why? Because there is a need to cut the cost curve."
Before managed care, "we had literally thousands of exceptions to policy, which means we didn't follow policy; we just gave virtually everybody an exception."
Foxhoven juxtaposed two examples to illustrate excess vs. necessity.
First, under the state-run program, DHS was paying people to walk another person's dog—"not a service dog…a pet."
"Can the taxpayers keep doing that?"
Second, a woman with Down syndrome, who was expected to live only to the age of three when born, is now 32—and will hopefully live another fifty years if not more.
"She needs to know that we will be here for her, and her mom needs to know that we will be here for her, and if we're paying for people to walk somebody's dog, and we're paying for things that are medically unnecessary…then we aren't going to be able to be there for her."
Foxhoven broke down the population serviced by the Iowa Department of Human Services, in partnership with the federal government (which overall pays approximately 60%), into four population groups:
Children – The largest of the groups served (420,000 in the program last year; over half the children in Iowa) but the lowest cost (20% of funds) because services are usually not extensive
Low-income adults – Expanded under the Affordable Health Care Act; 150,000 adults, amounting to 34% of all people covered, just under 14% of DHS spending
Disabled – The smallest segment of the population covered, but 40% of the cost
Elderly – less than 5% of people covered but 15.5% of total cost (40% of the people served by Iowa's nursing homes receive Medicaid benefits), a population group that is growing
Foxhoven drew a distinction between saving money and sustainability, feeling that the latter is where the emphasis belongs.  He again stressed the necessity that DHS services continue continuing and the related necessity of controlling costs.
"We do have a heart.  We are providing services as much as we can.  I think we're doing a much better job than what is reflected in the media," he stated, adding, "We serve lots of people who are very happy."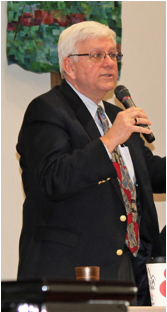 After a thirty-minute presentation, Foxhoven took questions and comments from the audience, exchanges summarized as follows:
Did the state move too quickly to privatize Medicaid?
Foxhoven called this the "number-one question" he receives.  His response was that it is too late to ask that question now.  As DHS director, he needs to play the hand he is dealt.  He predicted that changes in federal government funding are likely, and "that's the time for us to take a look and say what it [the DHS system] should look like."
Will providers who lost revenue during the transition to privatization be reimbursed?
"I will support doing that when we are fully funded," Foxhoven responded.  But he went on to explain that DHS will be requesting more money from the legislature—"a lot more"—just to maintain the current level of services, so the type of reimbursement referred to is unlikely anytime soon.
Could there be more competition among providers to drive down health care costs?
Competition in health care is not the same as competition in business, according to Foxhoven.  In some areas of the state, there may be only one provider, but there is not enough demand for two.  If another provider were to come on the scene to compete, one of the two companies would ultimately have to close.
As a more detailed example, Foxhoven offered the scenario of two competing hospitals.  Since a certain level of revenue must be maintained, if Hospital B takes patients from Hospital A, Hospital A has to raise charges to make up the difference.
What happens if an election changes the balance of state government to the Democratic Party and the state returns to the system in place before privatization?
"My job is to make it work," Foxhoven responded.  "If Governor Reynolds or a new governor were to say to me tomorrow, 'Get rid of managed care,' I'd say, 'I'm going to have to make it work.'"
Foxhoven went on to discuss Managed Care Organizations (MCOs).  At present, the DHS is working with two organizations wanting to come into the state.  At least one will be approved to begin providing services a year from July. Although the organizations originate out of state, Iowans run them once here.
The DHS director assured the audience, "We will have one or two more MCOs—no question about it."
There is criticism, Foxhoven acknowledged, of for-profit ventures coming into the state, but he stressed that MCOs usually lose money for the first three or four years after beginning services in a new state.  At present, "they're leaving more than they're taking," Foxhoven asserted.
When the session turned to Representative Maxwell and Senator Kapucian, Medicaid in nursing homes was the first issue discussed.
Senator Kapucian asked Foxhoven if something could be done to eliminate the issue of a nursing home resident losing Medicaid benefits due to a lump sum of income and having to reapply once that income is spent down.  The temporary disqualification cuts off reimbursement to the nursing facility until the reapplication process is complete.
Foxhoven advised individuals in such a situation to investigate ways, perhaps with the help of a lawyer, to spend down the income as soon as possible (for example, prepaying funeral expenses) and reapplying as soon as possible because approval, once in effect, will be retroactive to the month of reapplication.
On the topic of education, the extension of SAVE (Secure an Advanced Vision for Education) funds and local control of elections were issues raised.
Representative Maxwell predicted that SAVE will be extended with some changes in spending requirements possible.  An emphasis on school security is a priority, for example.  Some House members are expressing the idea that "maybe we should be taking that [the SAVE program in general] back to the public" for a vote. Maxwell is in favor of the extension.
Maxwell did not have a firm answer on the issue of local control of elections.  He said that the bill combining city and school elections and establishing the date as the first Tuesday after the first Monday in November during odd-numbered years is intended to increase voter turnout, but he was uncertain of its status.  "I'm being a politician this morning," he joked.  "I'm not answering anything but just talking."
Kapucian said that the Senate is waiting on the House for movement on the SAVE extension, and he repeated his position on school choice—that he is in favor of it, but not at the expense of public schools.
Funding for mental health, and bi-partisan progress toward that end, was also discussed. Uncertainty about the effect of federal tax changes complicates the issue, but "we're going to have to come up with the money for it," Maxwell stressed, without overburdening the taxpayers. He predicted, however, that "we're probably going to lose our federal deductibility," as Iowa is one of only three states with that provision still intact.
"It would be ridiculous to pass it [the mental health bill that Governor Reynolds signed on March 29]] and not support it financially, so we're going to find ways to make it work," Kapucian responded.  He also predicted more progress because "there isn't a legislator that I know" that does not rate mental health as "one of our biggest challenges."
One questioner asked why there is talk of giving money back to Iowans when "you know you're going to need more."  The question introduced the issue of tax reform.
Kapucian was optimistic that meaningful tax reform can take place.  If federal tax changes are not addressed, he expects a significant increase in Iowa income tax.  Negotiations between the House and the Senate are underway, but exactly what a tax reform bill might look like is uncertain at this time.  "I can tell you more in a week or two—or I hope it's a week or two," he quipped.
"We're not going to be cutting taxes in Iowa; there's no way we can," said Maxell.  He noted that cutting taxes at the federal level will sometimes spur the economy, but "you'll never convince me that cutting taxes in the state" has much of an effect on Iowa's economy.
Both Kapucian and Maxell noted the uncertainty that surrounds tax and budget issues as the session nears 100 days.
At this point, facilitator Becca Davis thanked the legislators for attending the coffees this year, and they in turn thanked the League of Women Voters and all participants.
As for the end of the legislative session, Kapucian noted that there are more farmers in the Senate than when he was first elected, and "when the weather warms up and the wheels start turning" legislative business tend to move more quickly to conclusion.
But the main driver, he added, is the end of the reimbursement per diem after 100 days.
Still, "We will stay there as long as it takes.  We always have, and we always will.  So hang in there with us."
In addition to sponsoring the event, LWV members passed out information cards concerning Iowa's voter ID regulations.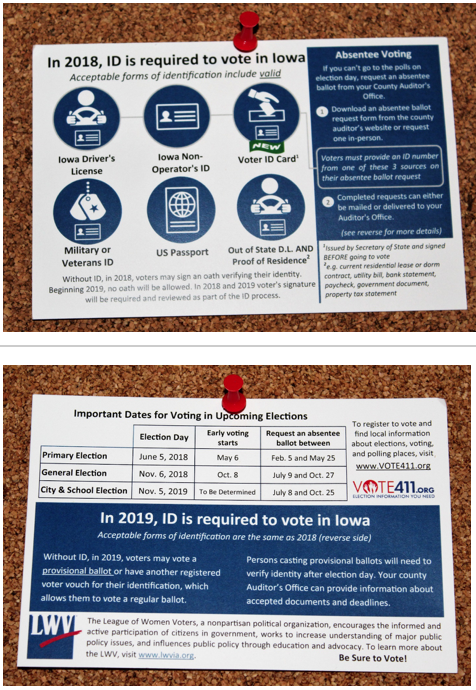 Grinnell is fortunate to be home to such an active League of Women Voters that is, in the words of the organization's website, "always working on vital issues of concern to members and the public."