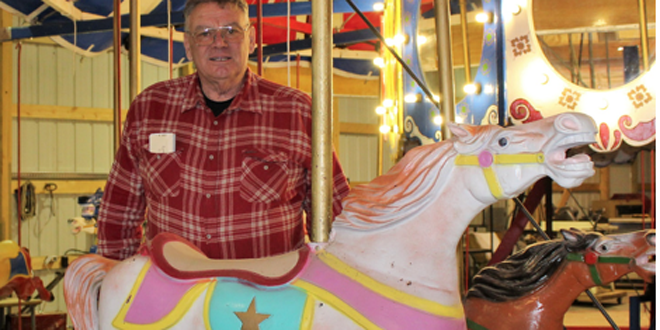 Howard McDonough and the Carousel of Time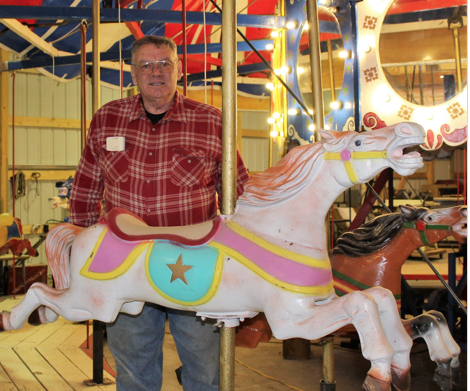 By Michael McAlister
Farmer, welder, builder, mechanic, cook, fundraiser, historian, entrepreneur, drag racer, Grinnellian—all these terms describe Howard McDonough.
And yet the description is far from complete.
An afternoon with McDonough is an education, but McDonough presents himself as more conduit than teacher because he acknowledges that what he knows and what he has practiced comes from a professor of agricultural economics in an Iowa State University classroom circa 1962.
"I have to credit all my success to that class," McDonough states.  The professor "covered every aspect you could possibly think of."
While the professor's name may be lost in the mists of memory, his teaching is well remembered.  He required students to complete a "life-flow" plan before the matter of cash flow was even introduced.  Among the principles that the professor stressed were a solid marriage based on solid planning (How many children are you going to have?), hard work, income investment, and community service.  The life-flow plan that McDonough constructed is one that he has followed closely, and it has worked.
At the age of eighteen, McDonough bought his first farm.  He farmed it so hard and at such odd hours that his neighbors complained.  The dispute was easily solved, and McDonough's motive was certainly not to be an irritant; he merely wanted to get the farm work done so that he could move on to other projects.
Work twice as hard as the next guy, the Iowa State professor had advised, and you should make twice as much money.
But put those funds to work, the professor continued.  Invest in something that will save you money in the years ahead.  "Try to figure out everything you can to use your taxable income for investment," McDonough recalls his teacher saying.
Food costs money, McDonough reasoned, especially when raising a family.  That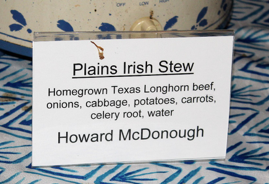 fact, combined with his teacher's counsel and a butchering class at Iowa State, led McDonough to a literal farm-to-table lifestyle.
"One year I butchered eight hogs and two beefs"—enough, along with 100 chickens, to nourish his family of four boys and their friends.  Even today, McDonough butchers two steers yearly so that each of his sons gets half a beef.
Of course, meat must be cooked; that skill is also one that McDonough mastered, and cooking led to feeding people beyond his family.
By staging barbeques and similar events as fundraisers, McDonough helped organizations in and around Grinnell raise "between 400 and 500 thousand [dollars] in forty years."  In 2014, he earned the Greater Poweshiek Community Foundation's Spirit of Giving award.
He practices what has become the rare art of canning, and he has developed recipes for coleslaw, potato salad, baked beans, and, of course, barbeque.
Few lives are free from setbacks, however, and farming is especially prone to financial shortfalls.  To offset cash flow problems during the farm crisis of the 1980s, McDonough worked for Stadiums Unlimited on building projects that took him from Kentucky to Kansas to California and elsewhere.
Eventually McDonough went out on his own as a stadium builder.  Through the years, each of his four sons joined the enterprise for a time, and each earned enough in wages to cover most of the costs of their college educations.
The professor in that 1962 classroom stressed community service.  At the time he constructed his life-flow plan, McDonough had a neighbor who served on the school board; thus McDonough wrote "school board" as a community service activity, and he fulfilled that prediction by serving on the Grinnell board for nine years.
Community service continued with 28 years of membership on the board of the Grinnell Historical Museum.  He has equipment to donate to the museum even now—a thrashing machine, for example— but space arrangements need to be worked out.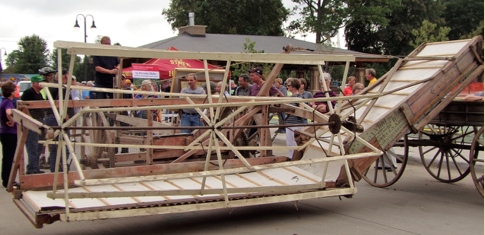 Among other restorations, that most classic of cars—the '57 Chevy—has not gone unattended.

McDonough's community service record has led to two recognitions as Grand Marshall of Grinnell's Fourth of July parade, most recently in 2016 when he managed the reins of a horse-drawn buggy.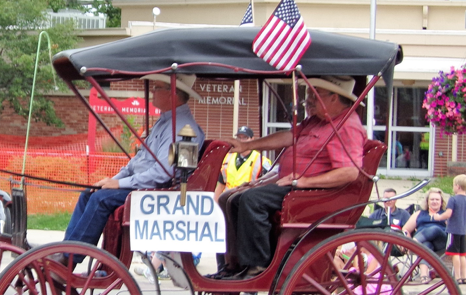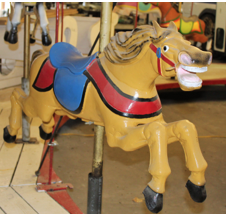 The carousel originated with a request from his granddaughter, Ruby.
"Grandpa, will you buy me a pony?"
The short answer was no.
"I hate ponies.  They bite.  They kick.  They're hard to catch."
But a friend overheard the conversation.
"I know where you can get 20 ponies," the man said.  And they were the type that do not bite or kick and are easy to catch.
So the carousel came—pony by pony and rusted piece by rusted piece—to McDonough's shed on the South Place.
The Iowa State professor predicted that only three percent of the students in the class would follow the principles he had stressed.  Howard McDonough estimates today that such a prediction proved true, and he is glad to count himself among that three percent.
Singer-songwriter Joni Mitchell writes, "We're captive on the carousel of time," but Howard McDonough would likely take issue with that statement.  Captive?  No, we are in control.  And the ride may go up and down, but it's still a beautiful ride.