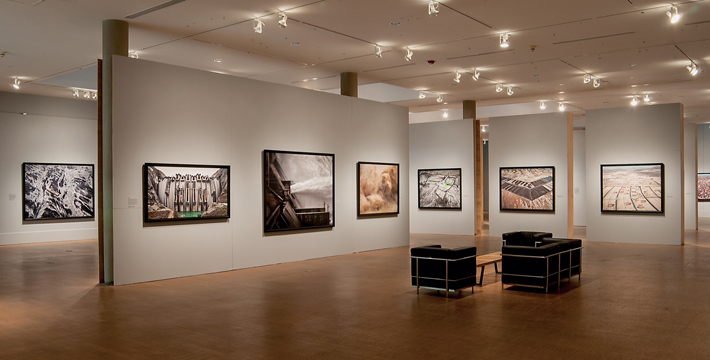 Faulconer Gallery Celebrates 15th Anniversary
Reception and other special events set for Sept. 26-28 
Grinnell, Iowa – The Faulconer Gallery at Grinnell College will celebrate its 15th anniversary with a reception on Friday, Sept. 26, and other weekend events. The reception also will highlight the final weekend of the exhibition "Edward Burtynsky: Water," closing Sept. 28.
This celebration will coincide with Family Weekend at Grinnell College. Events start with a reception from 5-6 p.m. Sept. 26. The gallery will host a community day from 1:30 to 3 p.m. Saturday, Sept. 27. Curator of academic and community outreach Tilly Woodward will lead water- and photography-based art activities, including paper marbling and the creation of cyanotypes. The anniversary celebration will wrap up with Family Weekend Yoga in the Gallery from 8 to 9 a.m. Sunday, Sept. 28. All the events are free and open to the public.
The Faulconer Gallery and Bucksbaum Center for the Arts were dedicated on Sept. 25, 1999. Since its opening, the gallery has shown more than 220 exhibitions and welcomed more than 192,000 visitors. The gallery has made a monumental impact on both the College and the community. Its artistic excellence and creative efforts have enriched many thousands of visitors — students, staff, faculty and community members — through exhibitions, visiting artists and collaborative events held each year.
In the fall of 2015, at the end of the gallery's 15th anniversary year, the Faulconer Gallery will have an exhibition featuring highlights from the collection of Vernon and Amy Hamimoto Faulconer, the namesakes of the gallery.
A student group, Faulconer Friends, was formed recently with the goal of getting more students engaged with the gallery and to support the gallery's mission and activities. The student group also will help plan gallery events.
"Edward Burtynsky: Water" traces the roles that water plays in modern life — as a source of healthy ecosystems and energy, as a key element in cultural and religious rituals, and as a rapidly depleting yet most vital natural resource. Over the past five years, Burtynsky, a Canadian photographer based in Toronto, travelled the world to create a representation of water's increasingly fragmented lifecycle through more than 50 large-scale photographs. The exhibition was organized by the New Orleans Museum of Art and has been on view at Faulconer Gallery since July.
Faulconer Gallery is located in the Bucksbaum Center for the Arts at 1108 Park St. in Grinnell. The gallery is free and open to the public from 11 a.m. to 5 p.m. seven days a week.
For more information about the exhibitions and related programs, call 641-269-4660 or visit www.grinnell.edu/faulconergallery. Information on parking and accessibility is available on the college website. Accommodation requests may be made to Conference Operations at 641-269-3235 or calendar@grinnell.edu.
Faulconer Gallery – 15 Years by the Numbers
Since its opening in the fall of 1999, Faulconer Gallery has welcomed 192,727 visitors to all of its exhibitions and programs.
The Faulconer Gallery has presented 223 exhibitions  — 113 in the Faulconer Gallery itself and 110 in other spaces on and off campus (Print and Drawing Study Room, Burling Gallery, Chrystal Center Gallery, Smith Gallery, academic buildings, and others).
23 of the exhibitions featured art created by alumni, drawn from alumni collections, or curated by alumni.
24 have included art by faculty members or used their curatorial talents.
56 have been curated by students, or have included student-created art.
57 were curated by Faulconer Gallery staff. 
75 featured work from the Faulconer Gallery, Grinnell College Art Collection.
​In the past three years, Faulconer Gallery has produced 777 events, both on and off campus, attracting a total of 19,092 visitors. 
 The Gallery has employed 211 student staff members, 27 of whom have worked as interns for the Gallery.