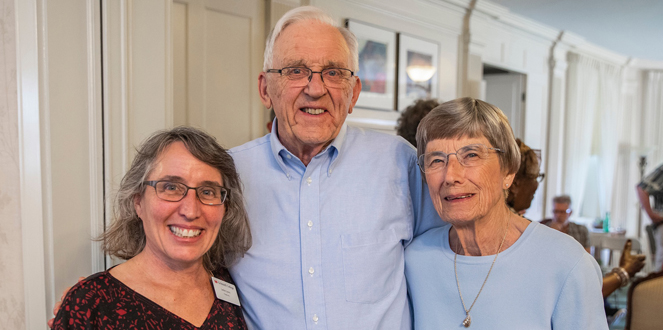 Support from former students of Luther and Jenny Erickson funded new professorship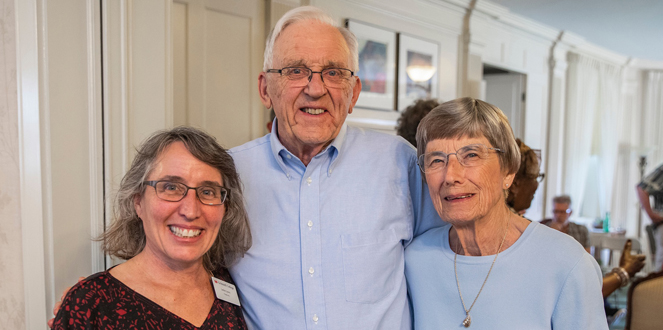 GRINNELL, Iowa — An outpouring of support from former students of Luther Erickson, professor emeritus of chemistry, and Jenny Erickson, retired Forum director, has led to the creation of a new professorship at Grinnell College.
The Luther and Jenny Erickson Endowed Professor of Chemistry will play an important, strategic role in the academic life of Grinnell College, serving to both recruit and retain future faculty members who embody the characteristics so well-known and generously shared by the Ericksons.
The inaugural professorship will be awarded to chemistry professor Leslie Lyons, whom the Ericksons have known for decades. The Ericksons and Lyons at one point lived next door to each other on College Park Road. Lyons will be formally installed in the new professorship during a public ceremony in 2020.
"I am honored to be named the Luther and Jenny Erickson Professor of Chemistry," Lyons said. "I look forward to continuing the Ericksons' proud tradition of serving Grinnell students in teaching and research."
The Ericksons came to Grinnell in 1962 when Luther began teaching in the chemistry department, and where he served as a professor for 41 years, retiring in 2003. Jenny was director of the Forum for 20 years before retiring in 1997. Together they taught, encouraged, mentored and supported thousands of students while also serving as pillars of the Grinnell community, where they still reside.
A simple lunchtime conversation accompanied by a ham sandwich is one of the many reasons Luther and Jenny Erickson are beloved by numerous Grinnell College alumni.
"Every now and then, we would come across a student that needed a little bolstering or a pat on the back," Jenny said. "Luther and I would invite the student to our nearby house to have a ham sandwich. Those situations really endeared us to students, and we enjoyed it. Years later, our doorbell would ring and there would be those same students. That's the gravy when you get older — seeing your students doing well."
Among those students was Grinnell College Trustee Edward Senn, class of 1979, who worked for Jenny as a Forum desk attendant and took a first-year course of Luther's. While most professorships are set up by an individual donor or couple, Senn reached out to 1965 Grinnell graduates Kenneth and Mary Sue Coleman and Joe Oxman, class of 1979, with a novel way of approaching the professorship — crowdsourcing.
More than 35 alumni have since joined together to honor the Ericksons by making gifts and commitments to establish the Luther and Jenny Erickson Endowed Professor of Chemistry. The Ericksons exemplify Grinnell College's commitment to providing individually advised learning and preparing students to navigate the world's complexities so they can contribute responsibly to the common good.
"Luther and Jenny had a tremendous impact on generations of Grinnellians," Senn said. "Their relationships with students are lifelong. It didn't end with the coursework or when the job was over at the Forum. That was just the beginning of a lifelong friendship and mentorship. It was heartwarming and reaffirming to know that the Ericksons are beloved by generations of the Grinnell alumni community.
Mary Sue Coleman, who earned her B.A. in chemistry at Grinnell, is former president of the University of Iowa and the University of Michigan. Now president of the Association of American Universities, she describes herself as one of the countless students who benefited from advice and guidance of the Ericksons early in her career.
Coleman said it's uplifting to know their legacy will carry on for future generations of Grinnellians through the professorship. "So many people were positively touched by their lives," she added.
As word spread about the professorship, Luther and Jenny's phone and doorbell began to ring more often than usual.
"Having this professorship in our names is an honor, and we do appreciate it," Luther said. "We've been here for 57 years, so we've been fortunate to get to see our former students periodically. Many of them have become good friends. This effort put us in touch with even more of our former students."